Fast food, Bars, Coffee
Master baker Eric Kayser brings his talent to Nice Côte d'Azur Airport. Sample the delicious breads, baked on site, or give in to your greed by treating yourself to some pastries.
Eric Kayser in Terminal 2
Eric Kayser has dropped his bags in Nice Côte d'Azur Airport! Visit the Terminal 2 mezzanine.
He has bread in his DNA. Born into a family of bakers, Eric Kayser is bringing his savoir-faire to Nice Côte d'Azur Airport. Passengers will be able to have something to eat in a fluid, bright and friendly space. Salads, sandwiches, savoury tarts, focaccia... There's something for everyone in Terminal 2! And you'll love one of the drinks or Eric Kayser's delicious cakes and cookies to go with your snack too.
The pleasure of bakery bread
For more than 20 years, Eric Kayser has been enhancing the flavour and intensifying the bread debate. Choice of ingredients and natural leavening agents are his core pre-occupations. As of now, you can find his products baked on-site in Terminal 2. Not forgetting the delicious house French toast, created especially for Nice Côte d'Azur Airport!
And if you stop chasing the clock? Take a break at the Eric Kayser Bakery Café!
Make the most of your CAP benefits
Are you a Club Airport Premier member? You can make the most of your benefits when eating at Eric Kayser. Treat yourself, and you'll get 10% off. The perfect chance to enjoy your privileged passenger status!
*Alcohol abuse is dangerous for health, consume with moderation. Exercise regularly for your health. For information, visit www.mangerbouger.fr.
Non-contractual photos and videos – Dishes given as an indication and may vary depending on the season, arrivals and the menu.
Location(s)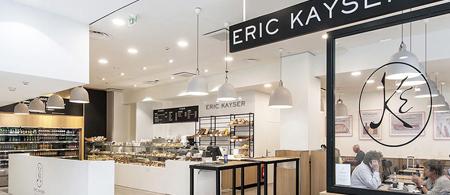 After going through security
Niveau 3
Salle A
Towards the gate

B22

From 6:30 am to 9:20 pm

+33 4 83 76 27 35