Fast food, Bars, Coffee
Joe & The Juice at the airport: it's the coffee shop and fast food experience, revisited.
You can earn Club Airport Premier points in this establishment.
More...
Fresh fruit juices in a trendy setting in Terminal 1 or Terminal 2.
Great news for fruit juice lovers! There's nothing better than a little pick-me-up whilst waiting for your flight. A great reason to treat yourself to a bit of fruity refreshment at Joe & The Juice! The products on offer at Joe & The Juice at Nice Airport are fresh, natural, healthy, and served up in ultramodern surroundings. For an energy-filled breakfast with coffee and juice or a healthy snack anytime, Joe & The Juice can be found in both terminals of the airport.
Make the most of your CAP benefits
Are you a Club Airport Premier member? You can make the most of your benefits at Joe & The Juice. Treat yourself and get 10% off. The perfect chance to enjoy your privileged passenger status!
What to try at Joe & The Juice at the airport*
Joe & The Juice is a perfect match for Nice Airport, designed to respond to the needs of hungry travellers in a fresh new way.
Their menu includes fresh, natural and healthy products served up lightening quick.
But juice isn't the only thing on offer! You can also sit down to a heavenly coffee at breakfast or before boarding, or grab a snack anytime of day.
At Joe & The Juice, the products are fresh and the juices are fresh pressed and made-to-order for passengers aiming for a healthier lifestyle. Passengers in search of all-natural and vegan products will love it too.
The team at Joe & The Juice at Nice Airport can be found in Terminal 1 or Terminal 2, ready to serve you their exceptional concoctions, from their ginger latte to the most surprising of fruit juices.
ENERGIZER: Pink grapefruit, apple, ginger
PICK ME UP: Strawberry, banana, apple
SPORTS JUICE: Pineapple, passion fruit, apple
IRON MAN: Strawberry, kiwi, apple
Discover - or rediscover! - the many beverages on the menu at Joe & The Juice.
They also make mouth-watering sandwiches for Nice Côte d'Azur Airport passengers.
AVOCADO: Avocado, mozzarella, tomato
TURKEY: Turkey, mozzarella, tomato
SPICY TUNA: Tuna salad, jalapeños, Tabasco, tomato
JOE'S CLUB: Chicken, avocado, tomato
TUNACADO: Tuna salad, avocado, tomato
Joe & The Juice at Nice Airport offers you a new kind of dining experience.
New Menu
The trendiest place at Nice Airport
Joe & The Juice has the same atmosphere as today's the coolest town-centre lounges. Originally a modern, cosy concept bar created in Copenhagen in 2002, Joe & The Juice has quickly become an airport staple, starting in Scandinavia and rapidly spreading.
Today you can find them in the public area of Terminal 1, accessible to everyone - even those not travelling, as well as in Terminal 2 of Nice Côte d'Azur Airport. Joe & The Juice offers a highly personalised experience in a setting all its own that's both friendly and modern. And here, friendliness isn't just a catchword: they know that to have happy customers, you've got to have a happy team.
At Joe & The Juice at Nice Airport, you'll find yourself in the most pleasant, coolest lounge around. Music and a cosy ambiance inside, a terrace and laid-back atmosphere outside, in Terminal 1 and accessible from Nice city centre by Tramway.
*Non-contractual photos and videos – Dishes given as an indication and may vary depending on the season, arrivals and the menu.
Location(s)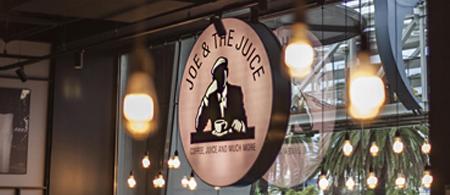 Before going through security
Niveau 0
Towards the gate

D3

From 6:00 am to 8:30 pm - closing at 8:00 pm on saturday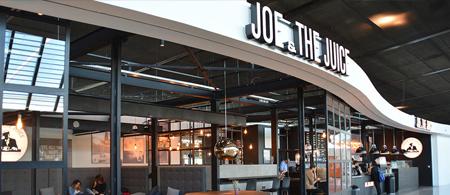 After going through security
Niveau 2
Salle A
Towards the gate

A04

from 5:30 a.m. to 8:30 p.m./9 p.m. except Saturday closing at 8 p.m.