Memories & Gastronomy, Fast food, Bars, Coffee
Indulge in some guilty pleasures at La Tarte Tropézienne at Nice Airport in arrivals and in the check-in area of Terminal 1.
You can earn Club Airport Premier points in this establishment.
More...
The famous cream-filled brioche from Saint-Tropez, available for all to enjoy in Terminal 1
The store invites you to taste and discover their pastries and specialities. #DO YOU DO YOU SAINT-TROPEZ
Make the most of your CAP benefits
Are you a Club Airport Premier member? You can make the most of your benefits when buying food at La Tarte Tropézienne. Treat yourself or someone else, and you'll get 10% off. The perfect chance to enjoy your privileged passenger status!
What can you buy at the airport's branch of La Tarte Tropézienne?
As soon as you enter Terminal 1, and just as the name of the outlet suggests, you can discover the authentic tarte tropézienne! This is the genuine, much-loved cream-filled brioche, created by the famous Micka.
At La Tarte Tropézienne at Nice Airport, you can choose between several sizes to suit your desires. The delicious brioche, generously filled with a mixture of two smooth creams and sprinkled with sugar crystals, can be bought in individual servings, or wrapped up and taken away (4, 6 or 8-10 portions).
The "baby trop" is the perfect little treat. These mini versions of the tarte tropézienne are delightful to eat on the go, but some passengers arriving at the airport also buy them as gifts.
Buy an individual portion or a box of 6, 12,18 or 24 pieces: it's up to you and your sweet tooth! There's a choice of flavours: plain, chocolate, coffee or hazelnut. You can even get a mixture to surprise your taste buds, or if you want to give a gift or souvenir from the Côte d'Azur. There are sometimes special, seasonal flavours, too.
La Tarte Tropézienne likes to innovate and offer variety, with its delicious "Saint-Tropez specialities". The company proposes fresh takes on the classics of French patisserie like the Paris-Brest (but always using its famous cream) or the Castel Tropézien (an almond-hazelnut biscuit filled with hazelnut crème tropézienne and covered with a thin layer of milk chocolate).
The branch of La Tarte Tropézienne at Nice Airport offers a range of food to take away, as well as numerous fine food products such as orange blossom cookies, chocolate salted shortbread, caramel salted shortbread, bourbon vanilla shortbread, savoury espelette pepper cookies, olive oil , socca crisps, provençale pistou, goat's cheese and rosemary biscuits, green-olive tapenade, black-olive tapenade, aubergine caviar and sun-dried tomato delight with basil.
La Tarte Tropézienne outlet in Terminal 1 at Nice Airport also offers a savoury range for lunch and snacks on the go when you arrive in Nice or before you fly. On the menu: sandwiches, salads, quiches and pizza to eat on the terrace at Terminal 1 or to take away. If you're stopping for a snack, why not try a mouthwatering chocolate "baby trop"?
Offering both authenticity and new twists on recipes, La Tarte Tropézienne will evoke delicious memories of holidays in Saint-Tropez…
The secrets of the Tarte Tropézienne story
The Tarte Tropézienne was born in a patisserie on Place de la Mairie in Saint-Tropez, in 1955. Inspired by his grandmother's recipe, Alexandre Micka created a cream-filled brioche. The real Tarte Tropézienne is a mixture of two smooth creams inside a delicious brioche, generously sprinkled with sugar crystals...
Three decades later, it has become Saint-Tropez's signature sweet treat.
La Tarte Tropézienne for everyone: passengers and public
Ideally located at the entrance of Terminal 1, accessible from Nice city centre by tram, the La Tarte Tropézienne outlet at Nice Airport is open every day of the year. You can even order pastries or specialities, then park in the car park next to Terminal 1 and collect them without any stress.
Location(s)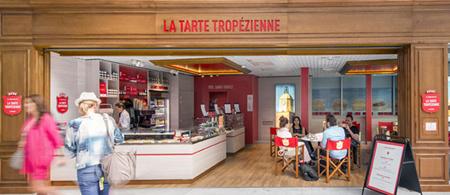 Before going through security
Niveau 0
Towards the gate

A0

From 8:00 am to 9:30 pm - Except monday, wednesday and sunday 10:00 pm

+33 4 93 21 37 81