Fast food, Bars, Coffee
Famous for its lobster rolls, Lobsta can be found in the Terminal 2 check-in area, offering a range of salads, desserts and signature cocktails to eat in or take away. Open to all, with or without a plane ticket, on the city side. Accessible by tram from the city of Nice, offering gourmet delights for foodies.
A healthy gourmet pop-up in Terminal 2
Healthy and gourmet, such is Lobsta cuisine, now coming to you at a food pop-up located in the check-in hall at Nice Airport Terminal 2. A la carte or a meal deal: delicious lobster rolls, buttery brioche bread rolls filled with lobster meat prepared on the spot, along with salads, desserts and signature cocktails. A trendy street food address open 7DAW for eating on the go, taking a break or working before flying.
What will you find at the Nice Airport Lobsta restaurant?*
Open every day of the week, the LOBSTA restaurant in Nice Airport Terminal 2 offers cuisine prepared on the spot using quality ingredients. Perfect for travellers in a hurry wanting to eat on the go, and the ideal place for people wanting to take a comfortable break before their flight. Sit yourself down on the terrace for a break, to work before you fly and enjoy a lobster roll, salad, freshly squeezed fruit juice, delicious home-made beer or a signature cocktail.
Healthy gourmet cuisine
The streetfood-inspired restaurant LOBSTA in Terminal 2 will delight gourmets, gourmands, seafood lovers as well as vegetarians or those looking for healthy cuisine. What's the speciality? Lobster rolls from the United States and Canada, combined here with French gastronomy. These buttery brioche bread rolls filled with lobster meat come in several different versions: the gourmet truffle roll, the niçois with home-made aioli and flavours of Provence, or the vegetarian with aubergine caviar.
For a healthy meal before your trip, take a look at the salad menu. Gourmets won't be able to resist the desserts such as a home-made cookie or the cheesecake in a verrine with fresh raspberries. And finally, from now on indispensable at Lobsta: brunch à la carte or as a meal deal. A well-known Nice restaurant to discover or rediscover in the Nice Airport check-in hall!
Make the most of your CAP benefits
Are you a Club Airport Premier member? You can make the most of your benefits when eating at Lobsta. Treat yourself, and you'll get 10% off. The perfect chance to enjoy your privileged passenger status!
*Alcohol abuse is dangerous for health, consume with moderation. Exercise regularly for your health. For information, visit www.mangerbouger.fr.
*Non-contractual photos and videos – Dishes given as an indication and may vary depending on the season, arrivals and the menu.
Location(s)
Before going through security
Niveau 0
Towards the gate

A0

From 7 a.m. to 9 p.m. on Monday, Thursday, Friday and Sunday - 8 p.m. on Tuesday, Wednesday and Saturday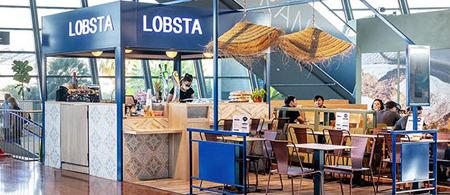 Before going through security
Niveau 2
Towards the gate

D3

From 6.00 am to 10.00 pm

+33 4 93 55 95 08