Fast food, Bars, Coffee
You'll find Nice Airport's best hot dogs at Monsieur Albert, open even to the non-travelling public.
You can earn Club Airport Premier points in this establishment.
More...
The creator of the French Hot Dog is waiting to serve you on the city side of Terminal 1.
Monsieur Albert at Nice Airport has given the hot dog back its quality and nobility. Grab a bite at Monsieur Albert in Terminal 1 and discover the many creations of the French Hot Dog specialist. Fresh chips, nachos, salads, beers, artisanal fruit juices, breakfast, and more. Head for the city side of Terminal 1, even if you're not travelling!
FRENCH GUYS DO IT BETTER*
*LES FRANÇAIS(ES) LE FONT MIEUX.
Make the most of your CAP benefits
Are you a Club Airport Premier member? You can make the most of your benefits at Monsieur Albert. Treat yourself and get 10% off. The perfect chance to enjoy your privileged passenger status!
---
What awaits at Monsieur Albert at the airport?
Monsieur Albert welcomes you right as you enter Terminal 1, before your trip or before heading out to visit the French Riviera. What's the motto in the kitchen at Monsieur Albert at Nice Airport? Simply this: to bring excellence back to the hot dog, the way only the French can. Indulge in mouth-watering recipes made from top-quality products.
One word reigns on Simone Veil esplanade in Terminal 1: Quality. Flavour and exceptional products are the order of the day at this quick-serve airport restaurant. Their pure-beef sausages come straight from Bavaria in Germany, and their beechwood-smoked pork sausages from Alsace.
If you're really hungry, go for the large bacon and cheese sausage!!
Monsieur Albert gets their fresh bread directly from a Nice bakery. Their desserts and pastries are made fresh daily by a pastry maker. Customers choose their sausage of preference: Bavarian, Alsatian, or even vegetarian. Monsieur Albert tested over 30 varieties of vegetarian sausages before selecting their seitan sausage (a blend of wheat and spices).
You can accompany your hot dogs with artisanal fruit juice or a local beer.
The menu at Monsieur Albert at Nice Airport In addition to their delectable recipes that change from season to season, foodies can try Monsieur Albert's Hot Dog of the Moment. Try one with a Beer of the Moment, each selected to perfectly compliment the other. The sides here are the cherry on top: at Monsieur Albert, the chips are fresh and their summer truffle sauce heavenly. You can also try their nachos. Corn tortilla crisps covered with Camembert and rosemary, or else melted cheddar with a side of guacamole.
Monsieur Albert for travellers and non-travellers alike
Ideally situated at the entrance to Terminal 1 and accessible from Nice city centre via Tramway, Monsieur Albert at Nice Airport is open every day of the year.
Even better? Their 200-square-metre terrace is bathed in sun every day at lunchtime, making it the perfect spot.
Alcohol abuse is dangerous for your health, consume with moderation.
*Non-contractual photos and videos – Dishes given as an indication and may vary depending on the season, arrivals and the menu.
Location(s)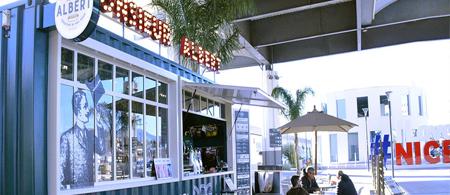 Before going through security
Niveau 0
Towards the gate

A0

From 9:30 am to 9:00 pm

07 68 67 94 99