Watchmaking & Jewelry
At the Hour Passion shops in Nice Airport, passengers can find beautiful, iconic watches and jewellery.
You can earn Club Airport Premier points in this establishment.
More...
Hour Passion offers a wonderful watch and jewellery shopping experience
The Hour Passion boutiques in terminal 1 and terminal 2 sell a vast selection of designs by Swiss makers. With its range of watches, Hour Passion brings you the best that Swiss watch-making has to offer. For passengers who love to buy gifts at the airport, Hour Passion has an assortment of exclusive jewellery. An Hour Passion adviser can tell you about the different collections and help you find your perfect airport purchase, whether it's a watch or a piece of jewellery.
---
En ce moment
DoDo arrives in our Terminal 2 shop!
DoDo is the Italian 'charming jewelry' brand that helps you to tell your own story. Your choice of DoDo jewels is your unique self-expression. With its feminine and distinctive designs and progressive soul, DoDo stands proud and loud for sustainability, equality and inclusivity.
DoDo is beloved for its trendy-chic jewels, its charms inspired by nature, causes, luck or fun. As the jewelry pioneer in sustainability, DoDo has been an ambassador for wildlife conservation, biodiversity and the environment since its inception. The original eco-jeweler, DoDo has partnered with environmental organizations from WWF Italy to protect endangered species, to Tēnaka to restore ocean life. As an environmental trailblazer, DoDo was one of the first jewelers to use 100% responsible gold in all its creations.
Ready-to-wear or customize, DoDo jewels are to be layered, stacked, and mixed-and-matched, their distinctive designs made to celebrate special moments, and your total individuality. After all, DoDo knows that authenticity is the purest jewel in all of us.
---
Make the most of your CAP benefits
Are you a Club Airport Premier member? You can make the most of your benefits when shopping at Hour Passion. Treat yourself or someone else, and you'll get 10% off*, as well as collecting points on your CAP card. The perfect chance to enjoy your privileged passenger status!
*This discount applies to in-store purchases of our Watches & Jewellery, excluding watch manufacturer brands (Breguet, Blancpain, Jaquet Droz, Omega), limited editions and Swatch Sistem51 models.
---
What can you buy at Hour Passion?*
The two Hour Passion boutiques at Nice Airport have numerous brands and models of watches and jewellery, exclusively for passengers flying from Nice. At the airport, the shops offer moments of luxury, with their new products and their watch brands. So don't hesitate to visit Hour Passion, to see the range of watches or find out the price of a piece you love. At Hour Passion, you'll find both prestigious luxury brands and affordable products. You can choose from a wide range of world-famous watch brands, including Swatch, Tissot, Longines, Omega, BlancPain and Breguet.
---
Expert watch and jewellery advice
In the Hour Passion boutiques at Nice Airport, you will always be welcomed by a well-informed adviser to help you explore this wonderland of watches and jewellery. Come inside and discover the collections with the help of teams who will give guidance and share stories or anecdotes about the many emblematic models. As helpful as they are knowledgeable, the shop teams at Nice Airport will provide the care and attention that will make your visit to Hour Passion a truly special moment.
Watch and jewellery brands for every passenger
In terminal 1, passengers can choose from exceptional ranges by Breguet. There are luxurious and prestigious products from Blancpain and Omega, plus high-end items from Longines and Rado. The Hour Passion store in Terminal 1 of Nice Airport presents a selection of timepieces that is both elegant and extensive. Luxury watch enthusiasts will be unable to resist Breitling and Chopard. Passengers at Nice Côte d'Azur Airport may also be tempted by the vastly diverse collections of Tissot, Hamilton... Not forgetting the fashionable and fun designs of Flik Flak or Swatch.
In terminal 2 of the airport, passengers will find a dozen top watch brands. The watch and jewellery boutique has a wide range of models: exceptional timepieces by Omega, as well as elegant or sporty designs by Longines, Breitling and Chopard. Not forgetting the vast collections of Swiss Made watches, including Rado, Tissot, Balmain and Hamilton. There is even an exclusive newcomer to discover at Nice Côte d'Azur Airport: Mido, a brand famous for its automatic movement and excellent value. For passengers in terminal 2, Hour Passion also has fashion brands like Swatch. There's even something for the youngest shoppers, with a children's range from Flik Flak. Passengers flying from Nice might also be tempted by the magnificent jewellery at Hour Passion. Originality meets finesse, in designs by Chopard, Messika, Pasquale Bruni, Montblanc, Ti Sento and Roberto Coin…
Say "yes" to precision and elegance. Make time to visit Hour Passion at Nice Airport!
*Non-contractual photos and videos – temporary collections subject to provisions
Contest: Win your invitations to the Jumping Longines Global Champions Tour Grand-Prix de Monaco with the Hour Passion stores
Location(s)
After going through security
Niveau Floor 1
Salle A
Towards the gate

A36

From 6:00 am to 9:00 pm

+33(0)4 83 76 26 58
After going through security
Niveau Floor 1
Salle A
Towards the gate

A19

From 6:00 am to 9:30 pm

+ 33 4 83 76 26 62
Good deal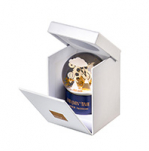 Good deal
Dreamin' Time - Hour Passion
Dreamin' Time - Hour Passion
« Dreamin' Time chez Hour Passion ! Pour tout achat, un cadeau vous est offert. *

- Une boule à neige offert pour tout achat d'un montant minimum de 300€.
- Une broche offerte pour tout achat.
*in the limit of the available stock