Enjoy the Spanish way of life during your holiday
Head for the second most sought after tourist destination in the world, and board a flight from Nice to Spain! Sun-soaked beaches with a welcoming and festive atmosphere…

currency

Euros

language

Espagnol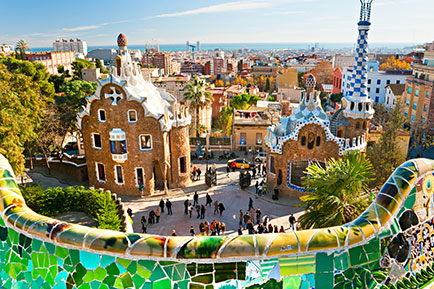 Spain bringsjoie de vivrein her wake. But that's not all the Iberian Peninsula has to offer. Far from it! With a particularly rich history, the country is filled with majestic cultural sites and cities, each with its own identity. By boarding a low-cost flight from Nice to Spain, you'll head for a lively and dynamic country, where tradition and modernity come together to form a coherent and attractive whole. Don't wait to enjoy a bit of Spanish life for a change; buy a ticket for one of our many flights from Nice to Spain. Established as an authentic way of life, the Spanish pace has become a national characteristic uniting the country. In Spain, we take time to live and we stay up late.
Flights from France to Spain, a varied country
Even if Spanish cities share the same energy and dynamism, the visitor will still be amazed by the surprising diversity of this country. Bilbao, Cordoba, Toledo, Madrid, Barcelona… Spain has numerous towns each with its distinct language, character and culture. While discovering the capital Madrid, you will visit its many museums and the royal palace, whereas in Barcelona, the other main Spanish city, you will walk along the Ramblas or visit Gaudi's famous Holy Family church. Further south, Andalusia with the cities of Seville, Grenada and Cordoba, also offers unforgettable landscapes. Spain is a land of contrasts well worth discovering. Don't wait; treat yourself to an exceptional holiday by taking a flight from France to Spain!