Fly to a place of eternal spring
At first glance, a Nice-Tenerife flight looks very much like a European flight between France and Spain. However, the Canary Islands are not like other Spanish islands. They live between two continents, at the same latitude as the Sahara, surrounded by the ocean and dominated by a volcano. The Canaries are like Europe in the Tropics, a wonderful blend that will make your Nice-Tenerife direct flight the start of a unique experience: a holiday of contrasts, between a pleasant climate and a harsh natural environment, between a relaxing break and days filled with discovery.
time difference

+0h

currency

Euros

language

Spanish
Ideal For
Family

Couple

Alone

Beaches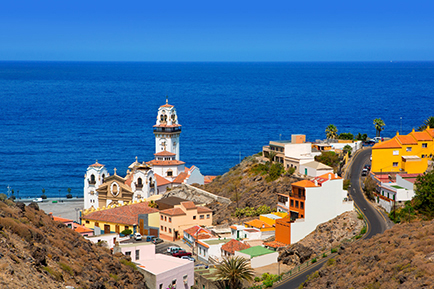 Tenerife
Tenerife-Basilica-Candelaria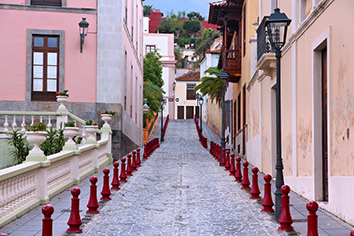 Useful information for your trip to Tenerife

See more

See less

Never-ending spring. It sounds impossible, doesn't it? But board a flight from Nice to Tenerife South, and you can experience it for yourself! This dream can come true: just go to our partner, Misterfly, to book your low cost Nice-Tenerife flight, for a price and date to suit you. Even better, you can pay for your Nice-Tenerife flight ticket in four instalments, for a stress-free way to enjoy some island sun.

The formalities for traveling to Tenerife

Entry requirements: despite landing off the coast of Africa, a flight between Nice and Santa Cruz de Tenerife still comes under the Schengen Area rules! That means you just need your valid passport or identity card.
Currencies: in the "guachinches", you will pay for your local wine and traditional food in euros. Don't forget to arrive on the island with some cash in your pocket. There is a cash machine available in each terminal at Nice Airport.

Your Nice-Tenerife direct flight

The easyJet Nice-Tenerife flight leaves from Terminal 2 of Nice Côte d'Azur Airport.

If you have hold luggage or you need to check in, arrive an hour and a quarter before your flight.
If you already have your boarding pass and you are travelling with hand luggage only, you can arrive one hour before departure.


| | |
| --- | --- |
| Departure airport | Nice Côte d'Azur Airport |
| Departure terminal | Terminal 2 |
| Arrival airport | Tenerife-South Airport |

Arriving at Tenerife Airport

Your flight will land at Tenerife South Airport, the largest and most modern airport on the island. It is situated around 60 kilometres south of Santa Cruz de Tenerife. However you choose to make this journey, it will take less than an hour to get to the centre of Tenerife's capital. You can choose between the following options:

The bus: shuttle bus 111 leaves towards Santa Cruz every half-hour, from 08:30 to 22:00. It costs around 10 euros per person. Other routes go directly to the main resorts on the island.
A taxi: convenient, but not cheap! It is six times more expensive than the bus.
Hire a car: it will be useful for exploring the island during your stay. You can reserve a car with one of the eight car hire companies in the Arrivals hall.
What to do in
Tenerife ?
The most heavily populated of the Canary Islands is also the most popular: every year, it is chosen by millions of holidaymakers. It owes this popularity to an irresistible cocktail of joie de vivre, nature and good weather. Tenerife is a breath of fresh air, a carefree land that is perfect if you need to relax and let go. The tourists don't come here for fantastic museums or amazing monuments, but to get up close with the plants and animals, the beautiful landscapes, and the welcoming locals who love a party. Their simple charm really shines at meal times, when you can feast on their modest yet delicious cuisine.

Swim, walk, feel

See more

See less

On Tenerife, the sun shines for everyone! Whatever your age and whoever you're with, whether you come as a family, with young children, as a couple or with friends, you're sure to find your place in this paradise if you're willing to make the most of what it has to offer: relaxation and authenticity.
As on all the islands, life on the largest of the Canaries revolves around the sea. It offers kilometres of beaches where you can relax and work on your tan, then take a dip in the water when the sun gets too much. The Atlantic wind and waves are also perfect for surfing or kitesurfing. There are around 40 different spots all around the coast. However, the Atlantic is not just a playground: it is also a spectacle, where you can marvel at sea mammals such as dolphins and blue whales just a few miles from the coast.
Back on dry land, there are just as many options to enjoy. The natural landscape offers countless walking options for all levels, as well as picture postcard scenery. The must? Climb to the top of Mount Teide, the third highest volcano in the world. This authentic moment of serenity and beauty will leave you refreshed and ready to enjoy some of the best times of your life, celebrating in the streets of Santa Cruz when the carnival is in full swing, dancing in nightclubs, or braving some thrilling water slides. Simple pleasures, but great fun.
The top 10 things to do on and around Tenerife

See more

See less

Take on the challenge of the 3,718 metre Mount Teide, a volcano and Spain's highest mountain. The cable car doesn't go right up to the top, so the most courageous will finish on foot!
Discover the Roque Cinchado. This basalt monolith is the best known of the volcanic rocks that make up the landscape of the Roques de García, one of the most beautiful sites in Teide National Park.
Go hiking in the subtropical forests of the Macizo de Anaga Mountain range, a UNESCO biosphere reserve.
Take a boat to get up close to the dizzying cliffs of Los Gigantes. The first inhabitants of the island referred to these 500 metre high vertical walls as "the Wall of Hell".
Take to the seas to observe some of the most beautiful animals on our planet: dolphins, sperm whales, and more rarely, orcas and blue whales.
Take part in the Carnival of Santa Cruz, the second largest carnival in the world after Rio de Janeiro. This magical and colourful popular celebration continues throughout the whole of February.
Unwind as a family in one of the many natural swimming pools around the coast. These pools are formed by volcanic eruptions, and have been adapted to varying levels to make them suitable for swimming and relaxing.
Ride the waves at Parc Siam, Europe's largest water park, known for its wave pool, which is unparalleled in the world with its 3 metre high waves.
Let go of your worries at Lago Martiánez, in Puerto de la Cruz. This giant leisure complex, with swimming pools, gardens, beaches, floating islands and an underground casino, has welcomed the Beatles, Winston Churchill and Liz Taylor.
Sample some freshly caught fish with papas arrugadas (potatoes cooked in their skins) and a dash of mojo (chilli sauce).
Regular flights Nice - Tenerife TFS
FLIGHTS EASYJET EUROPE
1
Flights per week, From November to March
Flights per day :
Mon

0

Tue

0

Wed

0

Thu

0

Fri

0

Sat

1

Sun

0
Frequently asked questions