Destination Cologne, en route for the Rhine
Nice-Cologne - it's certainly a trip off the beaten path! The 4th largest city in Germany doesn't exactly make the list of Europe's top tourist destinations. But it could, with two thousand years of history and the heritage and lifestyle found there. Want a few examples of what you'll find when your direct Nice-Cologne flight lands? Roman ruins, walks along the Rhine, a lavish cathedral, the genius of Picasso...tempting, isn't it?
currency

Euros

language

German
Ideal For
Couple

Culture

Town/City

Weekend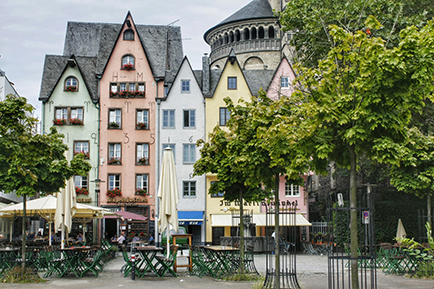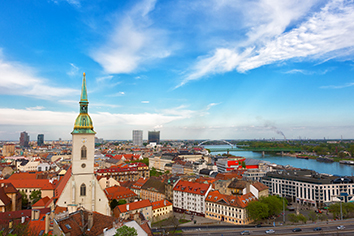 Useful information for your trip to Cologne

See more

See less

If you're looking for a direct flight from Nice to Cologne, take a shortcut - one that takes you to MisterFly! Our partner specialises in online flight booking and will help you find the best price for a Nice-Cologne return ticket, and even let you pay over several monthly instalments if you wish!

The formalities for travelling to Cologne

Entry requirements: you won't need a visa to travel from Nice to Cologne. As Germany is part of the Schengen Territories, all you will need is a valid passport or identity card.
Currency: Germans, like the French, use the Euro.

Your Nice-Cologne direct flight

It's the eternal question: for a Nice-Cologne flight, which terminal of Nice Côte d'Azur Airport should I go to? The response is simple, as only one airline flies to this city on the Rhine: with Eurowings, your Nice-Cologne will always depart from Terminal 1.

Other questions? How early should I arrive at the airport on the day of my flight? This one is easy too: avoid stress by arriving at least 1 hour before departure to give yourself enough time to go through security screenings. Be sure to add an additional 15 minutes should you need to go to the airline counter to drop off bags or collect your ticket.

| | |
| --- | --- |
| Departure airport | Nice Côte d'Azur Airport |
| Departure terminal | Terminal 1 |
| Arrival airport | Konrad-Adenauer Cologne Bonn Airport |
| Arrival terminal | Terminal 1 |

Arriving in Cologne

Just 16 kilometres separate Cologne Bonn Airport from Cologne city centre. To get there, you have the following options:

Take the train: the airport has its own train station, which can be easily accessed from the terminals. The trip to the city's main station takes 15 minutes.
Take a taxi: A 15 minute ride and around €30 (during the day) and you'll find yourself at the door to your hotel.
Hire a car: there are 6 agencies in Hall D of Terminal 2 of the airport.
What to do in
Cologne ?
Formerly Roman, Cologne is one of Germany's oldest cities. And one of its most modern as well! Devastated by the battles of WWII, it was able to get back on its feet in just a few decades, renovating and rebuilding by mixing old stones with new steel and glass. It's an alliance between past and present that you'll find even in their way of life. People here are forward-thinking, while remembering where they came from. It's a philosophy of life that attracts millions of tourists each year.

Cologne, a surprising city

See more

See less

Cologne always has the same effect on visitors, whether they come alone, with friends, or with that special someone. Everyone thinks a weekend will be well enough to explore the city. But when the time comes to leave, they're already planning their return to make up for all the things they missed. Because once you're here, temptation abounds!
Which of the 40 or so museums should you see in this cultural hot spot? Which of the 90 different districts should you linger in to get a real feel for the city? Which kölsch (local craft beer) from which of the 20-odd local breweries should you sample? Which of the many traditional or trendy restaurants should you eat at? How should you finish off your night? In a fancy cocktail bar or frenzied electro club surrounded by some of the 75,000 students who light up Cologne nights?
The top 10 things to do in Cologne

See more

See less

Visit the Dom Cathedral, one of the most popular monuments in Germany. Climb its 500 steps to the top of its towers, 157 metres up. Admire the interior decoration, including the Shrine of the Three Kings, a reliquary of silver and precious stones.
Head to Belgium! The Belgian Quarter (Belgisches Viertel) is the hotspot for Cologne's hipsters and artists. It's full of unique cafés and restaurants, artist workshops, and the shops of jewellery and fashion designers.
Linger in the streets of Agnesviertel, the most charming of the historic centre quarters.
If you're a lover of modern art, check out the Ludwig Museum. It houses the largest collection of pop art outside of the US, and the 3rd largest collection of Picasso paintings in the world.
Stroll along the banks of the Rhine, sail down it on a boat tour, or even fly over it in the cable car that spans it.
Awaken your inner child at the zoo - one of the prides of Cologne - or Phantasialand, an amusement park that will take you round the world from Berlin in the roaring 20s to Imperial China by way of Africa, Mexico, and the land of the Vikings.
Test your nose. Visit the Fragrance Museum and learn about the skills of Giovanni Maria Farin - inventor of the famous "eau de Cologne" - and his descendants. You can even make your own fragrance in the workshop at House of 4711.
Discover the entire history of that most famous of delicacies by visiting the world's best chocolate museum. Your tour will finish with an "obligatory" dip of a crisp wafer into their chocolate fountain.
Sip a glass of kölsch in one of the city's many bars. There are more than 20 varieties of this beer, which has been produced locally since the Middle-Ages. It's known for its lightly fruity taste and clean finish.
Wish upon a romantic star by attaching your "love lock" to the grating of Hohenzollern Bridge. It won't be the only one! This magnificent bridge spans over 400 metres of the Rhine, holding up the 2 tons of metal left by lovers from all over the world.
Regular flights Nice - Cologne CGN
FLIGHTS EUROWINGS
7
Flights per week, From April to October
Flights per day :
Mon

1

Tue

1

Wed

1

Thu

1

Fri

1

Sat

1

Sun

1
Frequently asked questions