Tirana, la joyeuse capitale d'Albanie
With a Nice-Tirana flight, you'll experience something new every day. Because when you arrive, it's not just the city that welcomes you, but the entire country of Albania. This small state in the Balkans has changed considerably since the beginning of the century. Moreover, the very existence of a non-stop Nice-Tirana flight says a lot about its development. It is calm, peaceful and has opened to the world, welcoming more visitors every year who come to discover a colourful culture, magical beaches and an abundant nature. But the country of eagles is still shrouded in mystery and ignored by many. So don't wait! Make the most of it with a Nice-Tirana direct flight and add an exotic scent and a taste of authenticity to your holiday.
time difference

+0h

currency

Lek

language

Albanians
Ideal For
Culture

Town/City

Weekend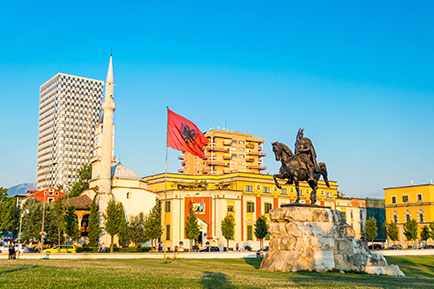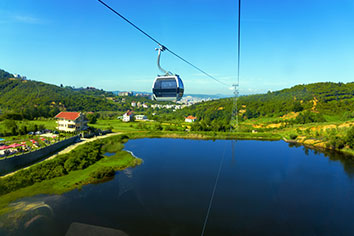 Useful information for your trip to Tirana

See more

See less

The good news is that it's easy to find a cheap Nice-Tirana flight. As long as you don't wait too long to book it. So where do you book and how? On our site, in just a few clicks, with the help of MisterFly. Our partner is one of the leading specialists in online flight bookings. Thanks to MisterFly, you'll have quick and easy access to all data concerning Nice-Tirana return flights, such as prices, times, duration and airline, so you can easily make a decision. But MisterFly also offers a remarkable quality of service when it comes to paying for your Nice-Tirana flight. There are no hidden fees, and you can pay over several instalments.

Formalities for travelling to Tirana

Entry requirements: As a French national, and as long as you don't stay in the country for more than three months, you'll be able to pass through customs with a valid passport or identity card.
Currency: you'll be paying for your glass of raki, the preferred aperitif in Albania, in lek. There are about 120 Ieks to 1 Euro. Need some cash before you leave for your first purchases in Tirana? InterChange is available to help in Terminals 1 and 2.

Your Nice-Tirana direct flight

To reach the Albanian capital, you'll fly with Wizz Air. This airline flies from Terminal 2 at Nice Côte d'Azur Airport.

It's strongly recommended that you arrive at the terminal at least one hour before take-off, especially if you need to go to your airline's check-in desk to drop off any hold baggage or collect your ticket. This will allow you to go through security control stress-free, no matter how busy the airport is on the day of your departure. And if you have a few quiet minutes left before boarding, why don't you relax with a drink or an indulgent meal or treat yourself in one of the shops at Nice Cote d'Azur Airport. That's what holidays are all about, allowing more time!

Departure Airport
Nice Côte d'Azur Airport
Departure terminal
Terminal 2
Aéroport d'Arrivée
Tirana International Mother Teresa Airport
Terminal d'Arrivée
-

Arriving in Tirana

Your Nice-Tirana flight with Wizz Air will land at Tirana Mother Teresa Airport, the only international airport in Albania. Its terminal is both modest and modern, which only makes it easier to find. It also makes it easy to find the various means of transport that will take you to the city centre, which is less than 20 kilometres from the slopes. To get there, you can take:

the bus: You can't go wrong with this option. Luna Travel is the only bus company, with its Rinas Express, that runs between the airport and the city centre from 08:00 to midnight. For an unbeatable price, the shuttle leaves every hour, and, in about 40 minutes, it will drop you off at the heart of the capital, opposite the opera house, at Skanderbeg square, the city's most famous square. It should also be noted that there is a bus to Durres, the country's most popular seaside resort. There are five departures per day.
a taxi: Albanian taxis are very cheap. So why not get dropped off right outside your accommodation? To avoid any unpleasant surprises, take an official taxi, which is recognisable by its yellow colour.
hire a car: There are three major international brands at the airport. They each have a desk in the Arrivals Hall.
What to do in
Tirana ?
The Albanian capital sparkles less for its quaintness than for the stigma it has been left with after forty years of Enver Hoxha's Stalinist dictatorship. Now that the people of Tirana can enjoy peace and freedom, this heavy legacy is rich in emotion, memories and lessons to learn from. An intense time that must be associated with lighter moments and more serene landscapes. Both can be found on the Albanian Riviera, in a gentle and refreshing way, or at the heart of the land, in the charming towns and villages of this small country which, nestled between the Alps and the sea, hasn't yet sacrificed its soul to the profit motive.

Enjoy a taste of nature

See more

See less

Do you know how to appreciate the beauty of a landscape and the authenticity of a village? Are you curious about others? Without being an adventurer, do you like to go off the beaten track and forget about the comfort of your everyday life to experience different things? Then Albania is for you. Having recently recovered from a tormented past, the country of eagles is discovering the world and the world has barely discovered it. And what a beautiful discovery! It comprises joyful beaches, bordered by the Adriatic or the Ionian Sea. It's rich in a culture that combines Greek temples with Ottoman minarets and Stalinist bunkers with citadels that are one hundred years old. It leads you through lost villages and wilderness and then refreshes you with fresh water from a river or a walk in the forest. Lovely moments that can be experienced as a couple, as a family or with friends, as long as everyone wants the same thing... holidays filled with simplicity, friendliness and relaxation.
The top 10 things to do in Tirana and Albania

See more

See less

Head to Skanderbeg Square, the epicentre of life in Tirana. Vast and made from natural stones, and guarded by the iconic statue of Prince Alexander, it sums up Albania's entire history with its buildings inherited from the Ottomans, Italian fascism and the Stalinist dictatorship.
Hop down a bunker. There are nearly two hundred thousand of them in Albania. But the most interesting ones are undoubtedly in Tirana: BunkArt 1 and 2. They both tell you about the madness of Enver Hoxha's totalitarian regime, staged with great realism.
Walk around Tirana. The city is modest, but nonetheless amazing, picturesque and even endearing when your steps lead you to Pazari I RI, the lively shopping area with its halls and central market, or to Blloku, the area filled with street art and trendy haunts.
Practise the great speciality of Durres: idleness! This large seaside resort features many private beaches at affordable prices, with fine sand and a friendly atmosphere. At the end of the day, visit the city, drink a raki on the terrace and head to the Roman amphitheatre. This magnificent monument hosts many shows in the summer.
Visit the "City of a Thousand Windows", Berat. With large windows opening out onto the valley and its light, its centuries-old houses climb the slopes of the mountain in tight rows. It's easy to get lost amongst its cobblestone alleys as you climb up to its old citadel.
Walk in the footsteps of the Illyrians thanks to the remarkable remains of Apollonia, a Greco-Roman city that is more than two thousand years old. It's close to the city of Fier.
Place your towel down on the southern beaches of Dhermi. They are considered to be the most beautiful in Albania. You'll find fine pebbles, clear warm waters, large coves that aren't too busy and sun loungers for those who like their comfort.
Take a "relaxing" break in the village of Përmet, to enjoy its natural pools fed by sulphurous springs, and then head to the town of Gjirokastër, which is listed as a World Heritage Site. This beauty is still in its pure state with its old white houses, slate roofs, cobbled and sloping streets and bazaar shops.
Discover Butrint, a remarkable site located opposite the Greek island of Corfu. It features unspoiled nature and a rich heritage, derived from the Greek, Roman, Byzantine and Venetian civilisations. The highlight of the visit has to be the Roman theatre.
Swim in the oldest lake in Europe and one of the three oldest in the world: Lake Ohrid. It is nearly three hundred metres deep and offers particularly clear waters. Don't leave without trying Koran, the local trout with fine and tasty flesh.
Regular flights Nice - Tirana TIA
FLIGHTS WIZZ AIR
2
Flights per week, From April to October
Flights per day :
Mon

0

Tue

0

Wed

1

Thu

0

Fri

0

Sat

0

Sun

1