Jet off to Luxembourg City
A Nice-Luxembourg flight takes you to one of the smallest but most surprising countries in Europe. It is the richest on the planet, as well and the safest and most "natural": more than a third of its land is covered in forest. Known for its banks, it also attracts large numbers of tourists seduced by the scenery, history, and lifestyle. The country holds two world records in gastronomy: for the largest number of restaurants and the most Michelin-starred chefs per capita. So as you pack your bags for your Nice-Luxembourg flight, be sure to leave your preconceived notions behind!
time difference

+0h

currency

Euros

language

Luxembourgish, French, German
Ideal For
Couple

Alone

Culture

Nature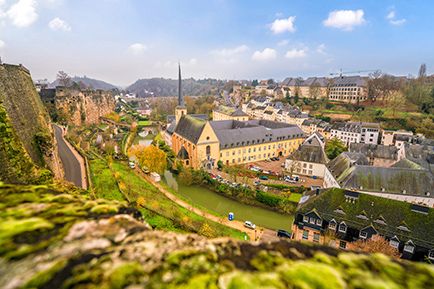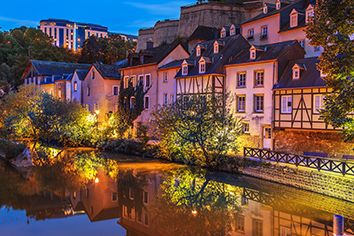 Useful information for your trip to Luxembourg

See more

See less

Thoughts of fortified castles and fortresses, rural forests and picturesque villages, delicious white wines and gourmet restaurants, have all lead to one thing: you've decided to book your direct Nice-Luxembourg flight. With whom? How much? When? Best to consult an expert: MisterFly. In just a few clicks, our partner will give you all the information you need to book your Nice-Luxembourg flight easily, without hidden fees, and payable in instalments.

The formalities for travelling to Luxembourg

Entry requirements: Luxembourg is European. It is even one of the founding members of the EU. So there were no problems when they ratified the Schengen Agreement. As a French citizen, you can travel there easily with just your passport or a valid French ID card.
Currency: Our neighbours in Luxembourg have, of course, adopted the Euro.

Your Nice-Luxembourg direct flight

Not all flights from Nice to the Grand Duchy fly out of the same terminal. In fact, it all depends on which airline you fly with. With Luxair, your Nice-Luxembourg flight departs from Terminal 1, whereas a Volotea Nice-Luxembourg flight takes off from Terminal 2.

Luxembourgers have a reputation for being calm and very organised people. So start your Luxembourgian integration right at the airport, by arriving at least one hour before departure to get through security without stress. Have a bag to check or need to collect your ticket at the airline counter? Add at least 15 additional minutes.

Departure airport
Nice Côte d'Azur Airport
Departure terminal

Terminal 1 for Luxair

Terminal 2 for Volotea

Arrival airport
Luxembourg Airport
Arrival terminal
Terminal 1

Arriving in Luxembourg

You'll be landing at the international Luxembourg Airport, the only airport in the country. It is located 6 kilometres from Luxembourg City. In 2021, a tramway will connect the airport to the capital. Until then, to get to the city centre, you have the following options:

the bus. Two lines go to Luxembourg City: the 16 and the 29. Tickets can be purchased from an automatic distributor, which can be found in front of the stop for bus 16 as you exit the terminal. Note that bus travel is free on Saturdays!
take a taxi. Taxis are required by law to clearly display their prices. And you are under no obligation to take the first taxi in line. You can choose whichever you like best!
hire a car. In the airport Arrivals Hall (level -1) you'll find 6 agencies to choose from.
What to do in
Luxembourg ?
While they are francophone, Luxembourg City, and more generally the entirety of the country, offer visitors an experience as enriching as it is exotic. Because the Grand Duchy isn't Alsace, or Lorraine, or Germany or Belgium. Though it bears some resemblance to each, it is first and foremost Luxembourgian! With villages swimming in green, a capital that has held onto its roots through modernisation, and its wholly unique cuisine and art, you'll find an identity and character unlike anywhere else. Something like that definitely deserves a visit!

Luxembourg: a city and country full of charm

See more

See less

Who doesn't love Luxembourg? Very small children are perhaps the only ones who would have trouble enjoying a holiday here. It's true that there are few things to entertain them. But even that isn't entirely the case! A visit to the Bettembourg Fairy Tale Park (Parc Merveilleux), the only theme park in the country, offers the chance to meet fairy tale characters plus 200 different animal species in the zoo and is enough to entertain anyone! And from age 10 and up there's nothing to worry about. Kids will come back from their family holiday with a head full of memories of canons at the Bock Casemates and the chairlift that took them up to Vianden Castle.
But the Grand Duchy's charms are perhaps best experienced with friends or that special someone. Sit down to an exquisite cocktail that manages to bring together culture, tradition and nature in a glass. Stroll through a thousand years of history in the streets of the capital. Your palate will be in heaven as you feast at restaurants in Grund, the most picturesque and gourmet district in Luxembourg City. Pair your Ardennes ham and paschtéit - puff pastry filled with chicken and mushroom and covered in bechamel sauce - with a generous glass of Riesling or Gewurztraminer. Afterwards, ease your conscience with a long walk through the Mullerthal woods. How's that for a full weekend?
The top 10 things to do in Luxembourg

See more

See less

Travel through a thousand years of history in three hours on the Wenzel Circular Walk, a 5 kilometre walking tour that lets you discover the city, its history and its heritage.
Linger in the lower part of the city in the streets and cafés of Grund, a quaint and lively area with photo-worthy bridges that span the Pétrusse and Aluette rivers.
Get lost in the labyrinth that is the Bock Casemates, a 20 kilometre stretch of underground galleries carved into rock. This military structure made Luxembourg the "Gibraltar of the North" for many years.
Wander around the Place des Armes and the Place Guillaume II, in the heart of the Ville-Haute - the historic centre of Luxembourg City and a UNESCO World Heritage Site. From there you can explore the romantic streets of this age-old city.
Visit the Palais Grand-Ducal (open only in summer) and the Notre-Dame Cathedral of Luxembourg, Luxembourg's two most emblematic monuments.
Take yourself on a castle tour. Luxembourg has more than 80 of them! Which are the most impressive? Vianden (which can be reached by a chairlift), Bourscheid, and Beaufort.
Take the train to save time. The Train 1900 and its steam engine will take you rambling over the Luxembourg countryside each Sunday from June to September.
Take a road trip and visit Esch-sur-Sûre for a more "natural" experience. It is hands down the most beautiful village in the country. You could also go hiking in Mullerthal, where you'll find trails dotted with incredible rock formations and waterfalls.
Savour local beverages (in moderation, of course!): wines from Moselle valley, liqueurs and eaux-de-vie flavoured with honey, walnut, or mirabelle or damson plums, as well as Luxembourgian sparkling wines or beers from one of the many micro-breweries.
Try the local cuisine. These hearty dishes bring the best of Luxembourg straight to your palate: Judd mat Gaardebounen, or pork smoked with broad beans; Kuddelfleck, which is tripe, breaded then fried; or the famous Bouneschlupp, a green bean s
Regular flights Nice - Luxembourg LUX
FLIGHTS LUXAIR
10
Flights per week, From April to October
Flights per day :
Mon

2

Tue

1

Wed

1

Thu

1

Fri

2

Sat

1

Sun

2
FLIGHTS VOLOTEA
5
Flights per week, From April to October
Flights per day :
Mon

1

Tue

0

Wed

1

Thu

1

Fri

1

Sat

0

Sun

1
Frequently asked questions