Jet off to the Champs-Elysées
Some cycle the Paris-Nice journey each year, but many more fly between Nice and Paris. This is a very popular route! The Nice-Paris flight has always been a favourite among the people of the Côte d'Azur. This popularity is partly due to the economic connections between the two regions. But there are the plenty of other things that make Paris appealing, fascinating and enchanting. For many people, buying a Nice-Paris ticket is a little like making a long-held dream come true. After all, what child hasn't fantasized about going up the Eiffel Tower or smiling back at the Mona Lisa? And the city has inexhaustible appeal, because it is huge, beautiful, and constantly evolving. That means every visit to the City of Light is a dazzling experience.
time difference

+0h

currency

Euros

language

French
Ideal For
Family

Culture

Town/City

Weekend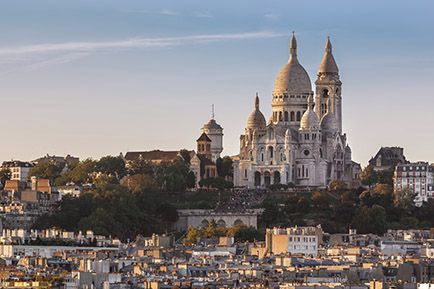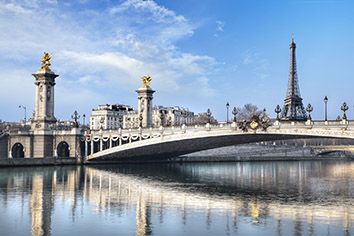 Useful informations for your trip to Paris

See more

See less

Looking for the least expensive Nice-Paris flight? Trust an expert. Our partner, Misterfly, will show you all the available flights to Paris. Compare prices and timetables, find the flight you need easily, and whichever airline you're travelling with or whichever airport you're flying to, book your flights at no additional cost. If you want, it's even very easy to spread the cost of your Nice-Paris return flights across up to four instalments.

Your Nice-Paris direct flight

Nice-Paris flights with easyJet and Air France (both Nice-Orly and Nice-Roissy Charles de Gaulle) all leave from Terminal 2 of Nice Côte d'Azur Airport.

Avoid boarding your flight at the last minute. Nice-Paris is perhaps the busiest route in France, and is subject to all the usual airport procedures. If you have your boarding pass and you are travelling with cabin baggage only, arrive at least an hour before your departure time, to get through security stress-free. If you need to put bags in the hold or get your ticket from your airline's desk, allow at least an extra 15 minutes.

| | |
| --- | --- |
| Departure airport | Nice Côte d'Azur Airport |
| Departure terminal | Terminal 2 |
| Arrival airport | Paris Orly Airport or Charles de Gaulle Airport (Roissy Airport) |
| Arrival terminal | Terminal W for Orly, Terminal 2F for Roissy Charles de Gaulle with Air France and 2D with easyJet |

Arriving in Paris

As you undoubtedly know, Paris has two major airports. Orly in the south, Charles de Gaulle (Roissy) in the north. It's very easy to get to the heart of the city from both airports. How? It all depends on which airport you are arriving at…

From Paris Orly, you can use:

The bus: several lines are available. The Bus Direct (ex Cars Air France) goes to Place Charles de Gaulle (Place de l'Étoile) via Montparnasse and the Trocadéro. Until 00:30, the Orlybus takes you to Place Denfert Rochereau, in the 14th arrondissement. RATP Bus 183 takes you to Porte de Choisy, where you can continue by metro or tram.
The train: first take Orlyval, the automatic metro, to get to Antony. From there, RER B will get you to the heart of the capital fast.
A taxi: two prices of around 30 euros depending on whether you are travelling to the Left Bank or the Right Bank.
A hire car: around 15 car-rental companies have desks where you can hire a car, from the first to the last flight.

From Paris Roissy Charles de Gaulle, you have the following travel options:

The bus: from 06:00 to 00:30, Roissybus takes you directly to Place de l'Opéra. Bus Direct (ex Cars Air France) line 2 stops at Porte Maillot-Palais des Congrès, Etoile-Champs-Elysées and Tour Eiffel-Suffren. Line 4 goes to two of the city's major stations: Gare de Lyon and Montparnasse.
The train: the RER B leaves directly from the airport and goes to several stations around Paris.
A taxi: two prices of around 50 euros depending on whether you are travelling to the Left Bank or the Right Bank.
A hire car: in each terminal, around 15 car-rental companies have desks where you can hire a car, from the first to the last flight.
What to do in
Paris ?
The hardest thing about your holiday in Paris is deciding what to do. There's so much to see, discover or rediscover, taste and try. Once the Roman city of Lutetia, Paris is one of the world's best-loved cities, and with good reason. With its endless variety, it is a chameleon that changes colour to suit your desires. It is a city full of romance and imagination. It offers good taste and good value. It is perfect for intellectuals or party animals. It can be legendary or visionary. At the end of the day, it all depends your perspective. However, one thing is certain: whatever you want out of your holiday, Paris will not disappoint.

City of nightlife and culture

See more

See less

Paris has something for everyone! Bohemian Paris, Paris by night, historical Paris… the city has so many faces that you can never see all its delights in a single trip. So what should you choose? It depends on who you're travelling with.
Holidaying as a family? Disneyland and Parc Astérix await! But rest assured: you don't need to visit Mickey Mouse to have a great time with the kids. Paris and its suburbs have lots of activities and events to please all generations. Why not climb to the top of the Eiffel Tower? A classic! You can also visit the Grévin Museum (a wax museum), the Stade de France, the Cité du Cinéma film studio complex, the Palais de la Découverte science museum, the Cité des Sciences or the Natural History Museum.
Coming for a romantic break? Stroll hand in hand along the Canal Saint-Martin or explore Montmartre, take a cruise along the Seine, indulge in some window shopping in the Marais district, enjoy a drink outside a bar or café on Rue Montorgueil, or see a show at one of the city's many theatres.

Travelling with friends? Are they angels or demons? The angels in your group will love the city's museums, its monuments, and the many shows to be seen every evening. The demons will enjoy Pigalle and its Moulin Rouge, a drink in a bar in the neighbourhoods of Bastille or Oberkampf, and dancing to electro music on a barge or in an exclusive club.
The top 10 things to do in Paris

See more

See less

Go to the Louvre. Or even go back, because with its 35,000 works, the famous museum's formidable collection always has plenty of surprises in store, covering everything from Antiquity to Impressionism!
Do something different. As well as major museums like the Musée d'Orsay or the Pompidou Centre, Paris is also home to some more unusual collections, with museums dedicated to wine, the postal service, the police service, hunting and Edith Piaf.
Visit a village within the city, by exploring the cobbled streets of the Butte aux Cailles neighbourhood, in the 13th arrondissement. Bistros offering delicious food, an Art Deco swimming pool, and stencilled works by the well-known street artist Miss.Tic.
Go somewhere green. Paris has several remarkable parks and gardens, such as the Jardin des Tuileries, designed by Le Nôtre, Parc Monceau, a gem of Romanticism, the Parc des Buttes-Chaumont, or the Bois de Vincennes.
Raise the anchor to discover Paris and its heritage by boat. Cruise along the Seine on one of the Bateaux Mouches (excursion boats), or see the locks and swing bridges of the Canal Saint-Martin.
See a show. Plays, concerts, opera, musicals… Paris has a vibrant cultural scene, with over 140 theatres and performance halls.
Succumb to a cliché by dining in one of the city's great cabarets. Watch the can-can being danced at the Moulin Rouge or the Paradis Latin, see the Bluebell Girls at the Lido or the Crazy Horse girls, or watch a drag show at the Cabaret Michou.
After dark, go off the beaten track. Although the Bastille neighbourhood remains a hotspot for the Parisian nightlife, Strasbourg-Saint-Denis and the Marais district also have lots of trendy bars. Want to know where to go? You'll find plenty of suggestions online.
Share some amazing discoveries with your kids by visiting the Gallery of Evolution at the Natural History Museum. It has 7,000 stuffed animal specimens.
Combine fun and heritage at the Jardin d'Acclimatation amusement park. Around 40 amusements and 400 animals in a freshly restored park dating back to the reign of Napoleon III.
Regular flights Nice - Paris BVA
FLIGHTS EASYJET EUROPE
2
Flights per week, From April to October
Flights per day :
Mon

0

Tue

0

Wed

0

Thu

1

Fri

0

Sat

0

Sun

1
Regular flights Nice - Paris ORY
FLIGHTS AIR FRANCE
64
Flights per week, From April to October
Flights per day :
Mon

9

Tue

9

Wed

9

Thu

9

Fri

10

Sat

8

Sun

10
FLIGHTS EASYJET EUROPE
31
Flights per week, From April to October
Flights per day :
Mon

5

Tue

4

Wed

4

Thu

4

Fri

5

Sat

4

Sun

5
Regular flights Nice - Paris CDG
FLIGHTS AIR FRANCE
62
Flights per week, From April to October
Flights per day :
Mon

9

Tue

9

Wed

9

Thu

9

Fri

10

Sat

8

Sun

8
FLIGHTS EASYJET EUROPE
22
Flights per week, From April to October
Flights per day :
Mon

3

Tue

3

Wed

3

Thu

4

Fri

4

Sat

2

Sun

3
Frequently asked questions