From the Var to the Rhine
A Nice-Strasbourg flight is not just direct, it's a straight line! The respective capitals of the French Riviera and Alsace share essentially the same longitude. They're also at the extreme east of France, one neighbouring Germany and the other Italy. But that's about all they have in common! Because these two cities have cultivated very different identities, which makes a flight from Nice to Strasbourg more than a simple crossing of France: it's a true change of scenery, a place you can discover a charming region rich in history and cuisine, with exceptional folklore.
time difference

+0h

currency

Euros

language

Français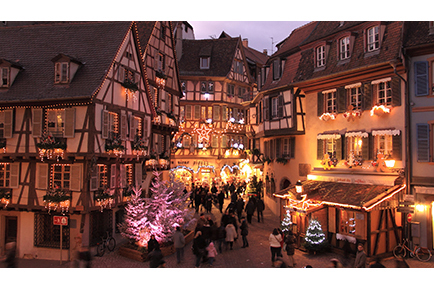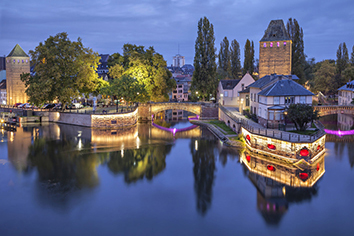 Useful information for your trip to Strasbourg

See more

See less

Want to know the price of a Nice-Strasbourg flight, or ready to book your Nice to Strasbourg flight at a great price? Need a seat on a last-minute Nice-Strasbourg flight? No doubt about it, you need MisterFly! Our partner will enable you to compare Nice-Strasbourg flights, helping you choose from all Nice-Strasbourg return flights and find one that's right for your schedule and budget. Found a great price on a Nice-Strasbourg flight that fits your schedule? Book it now with no additional fees, and spread the cost over several months if you wish. This even applies to low-cost Nice-Strasbourg flights! That's the quality of service you'll find with MisterFly.

Your Nice-Strasbourg direct flight

While you'll have your choice of two airlines when flying from Nice to Strasbourg, you don't have a choice in terminals! All Volotea and Hop! (by Air France) flights from Nice to Strasbourg fly out of Terminal 2 of Nice Côte d'Azur Airport .

Be sure to allow yourself enough time to travel stress-free. For a relaxed departure, get to the airport at least 1 hour before your flight leaves. This will give you time to get through security screenings, even at peak times. Need to collect your boarding pass or check bags at the airline counter? Here too give yourself time by adding at least an additional 15 minutes.

| | |
| --- | --- |
| Departure airport | Nice Côte d'Azur Airport |
| Departure terminal | Terminal 2 |
| Arrival airport | Strasbourg Entzheim Airport |

Arriving at Strasbourg Airport

Strasbourg Entzheim Airport is situated just 10 km from city centre. To get to the centre, you have the following options:

Take the train: the airport station is accessible from the terminal via a walkway. The TER (regional trains) will get you to Strasbourg central station in 8 minutes. They run from 5:35 am to 11:50 pm with a maximum of 5 trains per hour.
Take a taxi: this will cost a bit more than €30 during the day. The trip takes about 15 minutes.
Hire a car: there are 5 agencies in the Arrivals Hall opposite the baggage claim area. It's a good solution if you'd like to get out of Strasbourg and explore Alsace.
What to do in
STRASBOURG ?
When you think of Strasbourg and Alsace, perhaps you're imagining lovely timber-framed houses with storks perched on their roofs, barges on the Rhine, the European Parliament, hearty plates of sauerkraut coupled with a glass of crisp white wine? If so, you won't be disappointed! Even better, you may be surprised! Surprised to discover that these happy stereotypes are just the frame for this phenomenal region that's unlike any other. Heritage, cuisine, scenery: it has it all!

Land of culture

See more

See less

How long has it been since you've had a romantic weekend getaway with your better half? How many times have you promised your family that you'll visit some fabulous Christmas markets as the holidays approach? What are you waiting for? Life is short, so go for it! Book your seats on a flight from Nice to Strasbourg today and discover the wonders of Alsace.
Travelling as a couple? A romantic time awaits, with strolls along the canals and amidst the picturesque houses of La Petite France, a pedestrian area where time seems to stop. Treat yourselves by visiting a winstub, one of the restaurant/wine bars typical of the region, to indulge in a tasty baeckeoffe or flammekueche, paired with a glass of crisp Riesling or velvety Gewurztraminer.
Brought the whole family along? Build an itinerary for them that combines culture and nature, museum visits and bike rides through the Alsatian countryside on the lookout for castles and forts. The icing on the cake (a kougelhopf cake that is!) : a day on the other side of the border at Europa Park, Germany's biggest amusement park. It's enormous and has over a hundred of the latest rides.
The top 10 things to do in and around Strasbourg

See more

See less

Visit the cathedral, one of Strasbourg's biggest points of pride. It's over a thousand years old, 162 metres tall, and has remarkable architecture, organs, and one of the world's rare astronomical clocks.
Stroll around the Grande Isle, the historical centre of Strasbourg. Pass by Kléber, Gutenberg, and Broglie squares and have a little break with a coffee on a terrace. Admire the Kammerzell House, the most beautiful of all, on the Place de la Cathédrale.
Wander the cobblestone streets of La Petite France, the most charming quarter in the city with its canals, timber-framed houses with flowered façades, covered bridges, and the Vauban Dam.
Kill two birds - figuratively of course! - by heading for Rohan Palace. First, take it this immense episcopal palace in all its majesty and refinement. Then, visit the three museums that neighbour it: the museums of Fine Art, Archaeology, and Decorative Arts.
Go modern! Check out MAMCS, the Strasbourg Museum of Modern and Contemporary Art. What a collection! You'll see works by Miró, Magritte, Picasso, Sisley, Dufy, Gauguin, Monet, Renoir, Pissarro, Ernst, Chagall, and Utrillo, just to name a few!
Navigate the numerous canals with a river boat tour. Take in the hundreds of picturesque views you can only get on the water. It's peaceful, charming, and surprising all at once.
Tour all of Europe in just a couple of kilometres. The "European quarter" is home to the European Parliament, Council of Europe, and the European Court of Human Rights End your walk at the Parc de l'Orangerie. It's heaven on earth!
Peddle together as a family as you cycle the Route of Forts, an 85-kilometre cycle path that runs between Germany and Alsace. It's accessible for all, and offers unforgettable views.
Experience castle life. Alsace has some fantastic ones. The best known is no doubt the Haut-Kœnigsbourg fortified castle. But there are many more to discover: Fleckenstein, Haut Barr, Lichtenberg, Nideck, and others.
Treat yourself to a pint or a glass of white on a terrace overlooking the Ill. Alsace is as famous for its wines as for its beer (Elssabier). So much so that here, microbreweries aren't just a fad, they're a tradition!
Regular flights Nice - STRASBOURG SXB
FLIGHTS VOLOTEA
6
Flights per week, From April to October
Flights per day :
Mon

1

Tue

1

Wed

1

Thu

1

Fri

1

Sat

0

Sun

1
FLIGHTS AIR FRANCE
2
Flights per week, From July to August
Flights per day :
Mon

0

Tue

0

Wed

1

Thu

0

Fri

0

Sat

0

Sun

1
Frequently asked questions