Take off for Lille, in conquest of the North
Nice-Lille, it's the perfect gap! All of France separates these two large cities. The advantage of this distance is the differences it creates. The Grand Place looks nothing like the Place Masséna. Beer reigns over rosé. And for those who live on the shores of the Mediterranean, a world of unique flavours awaits. It's still France, but it's a whole new side of it. That's why even though there's little more than an hour's flight time, a flight from Nice to Lille is a big and beautiful holiday!
time difference

+0h

currency

Euros

language

French
Ideal For
With friends

Alone

Party

Weekend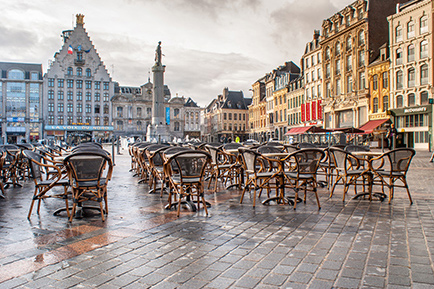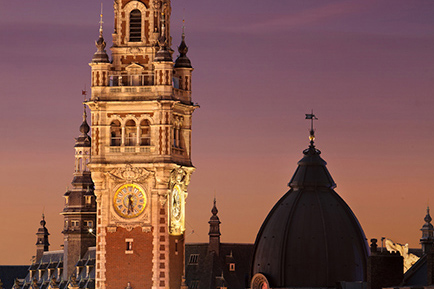 Informations utiles pour votre voyage à Lille

See more

See less

Already planning your next holiday? Looking for a last minute Nice-Lille flight for an impromptu city break? Hesitating between easyJet and Air France for your Nice-Lille flight? Then you need the help of MisterFly. Our partner is an expert in online flight booking and offers both information and service. Compare all available flights and prices for a Nice-Lille return ticket on the date of your choosing. Book your Nice-Lille flight at the guaranteed best price. Pay for it over several instalments and receive a partial reimbursement in case of cancellation.

Your Nice-Lille direct flight

With both Air France and easyJet, your Nice-Lille flight takes off from Terminal 2.

Whichever airline you're flying to Flanders with, adhere to rule numero uno for a stress-free flight: get to the airport on time! That means 1 hour before departure, plus an additional 15 minutes should you need collect your ticket or check bags.

| | |
| --- | --- |
| Departure airport | Nice Côte d'Azur Airport |
| Departure terminal | Terminal 2 |
| Arrival airport | Lille-Lesquins Airport |

Arriving in Lille

The Lille-Lesquins Airport is ideally situated at just 15 kilometres from Lille city centre. You have several options for getting to the centre:

take the bus. There are two ways to do this. The first is the Lille Airport Shuttle. It runs every day from 5:30 am to 10:30 pm during spring and summer, and 8 pm the rest of the year. It will drop you at the Euralille shopping centre and the Lille Flanders tram/underground station in around 20 minutes. The second is Ilevia line 68. There's a bus every 20 minutes during peak times, and every hour the rest of the day. It won't take you to the centre, but it will drop you right at the underground entrance.
take a taxi. Many companies, one price: from €25 for a ride to the city centre.
hire a car. You'll find 5 agencies at the exit of the airport Arrivals Hall.
What to do in
Lille ?
Lille is a city that's full of history, and not just that of General de Gaulle. At just over a thousand years old, it was Flemish, Burgundian, and Spanish before becoming French under Louis XIV. A conquest that brought change: Lille transformed itself into royalty, in the image of the royal district that sits in the shadow of the Vauban Citadel, which will captivate you will its churches and private mansions. But it's also a city of the people, in the image of its centuries-old pubs where you can raise your pints over a "welsh" or some "moules-frites" - deliciously local specialities. True leaders in the quest for the simple life!

Lille, a city of art and art de vivre

See more

See less

While there's much to do as a family - visiting the Museum of Natural History or the Citadel Park and its zoo for example - the county seat of Hauts-de-France is also great for couples and groups of friends for a weekend of art, history and hedonistic pleasure.
In 2004, Lille became part of the Who's Who of cultural destinations when it became European Capital of Culture. Time has passed, but the city and its surroundings have kept the artistic flame alive with a multitude of sites, museums, and galleries. They are both the guardians of the past and the cradle of the future with theatres such as the Folies Moulins and Folies Wazemmes, two former industrial wastelands that today put on quite the show!
But Lille isn't just for contemplation and inspiration. They also know how to have a great time here. Which isn't surprising as half of the locals are students. And that means there's a party spirit in the air. A gourmet party at that: take time to sample local foods such as a Maroilles tart, a bowl of chips with frikandel (the sausage of the North), or chicons-gratin, an endive gratin that will make you forget endives could ever be bitter. And with artisanal beers that are every bit as good as their Belgian counterparts, you'll never go thirsty!
The top 10 things to do in Lille

See more

See less

Stroll around the Grand Place, one of the most beautiful squares in France. The oldest cobblestones here date back to the Middle Ages. Since then it has never stopped changing.
Climb up to the belfry of the Hôtel de Ville, the beacon of Lille at 104 metres tall. Listed as a World Heritage Site, it offers a breath-taking view over the city.
Take in the collections of the Palais des Beaux Arts, one of the most beautiful museums of France with its Rubens, Goya, Delacroix, David and Courbet, its Rodin and Claudel sculptures and drawings by Raphael...the list goes on!
Take time to linger in the timeless streets of Old Lille and in front of the Rang de Beauregard, a rank of 14 houses from the 17th century. Try to find the twelve cannonballs stuck into their façades from when Louis XIV laid siege to the city.
Discover one of the most remarkable fortresses Vauban ever envisioned: the Lille Citadel. Built using 3 million stones and 60 million bricks, it is nicknamed the "Queen of Citadels".
Bathe in science and culture at the Piscine de Roubaix, a former city swimming pool converted into a museum of art and industry. Its unique setting brings out the best in its collections dedicated to painting, sculpture, ceramics, fashion, and design.
Escape to Vauban Gardens, an English-style park classified as an historic monument. Designed in the 19th century by the creator of the Parc Monceau and the Luxembourg Gardens, it's a tremendously charming place with narrow, shady alleyways, a cave, a waterfall and a thatched cottage.
Read! The Grand Place is home to Europe's largest bookshop: the Furet du Nord. Just nearby, the courtyard of the Vielle Bourse - one of the most beautiful buildings in the city - is home to several more bookshops.
Enjoy a Flemish carbonade (a type of beef stew) or chicken with maroilles in an estaminet, a distinctly Northern type of pub. Here you'll find a rustic setting and traditional cuisine. Here are a few estaminet worth trying: Au Vieux de la Vieille, Chez Raoul, Barbue d'Anvers, and Well Welsh.
Try a waffle that's good enough to make even Belgians jealous: that of the Maison Méert. Created 250 years ago, this delicacy is handmade using Madagascar vanilla.
Regular flights Nice - Lille LIL
FLIGHTS EASYJET EUROPE
14
Flights per week, From April to October
Flights per day :
Mon

2

Tue

2

Wed

2

Thu

2

Fri

2

Sat

2

Sun

2
FLIGHTS VOLOTEA
6
Flights per week, From April to October
Flights per day :
Mon

1

Tue

1

Wed

1

Thu

1

Fri

1

Sat

0

Sun

1
FLIGHTS AIR FRANCE
3
Flights per week, From July to August
Flights per day :
Mon

1

Tue

0

Wed

0

Thu

0

Fri

1

Sat

0

Sun

1
Frequently asked questions