Flying to the Hungarian capital
A Nice Budapest ticket always promises a fantastic holiday. The capital of Hungary never disappoints! With its irresistible gastronomy, its formidable heritage, its wonderful lifestyle and its lively nights, everyone will succumb to its charms. Including you! A glass of Tokaji, bathing in warm water beneath the stars, tasty goulash, an imperial palace, a wild ruin bar: a thousand delights await at the end of your Nice Budapest flight. Which will you choose? It's up to you!
time difference

+0h

currency

Hungarian Forint

language

Hungarian
Ideal For
Couple

With friends

Culture

Town/City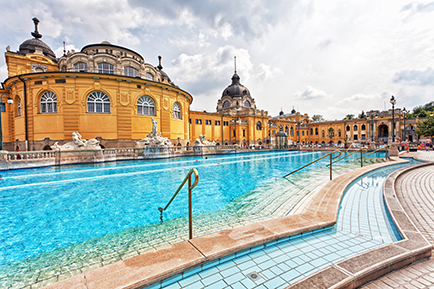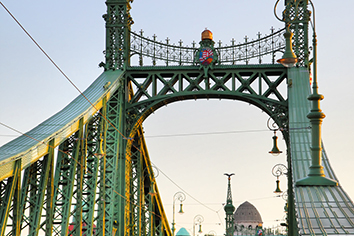 Useful information for your trip to Budapest

See more

See less

You can compare flight prices, timetables and durations for both low-cost and traditional airlines, to choose between a direct Nice-Budapest flight or one with stops. Once you've booked, you can pay online in one payment, or, if you prefer, Misterfly allows you to spread the cost of your ticket across several instalments! The perfect way to get a good deal for your Nice-Budapest flight!

The formalities for travelling to Budapest

Entry requirements: Hungary is part of the Schengen Area. That means European citizens can have a holiday in Budapest with only their passport, or where applicable, their national identity card.
Currencies: if you want to buy some of Hungary's famous spice, you'll pay for your paprika in forints. There are three forints to a euro. In order to cover your first purchases, you can get currency from Interchange in Terminal 2. This is handy, because although many shops and services in Budapest accept euros, the conversion rate they offer is unfavourable.

Your Nice-Budapest direct flight

With the Wizzair Nice-Budapest flight, your escape to Hungary starts at Terminal 2.

To make sure you don't miss your appointment with the Queen of the Danube, allow plenty of time. If you already have your Nice-Budapest boarding pass and you're travelling light, with just cabin baggage, arrive at the airport at least an hour before your departure time. Allow an extra quarter of an hour if you need to go to your airline check-in desk to get your boarding pass or put bags in the hold.

| | |
| --- | --- |
| Departure airport | Nice Côte d'Azur Airport |
| Departure terminal | Terminal 2 |
| Arrival airport | Budapest Ferenc Liszt Airport |
| Arrival terminal | Terminal 2B |

Arriving at Budapest Airport

You will arrive at Terminal 2B of Budapest Ferenc Liszt Airport (sometimes referred to by its old name: Ferihegy). This airport is 16 kilometres from Budapest city centre. You can travel to the city in several ways:

By bus: two lines travel to the capital. The 100E goes direct to the city centre, where it makes three different stops. Buses depart every 20 minutes, from 05:30 to 00:30. The 200E (or the 900 at night) will take you to Kőbánya-Kispest, the departure point for metro M3. From here, you can get to the city centre. From 04:00 in the morning to 23:00. The journey takes 50 minutes. Remember that public transport is free for European citizens aged over 65.
By taxi: only one company is authorised to serve the airport: Főtaxi. The advantage: the prices are set, and you can pay for your journey directly at the airport, by cash or card (but always in forints!) before you even get into the taxi. The journey takes 30 minutes.
By shuttle: MiniBud will take you right to your hotel. However, be warned that the shuttle only leaves when it has enough passengers, and drops everyone off on the way! Depending on your destination, it may take a long time.
A hire car: There are 7 car rental companies at Terminal 2B.
What to do in
Budapest ?
Feast your eyes on some stunning sights! With its bourgeois buildings from the Austro-Hungarian Empire, its castles and palaces, its amazing religious buildings and its Belle Époque thermal spa baths, Budapest is undoubtedly one of the most beautiful cities in Europe. Here, just taking the bus or tram can give you memories to last a lifetime. And it is not just because of its beauty that the Hungarian capital fascinates visitors. The atmosphere is also a key part of its appeal. With its trendy haunts, its big pedestrian streets and its hedonistic pleasures, Budapest is certainly the liveliest city in Eastern Europe.

A city of two sides

See more

See less

When you start your journey from Nice to Budapest, whether you are travelling as a couple for a romantic escape or with friends for a wild weekend, you need to ask yourself an essential question: Buda or Pest? Let us explain… Budapest was formed by the union of two cities that for a long time were separated by the Danube. Joined in 1873 into a single city, the two parts nevertheless have distinct identities.
Buda, the old capital, is an architectural gem on a hill overlooking the rest of the city. It's the ideal place for a cultural discovery of Hungary's history. Quiet, cobbled streets, magnificent monuments, the memory of the famous Empress Sisi, a breathtaking view over the opposite bank, its superb Parliament Building, or of course the Széchenyi Chain Bridge (Széchenyi lánchíd): this is the "postcard" experience of the city.
Pest has its share of beautiful sights, but the left bank of the Danube is above all the lively side: the place to party. From its big shopping streets to the small restaurants of the Jewish quarter, and from the stalls of the Central Market Hall to the funky ruin bars, it's a fantastic whirlwind.
So what's it to be: Buda or Pest? "Both, of course." Good choice!
The top 10 things to do in Budapest

See more

See less

Take the tram! Specifically, take line 2. It runs along the Danube and shows passengers the best parts of the city, starting with its Parliament Building. A magnificent ride, day or night!
Visit Buda, with its bourgeois alleys, Matthias Church and the Fisherman's Bastion (what a view!), the Citadel and Buda Castle, the preferred residence of Sisi.
Take a look inside Saint Stephen's Basilica, in the heart of Pest. This Neo-Renaissance church is truly splendid. Its reliquary contains the mummified right hand of Saint Stephen, Hungary's first king.
Remember… Shoes on the Danube Bank (a memorial to the Jews killed along the riverbank) and the House of Terror (the museum of totalitarianism) remind us of the fragility of peace and freedom.
Do your shopping: charcuterie and paprika can be bought in the Central Market Hall. Make sure you try the local speciality: lángos (a large piece of deep-fried dough covered with crème fraîche and cheese).
Enjoy a bath. Budapest is the queen of spas and thermal baths. The best-known baths: Széchenyi is the largest establishment in the city, Rudas offers the most typical experience, and Gellért boasts Belle Époque elegance.
Wander around the Jewish Quarter, visit the Dohány Street Synagogue (the second largest in the world), and dine in one of the area's many fabulous restaurants.
Walk all the way along Andrássy Avenue, Hungary's answer to the Champs-Elysées, until you reach Heroes' Square, the sublime Vajdahunyad Castle, and in winter, the giant ice rink, which is the biggest in Europe.
Go on a ruin bar crawl. Located in old buildings and courtyards that were abandoned after the fall of Communism, these pubs with their funky décor are part of what makes Budapest so famous for its nightlife. One of them, Szimpla Kert, is even considered to be among the best bars in the world.
Sample a glass of Tokaji wine, the pride and joy of Hungary's winemakers. Many knowledgeable oenologists consider this dry or sweet wine to be one of the world's finest whites.
Regular flights Nice - Budapest BUD
FLIGHTS WIZZ AIR
4
Flights per week, From April to October
Flights per day :
Mon

1

Tue

0

Wed

1

Thu

0

Fri

1

Sat

0

Sun

1
Frequently asked questions