Liverpool : Go & enjoy Penny Lane!
If you tell a friend you've booked tickets for a direct Nice-Liverpool flight, chances are the next question they ask will be: "You're a Reds supporter then?". And if not that, then definitely: "You a fan of the Beatles?". As if all there is to Liverpool is their red-kitted football team and a famous rock band! It's true these are two of the pillars of local culture. But as you'll quickly see up on arrival of your Nice-Liverpool direct flight, the hometown of the boys of Abbey Road has much, much more to offer.
time difference

+1h

currency

Euros

language

English
Ideal For
Couple

With friends

Alone

Town/City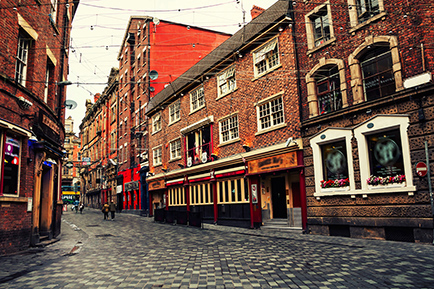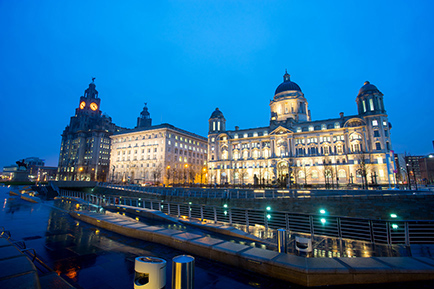 Useful information for your trip to Liverpool

See more

See less

One thing at a time! Before you set off to walk this little street immortalised by the Beatles (Penny Lane is in my ears and in my eyes…), start by booking your Nice-Liverpool flight. For quality service, book with our partner MisterFly. With MisterFly, you'll find all available dates, prices, and schedules for Nice-Liverpool direct flights. You can book and download your ticket online, without surcharges, and pay over several instalments if you like, even if you're flying from Nice to Liverpool with easyJet.

The formalities for travelling to Liverpool

Entry requirements: No need for a visa when travelling to Great Britain. However, it is not a part of the Schengen Territories, so you'll you need either a valid passport to cross the border.
Currencies: You'll be making your purchases at Liverpool's famous Metquarter shopping centre in pounds sterling.
Take advantage of the two Interchange counters at Nice Côte d'Azur Airport to quickly and easily exchange your Euro for pounds.

Your Nice-Liverpool direct flight

For the easyJet Nice-Liverpool flight, go to Terminal 2 of Nice Côte d'Azur airport.

Don't arrive at the airport last minute. It takes time to go through security screenings and Border Control checks, especially at peak travel times. So give yourself enough time! Arrive at the airport at least 1 hour before departure. Add an additional 15 minutes should you need to go to the easyJet counter to collect your ticket or check a bag.

| | |
| --- | --- |
| Departure airport | Nice Côte d'Azur Airport |
| Departure terminal | Terminal 2 |
| Arrival airport | Liverpool-John Lennon Airport |

Arriving in Liverpool

The Liverpool-John Lennon Airport is located 11 kilometres from the city centre. To make this journey, you have the following options:

take the bus. The Arriva 500 line stops at the Liverpool One bus station in the city centre, as well as the Liverpool South Parkway train station. It's comfortable and fast (25 minutes on average). You can also get to the centre on lines 80A (24/7) and 86A. There is also the practical ArrivaClick minibus service, which carries multiple people in total comfort. Reserve before your arrival (info: www.arrivabus.co.uk/arrivaclick)
take a taxi: around 20 minutes is enough to get you to your hotel or lodging.
hire a car. There are 4 agencies available in the Car Rental Centre. It is located just opposite the Terminal, across from the Arrivals Hall.
What to do in
Liverpool ?
Imagine a city in the north of England that was once the largest port in the world. Imagine thousands of people meeting to watch a football match in a pub in search of the warmth the sun too often refuses them. Imagine museums and monuments that are among the most beautiful in the country. Imagine a yellow submarine, and Eleanor Rigby sitting alone on a bench. You may say I'm a dreamer, but I'm not the only one: Liverpool is one of the 100 most visited cities in the world.

Liverpool, city of the Fab Four

See more

See less

A weekend in Liverpool holds every chance of ending with impromptu karaoke. Strolling hand in hand, you stumble upon the statue of John Lennon. Suddenly you've got a serious desire to sing Ticket to Ride, A Hard Day's Night, All You Need Is Love or A Day in the Life. Or perhaps you're on a weekend getaway with friends, looking for the kind of good time only England can offer. You head into a pub and are all swept away by the ambiance and take up the chorus of Hey Jude!
It's a fact: The Beatles left a permanent mark on their hometown. But the cradle of Paul, John, Ringo, and George has much more to offer than these legends. A prosperous city in the 19th century, Liverpool has an incredible history that will give your trip that special something. Stroll over the ancient stones the Scousers (the nickname of Liverpool locals which comes from 'scouse', a name for their accent) used to build their city, weaving culture into its very fibre and until it finally became the major British centre of art and culture it is today. As you'll see, the Pool - as supporters call it - represents at once the love of art and the art of the party!
The top 10 things to do in Liverpool

See more

See less

Give in to Beatlemania! Take the Magical Mystery Tour bus for a 2 hour tour around all the key places: the Strawberry Fields orphanage, the Penny Lane district, Paul McCartney's secondary school, and more.
Visit The Beatles Story, a museum dedicated to history's greatest band. You'll see sacred relics such as John's glasses and George's first guitar. There are also perfect reconstructions of Casbah Coffee Club and the Abbey Road studios.
Sing your head off at Cavern Club on Mathew Street. It's THE club, the place where John and the boys got their start. Nearly every evening you'll find tribute bands playing there, keeping the legend alive.
Wander around Albert Dock, the most visited site in the city. This group of floating docks and warehouses that encircle a three-hectare basin and is today listed as a World Heritage Site. On the program: shops, bars, restaurants, museums, and more.
Visit the annex of the Tate Gallery, London's famous modern art museum. Or start with Liverpool's other temple of art: the Walker Art Gallery. On its walls you'll see Rubens, Rembrandt, Degas, and Freud. A definite must see!
Hoist your anchor and visit the Merseyside Maritime Museum. It's the largest maritime museum in Europe and tells the stories of the slave trade, immigration to America, and of course the Titanic, which was registered in Liverpool, if only fleetingly.
See the architectural wonders of the city for yourself: St. George's Hall, the Cunard Building, the Port of Liverpool Building and of course the Royal Liver Building, topped with its two legendary "liverbirds" which are half eagle, half cormorant, and a symbol of the city.
Check out the Liverpool Anglican Cathedral: Its uniqueness is reflected in its organs with their 9,765 pipes and its main bell, which is the 3rd largest in the world! Climb to the top of the bell tower to admire the city from a hundred metres up.
Go shopping in the Metquarter, the most luxurious of Liverpool's shopping centres. Continue your shopping at Liverpool One or St Johns Centre.
Have lunch in Chinatown, one of the oldest Chinese districts in Europe, have dinner in the tower of St John's Beacon (over 100 metres tall), then linger in one of the city's many pubs before finishing your night with a rock concert or listening to a famous DJ.
Regular flights Nice - Liverpool LPL
FLIGHTS EASYJET EUROPE
9
Flights per week, From April to October
Flights per day :
Mon

1

Tue

1

Wed

1

Thu

2

Fri

1

Sat

2

Sun

1
Frequently asked questions