En route to Edinburgh
A direct flight from Nice to Edinburgh will take you to a place that's as famous as it is unknown: Scotland. What do we know about the most northern people of the British Isles? That they wear kilts, play bagpipes, make excellent whisky and live in haunted castles. Folklore that will certainly heighten your travels over this Celtic land. But as your Nice-Edinburgh flight lands, you'll quickly discover that the former realm of Mary Stuart has so much more to offer. So, let's go
currency

Pound sterling

language

English
Ideal For
Family

Couple

Culture

Nature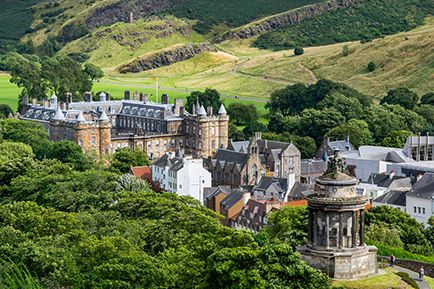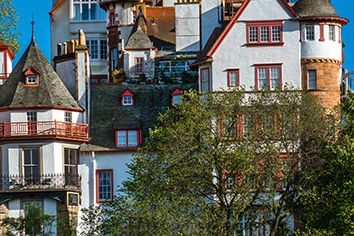 Useful information for your trip to Edinburgh

See more

See less

There's no faster way to get to Scotland than a Nice-Edinburgh direct flight. And it's affordable too: with easyJet, your Nice-Edinburgh is low cost! So don't wait another minute to book your Nice-Edinburgh flight with MisterFly. The best price guaranteed, no hidden fees, a partial reimbursement in case of cancellation, and payable in instalments: there are only advantages to using our partner's service.

The formalities for travelling to Edinburgh

Entry requirements: As Great Britain is not a member of the Schengen Territories, you are required to present a valid passport when you pass through customs.
Currencies: England and Scotland share the same currency: the pound sterling. But they don't have the same bills, as each country prints their own. Rest assured: English pounds can be used in Scotland, and vice versa!

Your Nice-Edinburgh direct flight

The easyJet Nice-Edinburgh flight leaves from Terminal 2 of Nice Côte d'Azur Airport.

Ready to go? Do you already have your Nice-Edinburgh plane ticket with you and are travelling with cabin baggage only? Perfect. You can arrive at the airport 1 hour before your flight leaves to give yourself enough time to go through security screenings. However, should you need to check in or check bags at the airline counter, give yourself at least an additional 15 minutes.

| | |
| --- | --- |
| Departure airport | Nice Côte d'Azur Airport |
| Departure terminal | Terminal 2 |
| Arrival airport | Edinburgh Airport |

Arriving in Edinburgh

Once your plane lands at Edinburgh Airport, you'll be just a few kilometres from the city centre: 13, to be exact. To make this journey, you have the following options:

Take the bus: it's the most affordable way to get there. Go to Stop D in front of the Arrivals Terminal to take the Airlink bus. There's a bus every 15 minutes day and night that will take you to Waverley Station, the main station in Edinburgh. The journey takes at least 40 minutes. Note that if you'll be staying in the old city, you can also take Line 35, which stops in front of Edinburgh Park and the University.
Take the tramway: it's faster than the bus, taking around 30 minutes. And not much more expensive. It runs from 5 am to midnight.
Take a taxi: this will cost around £20 minimum but will drop you right at your accommodation in less than half an hour.
Hire a car: a sensible solution if you'd like to visit the Scottish countryside. There are 8 different agencies available in the Car Rental Centre located opposite the Arrivals Terminal.
What to do in
Edimbourg ?
"Where Scotland Meets the World." The slogan at Edinburgh Airport says it all: the Scottish capital is often just the starting point for exploring the entire country. And Scotland is a country with a lot to offer: scenery, monuments, legends, and alluring traditions. But single malts from the Highlands and the Loch Ness Monster can wait a few days, can't they? Because you'll need some time to explore Harry Potter's hometown. Wait, didn't you know? It was in Edinburgh cafés like The Spoon and The Elephant House that J.K. Rowling wrote the first of the young wizard's adventures.

Edinburgh, a mysterious and fascinating city

See more

See less

The key to a successful holiday? Fill up on culture in Edinburgh and get a large dose of nature as you explore its surroundings! That's the magic formula that works every time, whether you discover Edinburgh with that special someone, friends, or as a family. Because Scotland is a bit like Tintin: great for ages 7 to 77. Within limits, of course. Younger children will need to wait a few years before learning the art of turning water and grain into a 20 year old scotch.
But aside from this small exception, there's no need for moderation as you discover Edinburgh and its region. Especially as this Gaelic city is full of flavour. It's bourgeois, with its royal palace and Victorian mansions. It's proud, with its castle atop Castle Rock and massive cannon, the One o'Clock Gun, fired each day at 1 pm. And then suddenly it's shocking, even distressing, as you tour The Real Mary King's Close, a city within the city, an underground labyrinth where the sick and wretched lived until the 17th century. The place is said to still be haunted to this day. But what in this city isn't? It's why we love it. For that, and so much more...
The top 10 things to do in Edinburgh

See more

See less

Visit the two Edinburgh homes of Queen Elisabeth II: Palace of Holyroodhouse and the Britannia, the royal yacht which is now spending its retirement at Leith Port.
From the Palace of Holyroodhouse, walk up the Royal Mile, an area of medieval streets whose 1,814.2 metres are a reminder of a forgotten measurement: the Scottish mile.
Make your way to the top and Castle Rock, a dormant volcano, to see Parliament, St Giles' Cathedral, and Edinburgh Castle, a thousand year old citadel that's home to the Scottish crown jewels.
Bring along a doll as you visit The Real Mary King's Close to give to Annie, or at least her ghost, who's been looking for hers for centuries. All toys left for her are collected and given to the children in the city who need them most.
Get some fresh air and sun on the impeccable lawns of Princes Street Gardens. Other things you'll find here include the "Edinburgh Eye", the Floral Clock and the Scott Monument, a Gothic spire built to honour Sir Walter Scott, writer of Ivanhoe.
Go back through thousands of years of history in just a few hours when you visit the National Museum of Scotland, which is as eclectic as it is captivating. The best of Scotland!
Linger in the streets of Dean Village, chin up, to take in the incredible houses there which date back to the 17th century. It's a village within the city which will lead you to the Scottish National Gallery of Modern Art, home to Picasso and Warhol.
Take a good 2 hour hike up to Arthur's Seat, a 251 metre high green hill where, according to legend, the son of Uther Pendragon built Camelot, the castle of the Knights of the Round Table.
Sample Scottish fudge, the biggest rival to English toffee. So many flavours to try! The undisputed expert: Fudge House on the Royal Mile.
Go Scotch tasting. In the Scotch Whisky Experience which houses the largest collection of scotch in the world. Or in a renowned whisky bar such as Usquabae, Whiski Rooms, or Devil's Advocate.
Frequently asked questions