Take off for Southern Ireland
With a Nice-Cork flight, a little less than 3 hours flight time will give you a real change of "Eire"! Forget everything you think you know about Ireland: Dublin, the capital; Belfast the British; even Giant's Causeway. Here, without losing any of its Celtic charm, the country of Saint Patrick shows you another, more romantic side. With a flight from Nice to Cork , Ireland has all the allure of Venice, the flavour of the French countryside, the taste of History and even a whiff of Silicon Valley. And it wears it well!
currency

Euros

language

English
Ideal For
Family

With friends

Alone

Nature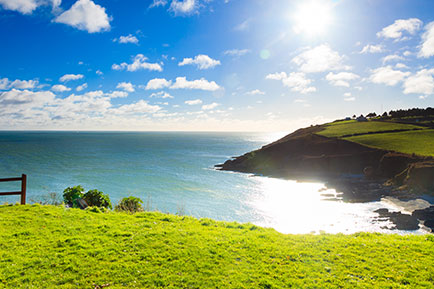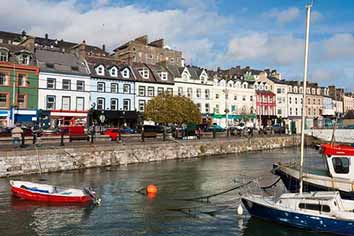 Useful information for your trip to Cork

See more

See less

You can find all available flights from Nice to Cork through MisterFly, our partner. You can also compare prices, schedules, and flight duration with connections, and the non-stop Nice-Cork flight on Ireland's national airline Aer Lingus, which means you'll find the best flight for you. Have you found your low-cost Nice-Cork flight, or even better, a non-stop flight? Don't miss your chance! Book now and pay without any hidden fees. What's more, you can take advantage of one of MisterFly's best services: paying for your Nice-Cork flight over several monthly instalments. And this payment solution is available for all flights, including the Aer Lingus Nice-Cork. Book now!

The formalities for travelling to Cork

Entry requirements: While it is European, Ireland is not part of the Schengen Territories. This means you'll need to go through customs, carrying your valid passport or identity card.
Currency: in Cork you'll be paying for your pints of Murphy's in Euro.

Your Nice-Cork direct flight

It's easy! Aer Lingus, at Nice, always takes off for Ireland from Terminal 1. If you have your boarding pass and you are travelling with hand luggage only, arrive at the airport one and a half hours before departure. This will allow you to pass through security check and customs stress-free. However, if you need to check a bag or collect your ticket, allow an extra quarter of an hour.

| | |
| --- | --- |
| Departure airport | Nice Côte d'Azur Airport |
| Departure terminal | Terminal 1 |
| Arrival airport | Cork Airport |
What to do in
Cork ?
Cork is Ireland's 2nd largest city and its economic hub. Many multinationals like Apple and Pfizer - inventor of Viagra - have made it their home, bringing with them modernity and prosperity, energising the region. For all that, this city isn't just for business travellers! It's also perfect for tourists. It has so much to offer! Built partially on an island with rivers and canals flowing through it, it's incredibly charming and perhaps one of the loveliest of seaside cities. It's also full of impressive history. And finally, it's bathed in an ambiance of youth, joy, and friendliness. Proof that it's really and truly Irish!

A taste of nature

See more

See less

There are two ways to organise your holiday in Cork. You can go as a couple for a few days for a romantic city break. Your trip will be made up of strolling hand in hand along the banks of the Lee, the river that divides the city, and intimate evenings over a glass of whiskey or a pint in one (or many!) of those infamous Irish pubs. To these cosy moments is added touring around the sights that made Cork the European Capital of Culture in 2005.

The second way? Heading there for a week or more with the whole family. Bring history to life for your brood by taking them into an ancient prison, an age-old castle, or even getting a first-hand look at the history of the Titanic. Even better, take them outside the city and discover the southern tip of Ireland, one of the most beautiful coastlines in the country. There you'll find unforgettable peninsulas, vertigo-inducing cliffs, golden coves, enchanted manors, and beautifully untamed islands. A big breath of fresh air with a touch of salt and euphoria coming from off the Atlantic!
The top 10 things to do in and around Cork

See more

See less

Wander around the historic centre. Stroll down St Patrick Street, the main artery, twice dubbed the best street for shopping in Ireland. Even more picturesque is Paul Street, a pedestrian-only colourful lane that many a craftsman calls home.
Experience castle life. Cork and its surroundings have some great ones. Blackrock Castle, which would have fit right in on Game of Thrones, is today a family-friendly observatory. Blarney Castle and the legendary Blarney Stone are also worth a visit.
Go directly to jail (and don't pass go!). With its realistic mannequins of prisoners and jailers, its cells and dark hallways, the Cork City Gaol, a former prison that closed in 1923, will show you just how severe the penal system was before Irish Independence
Go in search of a little treat - for your eye and your palate! - at the English Market. It's the most opulent food market on the island, and the best place to get a taste of true Irish cuisine. To the point that Queen Elisabeth herself couldn't resist a visit.
Discover the secrets of the making of Irish whiskey by visiting the Midleton Distillery, the largest in Ireland. This is where Jameson - Ireland's most popular whiskey - is made (among other beverages).
Visit a zoo unlike any other. Situated on a peninsula surrounded by Loch Machain, the Fota Wildlife Park has 80 different species of animals including zebras, big cats, kangaroos, red pandas, and more. And most of them wander the grounds in semi or total freedom!
Get an insider's look at one of the century's greatest sagas: the Titanic. It was at Cobh, a port near Cork, that the transatlantic ship made its last stop before heading out to sea to meet its fate. A museum, The Titanic Experience, will plunge you into the heart of the story.
Take in some breathtaking scenery on the cliffs of Mizen Head. Descend the 99 steps, follow the trail to the tip of the promontory, and cross a small bridge suspended over the sea to get to a small island, and its beacon and museum.
Stop off in the small fishing village of Kinsale. Tourists come in droves to visit Charles Fort, an immense fortress that looks out over the sea, and also to wander its charming sloped streets lined with colourful houses - and for the renowned cuisine of its restaurants.
Visit a deserted island. Cross the ocean hanging by a thread - a cable car connects the cost to Dursey Island. Visit the thousand year old Skellig Michael monastery, with its fiendish stairways and flat stone domes that were the setting for Star Wars Episode VII.
Regular flights Nice - Cork ORK
FLIGHTS AER LINGUS
2
Flights per week, From May to September
Flights per day :
Mon

0

Tue

0

Wed

1

Thu

0

Fri

0

Sat

0

Sun

1
Frequently asked questions