A spotlight on Bastia and Cap Corse
A forty minute plane ride from Nice to Bastia, a small jump over the Mediterranean, and just like that you're in a whole new world. Welcome to Corsica! An authentic Corsica with its own unique character that's beyond compare. Your direct Nice-Bastia flight drops you straight in, right at the foot of Saint-Nicolas Place, the wild slopes of Cap Corse, the Patrimonio vineyards or the Castagniccia forests, a road trip to Pietrosu.
time difference

+0h

currency

Euros

language

French
Ideal For
Family

Couple

With friends

Alone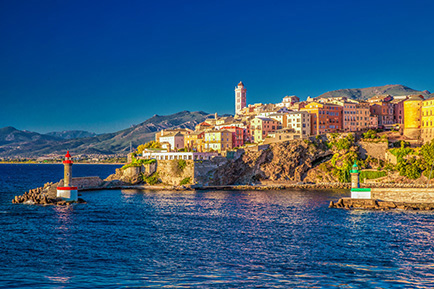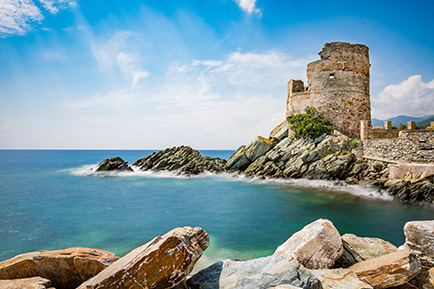 Useful information for your trip to Bastia

See more

See less

Would you like to know the duration and price for a Nice-Bastia flight that works for your schedule? Looking to book a Nice-Bastia return flight quickly and at the best price, and pay for your Nice-Bastia booking over several months? Trust MisterFly, our partner, and reap the benefits of quality service as you prepare your journey to the Island of Beauty.

Your Nice-Bastia direct flight

To cross the Mediterranean, hop aboard the Nice-Bastia flight operated by Air Corsica, Corsica's regional airline. At Nice Airport all departures for Bastia, as for all island destinations, fly out of Terminal 2.

But even if your flight is short, you'll need to give yourself time! Avoid the stress of security screenings by giving yourself a bit of extra time before your flight by arriving at the airport at least one hour before departure. Leave a little more time if you need to collect your ticket or check your bags at the Air Corsica counter.


| | |
| --- | --- |
| Departure airport | Nice Côte d'Azur Airport |
| Departure terminal | Terminal 2 |
| Arrival airport | Bastia-Poretta Airport |

Arriving in Bastia

Upon the arrival of your Nice-Bastia flight, you'll be able to get to the centre of the Northern Corsica prefecture easily. Located just 20 kilometres south of the city, the Poretta Airport offers:

a shuttle service. Just 25 minutes will take you to the station at the heart of the city. One to two departures every hour.
taxis. You'll find a taxi stand just in front of the Arrivals Hall. A taxi to Bastia centre costs a bit less than €50. Rates are higher at night (from 7 pm) and on Sundays and bank holidays.
hire cars. Seven companies have counters in the Arrivals Hall of the airport.
What to do in
Bastia ?
Bastia and its surroundings don't offer the same tropical paradise as Southern Corsica. Here you'll find a rougher, more mysterious landscape, and fewer luxury resorts. But that's why people come here: for its simplicity, authenticity, and to discover its beauty for themselves! And you can start in Bastia itself, by wandering through its narrow streets and alleyways behind the ramparts of this fortified city. Wherever you go next - be it neighbouring villages or one of the many hiking trails that weave their way through the maquis - your efforts will be well-rewarded by breath-taking views.

Visit Bastia for a weekend or longer

See more

See less

Feeling restless and have a few days off? Don't feel like taking a long trip, but desperate for a nice getaway? Do you like nature and good food? Bastia is the place for you! Whether you go with family, friends, or a special someone, a holiday here can only be a success. Northern Corsica is much to offer visitors.
Its scenery: From the weathered façades of the Bastia citadel to weather-beaten fishing huts, from hilltop villages to Genoese towers that enchant visitors with their raw beauty. And so what if the stones sometimes show their years? It only serves to make them more interesting, more moving.
Its landscapes: Cap Corse is full of surprises: a little-known but beautiful beach stumbled upon by accident, a hilltop with a view over the sea that goes on for miles, a forgotten tower in the middle of the maquis...
And then there's the food. Do we even need to tell you about the inimitable flavour of Corsican charcuterie? To praise the work of Patrimonio winemakers and the bouquets of their rosé and Muscat wines? To make your mouth water with promises of freshly caught fish, grilled lobster, steaming bowls of polenta and melt-in-your-mouth fiadone? No, the Island of Beauty is well-known for its gastronomy and love of food.
The top 10 things to do in and around Bastia

See more

See less

Take the time to walk around Bastia and absorb the charms of the old city, the citadel, the cathedral and ancient port, or relax on some of the many restaurant terraces - a pastime enjoyed by locals and tourists alike.
Don't miss the Palais de Gouverneurs (Governor's Palace). This Genoese castle is six centuries old and is today home to the Mastia Museum of History. Each year in June, the Creazione is held here, the Mediterranean fashion and design festival.
Head to Place Saint-Nicolas and sample a Cap Corse in the heart of Bastia. Have you fallen in love with this wine-based cinchona and plant aperitif yet? Just a few steps will take you to the Art Déco boutique where it's made: the Mattei distillery. A truly local institution!
The Place Saint-Nicolas also plays host to the Sunday food market and flea market. You'll find another market at the Place de l'Hôtel de Ville. But how do you choose the best cheese and charcuterie? With your ears! If the person in front of you is speaking with a Corsican accent, follow their lead!
Travel the 'route des vins' and discover the full-bodied reds and fresh rosés of the Patrimonio AOP (PDO in English, or Protected Designation of Origin), and the sweet gourmet whites of the Muscat-du-Cap-Corse AOP.
Regular flights Nice - Bastia BIA
FLIGHTS AIR CORSICA
21
Flights per week, From April to October
Flights per day :
Mon

3

Tue

3

Wed

3

Thu

3

Fri

3

Sat

3

Sun

3
Frequently asked questions