Land at the foot of the volcano
"I wish I could see Syracuse", Henri Salvador once sang, celebrating the charms of the little Sicilian city in song. Once inaccessible, this dream is now possible, because passengers can fly from Nice to Catania at a very affordable price. It is less than an hour's flight to this charming city. But that's not all! With your Nice-Catania direct flight, Sicily, this island of treasures, will reveal some of its most beautiful gems: Not just Catania, but also Taormina and Etna!
currency

Euro

language

Italian
Ideal For
Family

Couple

Culture

Nature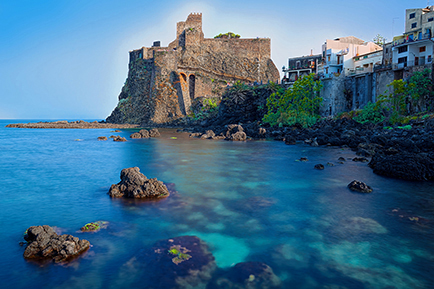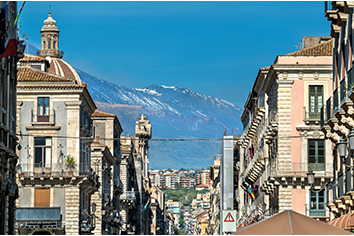 Useful information for your trip to Catania

See more

See less

You're strolling around Catania, when suddenly, you look up and there it is! Mount Etna: the most legendary of European volcanoes! A magic moment which began a few weeks earlier with our partner, Misterfly. Because this was how, in a few clicks, you found your low-cost Nice-Catania flight and booked it at no extra cost. Even better, you paid for your Nice-Catania tickets in four instalments, helping you manage your holiday budget. Sounds perfect, doesn't it?

The formalities for travelling to Catania

Entry requirements: Sicily is Italian, making it part of the Schengen Area! All you will need for your trip is a valid passport or identity card.
Currencies: Italy is part of the euro zone. Need a little cash for your first purchases? There is a cash machine available in your departure terminal.

Your Nice-Catania direct flight

For the easyJet Nice-Catania flight, go to Terminal 2 of Nice Côte d'Azur airport.
Arrive an hour and a quarter before your flight if you need to check in or put luggage in the hold. If you already have your boarding pass and you are travelling with hand luggage only, you can arrive at the airport one hour before departure.

| | |
| --- | --- |
| Departure airport | Nice Côte d'Azur Airport |
| Departure terminal | Terminal 2 |
| Arrival airport | Catania-Fontanarossa Airport |

Arriving at Catania airport

Your flight will land at Catania Fontanarossa Airport, in Catania itself, barely 6 kilometres from the city centre. To get the city centre, you can:

Catch a bus: running from 05:00 to midnight, with one departure every 20 minutes, the Alibus makes several stops in the city, terminating at Catania Station.
Take a taxi.
Rent a car: here are a eight car hire companies in the Arrivals hall. In peak season, make sure you book before you travel. Demand is high!
What to do in
Catane ?
Catania is Sicily's second-largest city. It doesn't have the same prestigious heritage as the historical capital, Palermo, due to its eventful history. It has been devastated seven times by the neighbouring Mount Etna. However, like a Phoenix, it has risen from the ashes, and now it is the economic lungs of the island. A youthful and animated city because of its university, with an attractive baroque heritage and near to some of the most beautiful sites in Sicily, Catania is worth not just a detour, but an entire holiday!

Nature, culture and adventure

See more

See less

Catania is a modern, pretty and lively city all year round. Even though the students mostly desert it in summer, many tourists flood in to take their place, maintaining the wonderful, vibrant energy that keeps this beautiful Sicilian city full of life. Trendy bars, great restaurants, beaches that become nightclubs after sundown: it's the ideal place for a break as a couple or with friends.
However, the party atmosphere and delicious produce aren't this city's only attractions. Catania has plenty of stunning sights to see. It is ideal for a quiet family break, discovering Roman ruins, beautiful baroque churches, large shopping streets, exotic markets and old palaces.
What's more, Catania's surroundings are also well worth seeing. In fact, the city is often just one stop in a trip around Sicily, to enjoy the magnificent beaches of the Ionian Sea, the slopes of Mount Etna, Taormina (nicknamed "the Sicilian Saint-Tropez"), and of course the beautiful Syracuse and the lovely Ragusa. A fantastic journey and a treat for all the senses!

The top 10 things to do in and around Catania

See more

See less

Stop off on Piazza del Duomo, a huge pedestrianised square in the heart of the city. Here, you can see baroque façades, the Fontana dell'Elefante (Elephant Fountain) and the Cathedral of Sant'Agata.
Tread the lava stone pavement of Via Etnea, Catania's largest avenue. Shops, artisan workshops, cafes: the street is great for both shopping and relaxing.
Do your shopping at the Pescheria market, near to Piazza del Duomo. Swordfish, live lobsters, enormous lemons: it's a sight to behold!
Savour a plate of Pasta alla Norma, the culinary tribute to composer Vincenzo Bellini, a child of this city.
Climb the slopes of Etna for a closer look at its smoke. How? On foot, by horse, by quad bike, or perhaps in a 4X4. You can even get close to the crater in a helicopter!
Step aboard the Ferrovia Circumetnea, the little train that has run around Mount Etna for 120 years, departing from Catania. A trip back in time, through magnificent landscapes.
Take a trip to Taormina, the most famous of Sicilian villages. Visit its Greek theatre for an amazing view, picnic in the gardens of the Villa Comunale, and work on your tan on the Isola Bella beach.
Finally see Syracuse! On the programme: the island of Ortygia with its little streets, the ruins of Neapolis, the Catacombs of San Giovanni, and the crystalline waters of the Ognina creeks.
Visit Ragusa, an "island within the island", a baroque city built on a rocky outcrop and boasting World Heritage Site status.
Enjoy the magnificent beaches of the Catania region: La Playa with its 18 kilometres of sands, Praiola with its black lava pebbles, and the Riviera dei Ciclopi with its magnificent landscapes. Not to mention the many other beaches!
Regular flights Nice - Catane CTA
FLIGHTS EASYJET EUROPE
2
Flights per week, From July to August
Flights per day :
Mon

1

Tue

0

Wed

0

Thu

0

Fri

1

Sat

0

Sun

0
Frequently asked questions