Take off to Stuttgart
Are you a big fan of extraordinary German cars? Treat yourself to a Nice-Stuttgart flight ticket. The capital of Baden-Württemberg is home to the factories and museums of two automotive legends: Mercedes and Porsche. You might be thinking that one Nice-Stuttgart ticket will do, as the missus isn't a fan of cars. It's just not true! Shopping, culture, spas, nature: the city has so much to offer. It can even be fun for the whole family...
Useful information

See more

See less

The formalities for travelling to Stuttgart

Entry requirements : As Germany is a member of the Schengen area, all you need is your passport or identity card.
Currency : no need for currency exchange! Like us, our German neighbours pay in euros.

Your Nice-Stuttgart direct flight

Eurowings, the only company to offer a direct Nice-Stuttgart flight, flies out of Terminal 1.

For a relaxed trip, get your timing right! Arrive at the airport at least one hour before departure. You'll have time to calmly get through security checkpoints, no matter how busy the airport is the day of your departure. And if you're checking a bag or collecting your ticket from your airline's check-in desk, add an additional 15 minutes.

| | |
| --- | --- |
| Departure airport | Nice Côte d'Azur airport |
| Departure terminal | Terminal 1 |
| Arrival airport | Stuttgart airport |
| Arrival terminal | Terminal 1 |

Arriving in Stuttgart

For a Nice-Stuttgart flight, the arrival terminal is Terminal 1 at Stuttgart Airport.

Despite its size and heavy traffic, the airport is just 12 kilometres from the centre of the city. To get to there, you have the following options:

take the train. The airport has its own train station, located underneath Terminal 1. It goes to the central station several times per hour, from 4 am to midnight. Take S-Bahn lines S8 and S9 (the equivalent of the Paris RER lines), or lines 59 and 75 of the Regional Express. The trip takes less than 15 minutes.
take a taxi. This will cost around €30 and take about 30 minutes to get to wherever you're staying.
hire a car. There are several agencies located in Arrivals Hall A of Terminal 1 at Stuttgart Airport.
time difference

+0h

currency

Euros

language

German
Ideal For
With friends

Culture

Town/City

Family

Couple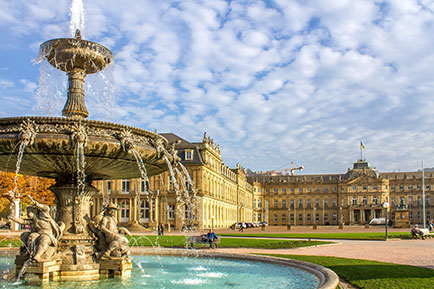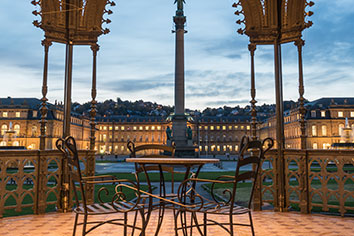 From two wings to four wheels
If you're looking for a cheap flight between Nice and Stuttgart, we've got the answer: check out MisterFly, our partner. They are online flight ticket specialists and will help you find a Nice-Stuttgart direct flight during the holidays and at the best price. It makes for the perfect trip, especially as you can book it straight away, with no booking fees, and pay in monthly instalments. This service is available on all flights departing from Nice, including low-cost Nice-Stuttgart flights.
What to do in
Stuttgart ?
Nestled in the heart of the city is a castle not unlike that of Versailles. Its presence speaks volumes about the beauty of Stuttgart. Surrounded by green hills, the Swabian city has a charm that is too often overshadowed by its industrial success. It's true that business thrives here. But so does life! In fact, the people of Stuttgart know how to pamper themselves daily in a thousand ways: enjoying the thermal baths, a cold beer, an Italian opera, lunch on the grass... Don't hesitate to follow their example!
A weekend away for the mister and missus

See more

See less

Because it's both romantic and epicurean, Stuttgart is perfect for couples. The capital of Baden-Württemberg has a way of creating the perfect conditions for sharing magical moments. Slip into the warm waters of one of the 19 springs that flow through the city and lie half-naked against each other for an hour of bathing - or longer. Happiness! Lie side by side on the lawns facing the Neues Schloss to enjoy the sunshine. Happiness! Share a picnic up above the city, under a tree or on a bench on a huge terrace, and indulge in some local charcuterie bought that morning in the market. Happiness!

What if you're a parent and your kids are demanding to come along as well? No problem. A Stuttgart city break is perfect for families as well! It's home to several exceptional sites that will appeal to both generations. Fantasise together as you take in some of the most beautiful cars ever built. Imagine yourselves as princesses or knights in an ancient dungeon. Discover just about every animal on the planet at one of the world's most incredible zoos. Again, happiness!
The top 10 things to do in Stuttgart

See more

See less

Head into the city centre to see one of the glories of Stuttgart that's stood for over two centuries: the Neues Schloss (New Castle). This baroque palace is bordered by the Schlossplatz, the most beautiful square in the city, and vast gardens. A must!
Another square, another castle! Continue your walk to Schillerplatz, which is less prestigious than Schlossplatz, but no less charming. And be sure to enter the courtyard of its Renaissance castle: the Altes Schloss (Old Castle).
Spend a full day at the Wilhelma Botanical and Zoological Gardens, one of the largest in Europe. Within its Moorish-style buildings and enclosures are 10,000 animals from a thousand different species.
Do your shopping the way the locals do at the Markthalle, the city's most famous market. Fill your basket with cold cuts, cheeses, pastries, and more.
Explore the history of two automotive legends: Porsche and Mercedes. Each manufacturer has its own museum, with ultra-flashy cases housing their most magnificent cars and carriages! Also worth seeing: MotorWorld, a Mecca for collectors!
Relax in one of the city's many spas. Such as Das Leuze. This spa offers more than a dozen saunas, 8 heated pools and numerous indoor and outdoor pools fed by carbonate or mineral springs.
Wash down your schnitzel (a breaded cutlet) and accompanying spätzle (egg pasta) with a local beer. The city has a large number of microbreweries that do justice to the reputation of German beer.
Climb the Stuttgart Fernehturm (Stuttgart's television tower) and enjoy the view. The tower is built on top of a hill and its viewing platform is 150 metres above the ground. It's a great viewpoint!
Visit Esslingen am Neckar. With its river and half-timbered houses, this is one of the most charming villages on this side of Germany and is just near Stuttgart.
Take a trip to Legoland in Günzburg, which is about an hour from Stuttgart. 63 attractions and thousands of models built from over 57 million Lego pieces await you!
Regular flights Nice - Stuttgart STR
FLIGHTS EUROWINGS
2
Flights per week, From April to October
Flights per day :
Mon

0

Tue

0

Wed

0

Thu

1

Fri

0

Sat

0

Sun

1
Frequently asked questions