Direction: the Indian Ocean
Forget what you've heard! A non-stop flight to Kuwait, name of the country and the capital, isn't just for business travellers. This tiny Persian Gulf country has more and more to offer for tourists. Visitors are drawn here by the coastline and immense beaches, the modernity of its capital Kuwait City, the charming Bedouin culture which is still very much alive throughout the country, and the impressive shopping, from souks to ultra-modern galleries. All this makes a Nice-Kuwait non-stop flight and the holiday that follows an exotic getaway that's both unique and pleasant.
time difference

+1h

currency

Kuwaiti dinars

language

Arab
Ideal For
Couple

Culture

Beaches

Weekend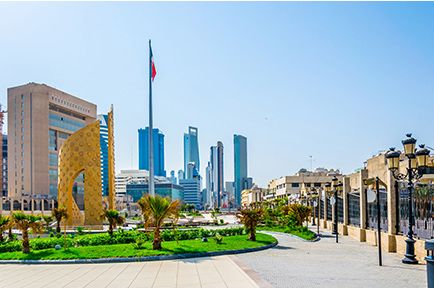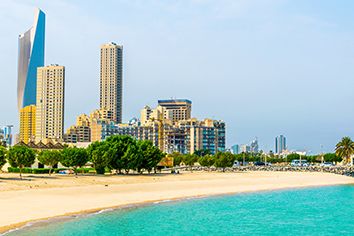 The formalities for travelling to Kuwait

See more

See less

Interested in an exotic city break in Kuwait? Then don't wait! Head over to MisterFly, our partner, to find a non-stop Nice-Kuwait flight and plan your long weekend in the sands of the Persian Gulf. Book your Nice-Kuwait ticket on the spot and without hidden fees and, if you wish, pay over several monthly instalments.

The formalities for travelling to Kuwait

Entry requirements: French citizens can enter Kuwait with a valid passport and an entry visa (which can be acquired for under €10). Note that the authorities in Kuwait may refuse entry to anyone whose passport contains an Israeli stamp.
Currency: you'll be paying for your purchases in Kuwaiti dinars. About €3 is equal to 1 dinar.

Your Nice-Kuwait direct flight

On the day of travel, your Kuwait Airways flight from Nice to Kuwait can be found in Terminal 1 of Nice Côte d'Azur airport.

Remember that you'll need to go through security and border police screenings before your flight. Give yourself at least an hour and a half, and allow an extra quarter of an hour should you need to go to your airline check-in desk to collect your boarding pass or check bags.

| | |
| --- | --- |
| Departure airport | Nice Côte d'Azur Airport |
| Departure terminal | Terminal 1 |
| Arrival airport | Kuwait International Airport |

Arriving in Kuwait

The Kuwait International Airport is 16 km from the capital. To get to the city centre, you must:

Take a bus: Line 501 will take you to the heart of the city in 30 minutes.
Take a taxi: You'll find them waiting in front of the Arrivals Hall. Getting to your hotel will take 15 to 20 minutes. The trip will cost around €20. Be sure to agree on a price before getting in the taxi.
Hire a car: there are more than 10 car hire companies with counters at Kuwait Airport.
What to do in
Koweit City ?
Your first experience with Kuwait may have been watching the first Gulf War unfold on the television, but the Kuwaiti emirate has long since turned the page on this dark chapter in its history. Safe and peaceful, the country and its capital have become forward-thinking, while continuing to cultivate all the pleasures that the present has to offer! Shopping, architecture, the sea, culture, and lifestyle: there's much here to seduce any visitor. And all of it is well worth a holiday in this gateway to the desert, or at least an extended stopover on route to the other side of the world.

Cosmopolit and exotic

See more

See less

With five hours' flight time between Nice and Kuwait, we can't tell you that the emirate nestled between Iraq and Saudi Arabia is just next door. But we can tell you that the flight schedule for Kuwait Airways makes it easy to get away for a great weekend city break that's well off the beaten path. You won't find a more unique destination! While Kuwait may resemble its larger Persian Gulf neighbours with its ultra-sophisticated glass and steel skyscrapers, its immense shopping centres and its chic private beaches, it has yet to become a major international tourist destination.
Which is great news for you, as the city offers a nice contrast between its global ambitions and its Bedouin roots. A double culture you can both see and taste - the Kuwaiti capital gives great importance to culinary delights. Good restaurants abound. Many will treat you to flavours well-known to our part of the world or to the exotic spices of Indian fare. But some put local tradition first, with distinctive cuisine that means that in Kuwait, the charms of the East also bewitch the palate!
The top 10 things to do in Kuwait

See more

See less

Fly over Kuwait...with your eyes. The highest of the three towers that make up Kuwait Towers (water towers that look like minarets) offers you both the hospitality of its observation platform or restaurant and a superb panoramic view of the city.
Visit the Grand Mosque of Kuwait, one of the most beautiful on this side of the world. It can hold up to 11,000 worshippers! Free guided visits are regularly scheduled allowing you to learn about the building and the religion it serves.
Walk along Seif Palace, one of Kuwait's royal residences. It can't be visited, but this over 100-year-old palace is fascinating nonetheless. Its clock tower and gold-covered dome alone are worth the detour. The Big Ben of the desert!
Head to the Al Mubarakiya souk to haggle for souvenirs. The charm of this market will make you quickly forget you're surrounded by skyscrapers. There you'll find spices, textiles, trinkets, and restaurants ranging from the modest to the gourmet.
Super size your shopping! The capitals of the Gulf are the new Eldorado for shoppers, and Kuwait is no exception, with the 360 Mall, Marina Mall, and especially The Avenues - a city within a city with hundreds of fashionable shops and restaurants.
As night falls, wander around the gardens of the Sheikh Jaber Al-Ahmad Cultural Centre or have a seat on the terrace of one of its restaurants to take in the light show of its spectacular musical fountain, one of the largest in the world.
Linger in the gardens of Green Island, an artificial island oasis with 50,000 plants. There you'll find restaurants, a panoramic tower, a large swimming pool, and lots of play areas for kids. Perfect for a picnic.
Learn about Kuwaiti culture over two (very different) days. One traditional, at the Tareq Rajab Museum, dedicated to Bedouin culture. The other contemporary, at the Mirror House with its astounding mosaics created using 75 tons of mirrors.
Get up close to the Al Hashemi II, one of the largest wooden ships in the world. A marvel! It's a baghlah, a massive dhow, more than 80 metres long. It's never sailed! Built 20 years ago, it plays host to high-end meetings and events.
Climb aboard for an hours' ride to Failaka Island. Transformed into a military stronghold by the Iraqi army during the Gulf War, today it is making a comeback. On the program: Greek ruins, traditional dhows, rusted tanks, and beaches.
Regular flights Nice - Koweit City KWI
FLIGHTS KUWAIT AIRWAYS
2
Flights per week, From June to September
Flights per day :
Mon

0

Tue

1

Wed

0

Thu

0

Fri

0

Sat

1

Sun

0
Frequently asked questions