Fly to Frankfurt and the Main River
Nice Frankfurt. It resembles the first leg of a journey elsewhere, as Frankfurt am Main plays host to a particularly lively hub. But it can also be the starting point of a unique holiday, one that will allow you to discover a little-known city that's at once charming, entertaining and seductive. So hop on a direct Nice Frankfurt flight and let yourself be carried away by the energy of this place nicknamed "Main Hatten", which will surprise you as much with its small streets and taverns as with its glass towers and electro night clubs.
currency

Euros

language

German
Ideal For
Couple

Alone

Town/City

Weekend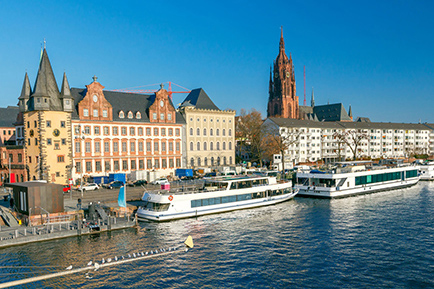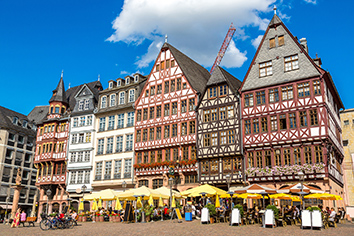 Useful information for your trip to Frankfurt

See more

See less

Quickly find your direct Nice Frankfurt flight by heading to MisterFly. Our partner will give you all the information you need to plan your trip -dates, times, and prices - meaning you can plan your trip easily and book your Nice Frankfurt flight at the best price, guaranteed!

The formalities for travelling to Frankfurt

Entry requirements: Frankfurt is part of the Schengen Territories. This makes travelling there incredibly simple. All you need is your passport or ID card. Whichever you use, make sure it's still valid!
Currency: Germany adopted the Euro at the same time as France.

Your Nice Frankfurt direct flight

There's just one airline that flies to Frankfurt. Lufthansa awaits you in Terminal 1 for your Nice Frankfurt flight.

Start your voyage without stress by arriving at the airport at least 1 hour before departure. This will give you time to go through security screenings and even spend some time in the shops, bars, and restaurants of Terminal 1 if you like. Should you need to collect your ticket or check bags at the Lufthansa counter, give yourself an additional 15 minutes.


| | |
| --- | --- |
| Departure airport | Nice Côte d'Azur Airport |
| Departure terminal | Terminal 1 |
| Arrival airport | Frankfurt am Main Airport |
| Arrival terminal | Terminal 1 |

Arriving in Frankfurt

For a Nice Frankfurt flight, the arrival terminal is Terminal 1 at Frankfurt Airport. Despite its size and heavy traffic, the airport is just 12 kilometres from the centre of the city. To get to there, you have the following options:

Take the train: the airport has its own train station, located underneath Terminal 1. It connects to the central station several times per hour, from 4 am to midnight. Take S-Bahn lines S8 and S9, or lines 59 and 75 of the Regional Express. The trip takes less than 15 minutes.
Take a taxi: This will cost around €30 and take about 30 minutes to get to wherever you're staying.
Hire a car: there are several agencies located in Arrivals Hall A of Terminal 1 at Frankfurt Airport.
What to do in
Frankfurt ?
Like many German cities, Frankfurt suffered serious damage during WWII. It was able to get back on its feet, becoming the financial centre of the FRG, then of reunified Germany, building several skyscrapers to house the jewels of the national economy. This prosperity allowed Frankfurt to undertake major renovation work to recover some of its pre-war charm. Old quarters and some of the most beautiful streets were thus resurrected so that visitors could experience its charming and lasting beauty - beauty that inspired Germany's greatest writer, Johann Wolfgang Goethe, and is sure to do the same for you.

Frankfurt, a city of art and art de vivre

See more

See less

A weekend in Frankfurt might sound strange at first when you start talking to your children about it, but once you're there, it's truly delightful. Between selfies at the top of a skyscraper, encounters with dinosaurs, a tête-à-tête with tigers and a round of mini-golf, this city has everything you need for successful family holiday.
But a romantic getaway or trip with friends will allow you to get an even better taste of Frankfurt hospitality. Because this German city has a speciality that can't be shared with small children: the night! While it's hard at work during the day, Frankfurt lets down its hair as night falls. The fun usually starts with a drink. Frankfurt has many wine bars that combine the chic with the vintage, in both ambiance and wine. Or perhaps you prefer their traditional taverns where you can order beer or a glass of their classic apfelwein (a cider regionally referred to as ebbelwoi).
After this starter, continue your evening out in a trendy or upscale restaurant (depending on your mood!) before finishing the night in a music-filled cocktail bar. Frankfurt is the place to be for music lovers: from bel canto to electro, jazz to techno (popularised here by DJs in the 80s), it's become a legendary part of European club culture.
The top 10 things to do in Frankfurt

See more

See less

Go back in time - centuries even! - by strolling through Römerberg, Frankfurt's historic district. Cobblestone streets, a Gothic church, timber-framed houses: here, it's the Middle Ages.
Get above it all by heading up to the top of the Main Tower, at 200 metres up, and to the rooftop of the Zeilgalerie, a shopping centre opposite the business district and its skyscrapers.
Then keep going up. This time to the top of the bell tower of the Imperial Cathedral of Saint Bartholomew. 324 steps take you up 95 metres for an incredible view.
Walk down the Museumsufer, the Boulevard of Museums. The right bank of the Main is home to the main city museums, including the Städel with its 3,100 paintings by Vermeer, Rembrandt, Monet, Goya, Picasso and more.
Continue your culture tour with the MMK, Museum für Modern Kunst. This modern art museum has pieces by Warhol, Lichtenstein and Beuys, a prominent German contemporary artist.
Celebrate the memory of Frankfurt's most famous citizen: Goethe. Fully restored after the war, his house is one of the must-sees of any trip to the city.
Go to Jurassic Park - or more precisely to the Naturmuseum Senckenberg, Frankfurt's natural history museum. It houses the most impressive collection of large dinosaur fossils in Europe. Here you'll see triceratops, diplodocus, parasaurolophus, and many more.
Feed your need for nature at the Palmengarten, a botanical garden with 6,000 different species, and the Frankfurt Zoo which has more than 500.
Pick your poison: currywurst, bratwusrt or weißwurst? Each is a delicious Frankfurt speciality sausage. The first is made with curry, the second is roasted, and the third is with parsley and lemon.
Experience Frankfurt by night with a glass of apfelwein in the charming Sachsenhausen district and a night of jazz at Jazzkeller, the most famous club in the city which has played host to Louis Armstrong, Dizzy Gillespie and Chet Baker, just to name a few.
Regular flights Nice - Frankfurt FRA
FLIGHTS CONDOR
4
Flights per week, From May to October
Flights per day :
Mon

1

Tue

0

Wed

0

Thu

0

Fri

1

Sat

1

Sun

1
FLIGHTS LUFTHANSA
28
Flights per week, From April to October
Flights per day :
Mon

4

Tue

4

Wed

4

Thu

4

Fri

4

Sat

4

Sun

4
Frequently asked questions