Restaurant
In the departure lounge of Terminal 2, British chef Jamie Oliver offers a fresh take on the dolce vita. Enjoy the view of the runways while you savour some Italian-inspired cuisine, with particular attention to good-quality, fresh ingredients and product origin.
Jamie's Italian in Terminal 2
'La Dolce Vita' is blowing through Nice Côte d'Azur Airport. Drop into Jamie's Italian restaurant in the Terminal 2 departure lounge.
It's a first in France! Jamie's Italian is dropping its bags in Nice Côte d'Azur Airport. In a contemporary setting, British chef Jamie Oliver brings an Italian-inspired menu. The opportunity to enjoy great food with simple, traditional flavours: pasta, antipasti and fresh salad, not mention pizza prepared and baked on-site. For people travelling from Terminal 2, the restaurant has also earmarked some new and unique dishes.
What's the Jamie's Italian signature? "Rustic Italian food with a Jamie-style twist".
Particular attention paid to responsible sourcing, as well as quality and freshness of ingredients. Added to these requirements are entirely modern cooking techniques and food presentation.
Find all the charm of the transalpine kitchen in Nice Côte d'Azur Airport: stopover at Jamie's Italian!
Make the most of your CAP benefits
Are you a Club Airport Premier member? You can make the most of your benefits when eating at Jamie's Italian. Treat yourself, and you'll get 10% off. The perfect chance to enjoy your privileged passenger status!
*Alcohol abuse is dangerous for health, consume with moderation. Exercise regularly for your health. For information, visit www.mangerbouger.fr.
Non-contractual photos and videos – Dishes given as an indication and may vary depending on the season, arrivals and the menu.
Location(s)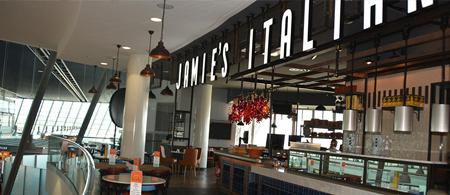 After going through security
Niveau 3
Salle A
Towards the gate

B22

from 12 p.m. to 9 p.m. except Tuesday and Saturday closing at 8:30 p.m.