Take off for Kyiv, the capital of Ukraine
Flying from Nice to Kyiv still feels like an adventure, a taste of the unusual. Despite having 3 million inhabitants, a unique way of life and a long history, the Ukrainian capital has yet to become one of Eastern Europe's major tourist destinations. So if you like to get off the beaten path you're in luck, because here you'll find both authenticity and originality. Rest assured: A direct flight from Nice to Kyiv offers all this and more, plus an over-abundance of charm. Starting with the locals, who are said to include the world's most beautiful women. But there is much more than that to discover!

currency

Hryvnia ukrainienne

language

Ukrainien
Ideal For
Couple

Culture

Town/City

Weekend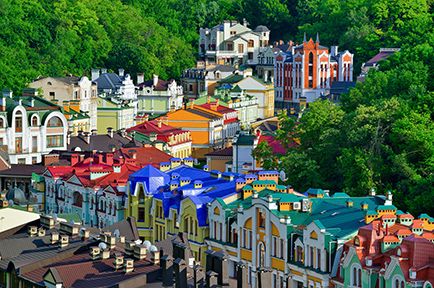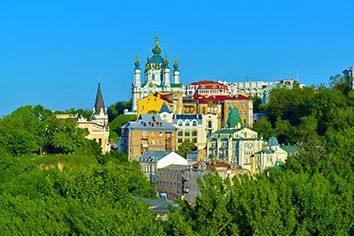 The formalities for travelling from Nice to Kiev

See more

See less

Looking for the least expensive Nice-Kyiv flight? Trust MisterFly, one of the leading specialists in online flight booking. In no time you'll find all the information you need: flight time from Nice to Kyiv, and available dates, times, and prices. You'll be able to book your Nice-Kyiv flight without surcharges, pay in instalments if you like, and get yourself ready to head for the land Balzac called "Northern Rome".

The formalities for travelling to Kyiv

- Entry requirements: Unless you're planning to stay more than 90 days, European citizens do not need a visa to enter Ukraine. They do however need to be in possession of a valid passport.
- Currency: Ukrainians use hryvnia. Around 30 hryvnia make 1 Euro.

Your Nice-Kyiv direct flight

Two airlines fly to Ukraine: Ukraine International Airlines and the low cost SkyUp. Both operate out of Terminal 1 of Nice Côte d'Azur Airport.

Arrive at the airport early! Between security screenings and border controls, you'll need to give yourself enough time to get to your gate. To be safe, arrive at the airport at least one and a half hours before departure when travelling with cabin baggage only, and more should you need to check bags or when travelling at a busy time, especially during summer.

| | |
| --- | --- |
| Departure airport | Nice Côte d'Azur Airport |
| Departure terminal | Terminal 1 |
| Arrival airport | Boryspil International Airport |
| Arrival terminal | Terminal D for Ukraine International Airlines Terminal F for SkyUp. |

Arriving in Kyiv

You'll be arriving at Kyiv's Boryspil International Airport, at Terminal D if you're flying Ukraine International Airlines, and Terminal F if you're flying with SkyUp. It's the country's main airport and is located around 30 kilometres from the centre of Kyiv. To get to the city centre, you can use:

the bus. The Skybus connects the airport to the city in 30 minutes (or less during off-peak hours!). It has stops near both Terminals D and F.
the train. The Boryspil Express runs 24/7 between the airport and Kyiv-Pasazhyrskyi, the largest station in the city. From there, you can take the underground to your accommodation. The journey takes 40 minutes. The station is near Terminal D.
a taxi. Taxis can be reserved upon arrival at one of the dedicated counters located near Arrivals Hall exits. Be sure to use a company that's officially recognised by the airport to get a reasonable flat rate.
hire a car. You'll find 5 agencies in airport Terminal D.
What to do in
Kiev ?
What do most people think about their first trip to Kyiv? That it's a pleasant surprise! It's true that you won't find the Ukrainian capital in the glossy pages of travel company brochures. It's also true that Ukrainians themselves aren't particularly used to having tourists around, and there aren't many of them who speak English. But for all that, this large city is truly a unique holiday destination that's both pleasant and seductive, and lets you glimpse the past while enjoying all the comforts of the modern age.
Set off for Kyiv, and discover the birthplace of Slavic culture

See more

See less

While Saint Petersburg and Moscow are today's largest Slavic cities, Kyiv will always be the oldest. Established nearly 12 centuries ago on the shores of the Dnieper, it was home to the first Russian state in history: Kievan Rus'. It's a status that makes the city the arbiter of an incredible legacy, one that's rich in both Orthodox and Byzantine churches, the oldest of which date back over a thousand years.
But churches aren't the only things you'll find here. Kyiv is a brilliant mosaic of museums, its Soviet heritage, and its remarkable architecture, which includes many Art Nouveau buildings. You'll find the city centre full of couples and groups of friends enjoying the laid-back atmosphere.
But art and 'art de vivre' aren't the only tricks Kyiv has up its sleeve! The locals love to have a good time, whether it's dining on local cuisine such as borscht or golubtsy, or music-and-vodka soaked evenings in taverns, bars and night clubs.
The top 10 things to do in Kyiv

See more

See less

Visit Kyiv Pechersk Lavra, also known as Kyiv Monastery of the Caves. No need to be a certified potholer. This is actually the country's most beautiful monastery. Nearly a thousand years old and listed as a World Heritage Site, it is named for its catacombs which are home to the mummies of monks.
Discover Ukraine's most famous cathedral: Saint Sophia's. Enlarged and embellished over the years, you'll still find some of its original mosaics on display today, dating back to the 16th century.
Take your time on the Maidan (the "square"), a nickname given by locals to the famous independence square which was the epicentre of the Orange Revolution of 2004. It's not just a place for protests; it's also, and more especially, a place for life.
Linger on Andreevsky spusk, the "descent of Saint Andrew", one of the oldest and most alluring streets in the city, nicknamed the Montmartre of Kyiv. Here you'll find the exquisite Saint Andrew's Church, gorgeous apartments, art galleries and cafés.
Leave the beaten path and check out the Lypky district, formerly home to the Ukrainian aristocracy, but now home to embassies and the Mariyinsky Palace of Ukraine. You'll also find beautiful buildings such as the House of the Weeping Widow and the House with Chimeras.
Take in a museum. Kyiv has many, dedicated to an array of subjects: Decorative Arts, Pharmacy, Russian Art, Archaeology, Chernobyl, WWII, and many more
Don't miss The Motherland Monument. And how could you? Perched atop the Great Patriotic War Museum, she is over 60 metres tall with a sword in her right hand and a shield in her left.
Get tickets for a ballet or opera at the National Opera of Ukraine. An incredible setting with a rich and varied program full of talented artists
Take a day trip near Chernobyl. The infamous nuclear reactor has today become a tourist attraction, just like its neighbour Pripyat, a veritable ghost town. Truly unforgettable!
Try vareniki, which are to Ukrainians what pierogi are to Poland: a beloved classic. These large raviolis can be savoury, stuffed with meat or vegetables, or sweet, with apples or cherries.
Frequently asked questions