Take off to the Queen of the Adriatic
A Nice-Venice flight takes barely more than an hour, yet it transports you to a different world, a world like no other! A city that has sat for a thousand years on the smooth waters of its lagoon, Venice is unique, fascinating and dramatic. That means your Nice-Venice flight is the key to an unforgettable holiday. A trip along the Grand Canal, an escape to the Lido, a chance to discover Burano: with all this, a weekend in Venice, flying from Nice, becomes a magical and unique trip.
currency

Euros

language

Italian
Ideal For
Couple

Culture

Town/City

Weekend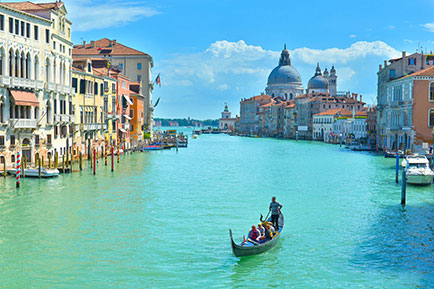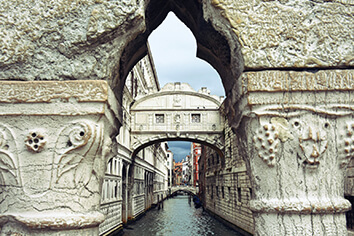 Useful information for your trip to Venice

See more

See less

Looking for a Nice-Venice return flight? With Misterfly, our partner, you can find all the prices and times flying from the French Riviera. That means you can book your Nice-Venice plane ticket online, with no hassle. As for your gondola trip, that's down to you, once you're there!

The formalities for travelling to Venice

Formalities: Italy is part of the Schengen Area, so European citizens just need a valid passport or national identity card.
Currencies: the Italians pay in euros.

Your Nice-Venice direct flight

easyJet flies direct from Nice to Venice! This airline flies to the floating city all year round. That means you're sure to find a Nice-Venice trip at an affordable price! Remember, all easyJet flights leave from Terminal 2 of Nice Côte d'Azur Airport.

Even if you already have your boarding pass and you are travelling with cabin baggage only, make sure you arrive at the airport at least one hour before your departure time. If you need to check in or put luggage in the hold, allow an extra quarter of an hour.

| | |
| --- | --- |
| Departure airport | Nice Côte d'Azur Airport |
| Departure terminal | Terminal 2 |
| Arrival airport | Venice Marco Polo Airport |

Arriving at Venice airport

You will get off your flight at Marco Polo Airport, which has just one terminal.
Built on solid ground, near to Mestre, this airport is located around 10 km from the famous Piazza San Marco, the historical heart of the city. To get there, you can go by road or sea.

By road: taxis and buses (two competing companies offering the same price) will drop you at Piazzale Roma, near to Venice station.
By sea: the pier is a five-minute walk from the terminal. You can use the water taxis (motoscafi), recommended if you're in a hurry, or for a cheaper option, take the famous vaporetto water bus. There are three routes to choose from, depending on your final destination. They all get to Piazza San Marco in around 1h15.
What to do in
Venise ?
To make the most of your holiday in Venice flying from Nice, combine the great classics of the "La Serenissima" (as the city is known) with a good dose of the unexpected. Book for a show at Teatro La Fenice, visit the Doge's Palace, sip an espresso on Piazza San Marco and take a trip on a gondola. Then, let the city surprise you, by getting lost in its countless little streets, hopping aboard whichever vaporetto comes first, or stepping inside a modest bacaro. Venice has plenty of unexpected wonders up its sleeve!

A weekend of culture and romance

See more

See less

Although Venice is the favourite destination for romantic breaks, you don't need to come as a couple to enjoy its magic. The city is so beautiful, so fascinating and so surprising that you can explore it alone for a whole weekend, without ever feeling the need for company. Because the City of Masks has many faces, and whatever you're looking for, it's sure to have something to win your heart.

So which Venice will you fall in love with…? The Venice of celebrations? The city of the famous Carnival, its enigmatic beauties with bewitching gazes, its colourful embroidered dresses and its masked balls. The Venice of culture? The city of the Art Biennale (held in odd-numbered years) and the Biennale of Architecture (in even-numbered years), the Museo Correr and it canvases by Bellini and Carpaccio, the Gallerie dell'Accademia with its paintings by Titien and Canaletto, the Peggy Guggenheim Collection and the Palazzo Grassi, dedicated to the greatest artists of the past and present. The Venice of the botteghe? The city of the last artisan workshops, Burano lace, Murano glass, Fortuny fabrics, carnival masks and marbled paper. The Venice of monuments? With Saint Mark's Basilica, the Bridge of Sighs, the Doge's Palace, the Rialto Bridge and the Scuola Grande di San Rocco

The top 10 things to do in Venice

See more

See less

Visit the Doge's Palace and Saint Mark's Basilica, dazzling with its gold ground mosaics and its marble.
Catch a vaporetto to Burano and discover an astonishing little island, with picturesque, colourful fishermen's houses.
Work on your tan on the fine sand beaches of the Lido, and get on a bike to pedal through the quiet roads of Venice's beach resort.
Head to the island of Giudecca, to enjoy a magnificent view over Venice and savour a Spritz, the city's iconic cocktail, at the Belmond Hotel Cipriani (as seen in James Bond).
Get up early to wander around Rialto Market, where Venetians go to stock up their store cupboard, and just a short walk away, breathe the delicious scents of the spices at the Drogheria Mascari, an institution among foodies.
Take a seat around one of the tables at Caffè Florian, the oldest cafe in Venice, as well as the most famous and undoubtedly the most beautiful.
Be like Goethe, Wagner, George Sand, Balzac, Dickens, Zola and many others before you, by drinking tea at Danieli, a legendary palace located near to Piazza San Marco.
Try a glass of Soave and a few cicchetti (Venice's answer to tapas), in a bacaro, the local wine bar. Need some recommendations? Vino Vero, Il Paradiso Perduto, Al Squero, or Do Mori, Venice's oldest bacaro at almost 600 years old.
Choose your mask at Ca' Macana, the workshop that made the enchanting masks for Stanley Kubrick's film "Eyes Wide Shut".
Visit the workshop of Alberto Valese, one of the last Venetian masters of ebru, the traditional art of paper marbling, which came from Japan via Turkey.
Regular flights Nice - Venise VCE
FLIGHTS EASYJET EUROPE
8
Flights per week, From April to October
Flights per day :
Mon

1

Tue

1

Wed

1

Thu

1

Fri

1

Sat

2

Sun

1
FLIGHTS VOLOTEA
3
Flights per week, From April to June
Flights per day :
Mon

1

Tue

0

Wed

0

Thu

0

Fri

1

Sat

0

Sun

1
FLIGHTS VOLOTEA
3
Flights per week, From September to October
Flights per day :
Mon

1

Tue

0

Wed

0

Thu

0

Fri

1

Sat

0

Sun

1
Frequently asked questions