Britpop made in Manchester awaits!
A return Nice-Manchester flight: what better way to experience the Champions League? A supports dream to be sure, and who knows, maybe one day it will come true! But don't wait until then to visit the north-east of England because, as you'll quickly see as your non-stop Nice-Manchester lands, this city is overflowing with charm. On the program: picturesque scenery, pop culture, partying, and great shopping. And yes, even football! The choice is yours!
time difference

+1h

currency

Pound

language

English
Ideal For
Couple

With friends

Party

Weekend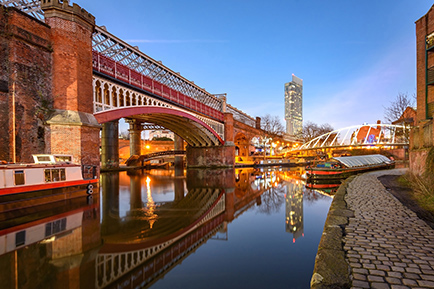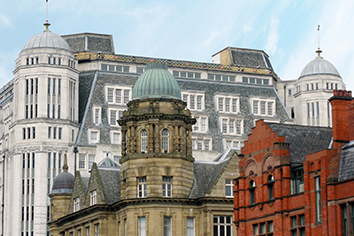 Useful information for your trip to Manchester

See more

See less

Whether you're heading over for a few days or a few weeks, book your Nice-Manchester flight now with MisterFly, our partner. Compare prices for all airlines offering non-stop service from Nice to Manchester, choose the date and time for you, book without any hidden fees, and even pay for your Nice-Manchester ticket over four monthly instalments. Much easier than making a choice between a Man City or Man U match, isn't it?

The formalities for travelling to Manchester

Entry requirements: While you don't need a visa to go to Great Britain, it is not a part of the Schengen Territories, so you'll you need either a valid passport to cross the border.
Currency: put the Queen in your pocket! Or her likeness anyway, which you'll find on the pound sterling. Be sure to have a few on hand upon arrival by passing by one of the two Interchange counters at the Nice Côte d'Azur Airport. You can change money quickly and at the best rates.

Your Nice-Manchester direct flight

Tell me who you're flying with and I'll tell you where to go! With easyJet? Then head to Terminal 2. But if you're flying with Jet2, your Nice to Manchester flight will leave from Terminal 1. As does the Nice-Manchester with British Airways.

It can't be said enough: when travelling, the best way to control stress is to stop it from coming on. So be sure to arrive at the airport well before departure, as when travelling to Great Britain you'll need to go through screenings with the border police in addition to regular security checks. How early should you be? At least one hour before your departure time if you have your boarding pass and are travelling with cabin baggage only. Add an additional 15 minutes should you need check a bag your collect your ticket from the airline counter.

| | |
| --- | --- |
| Departure airport | Nice Côte d'Azur Airport |
| Departure terminal | Terminal 1 for jet2.com and British Airways, Terminal 2 for easyJet |
| Arrival airport | Manchester Airport |
| Arrival terminal | Terminal 1 for easyJet and jet2.com, Terminal 3 for British Airways. |

Arriving in Manchester

Once you land at Manchester Airport, it's easy to get to the city centre. To get there, you can:

Take the bus: it runs 24/7. Two lines (43 and 103) depart from the bus station, easily accessible from all three terminals. The trip takes about 30 minutes.
Take the tramway: because of its many stops, this is the slowest way to get to the centre of the city. It takes around 50 minutes. But it can be useful if you'll be staying near one of the Airport Line's 20 stops.
Take the train: two operators connect the airport station to Manchester Piccadilly: TransPennine Express and Northern Rail. There's a train about every 10 minutes. The journey takes 20 minutes.
Take a taxi: this will cost around €30 and take just 15 minutes to get to the city centre.
Hire a car: there are 8 agencies at the airport. You'll need to go to the Car Rental Village to pick up your car, and there is a shuttle every 10 minutes that will take you there.
What to do in
Manchester ?
With the exception of London, no other British city is as lively as Manchester. Nicknamed Cottonopolis during the Industrial Revolution, Manchester was able to reinvent itself and continues to be one of the driving forces of the British economy. But that's not all it contributes to the realm of Elisabeth II. Great shopping, a dynamic student population, and home to several of the biggest names in British rock as well as Eric Cantona, Manchester today is one of the best destinations out there for discovering 21st century England.

Manchester, a weekend of rock or pop

See more

See less

Two numbers sum up what makes Manchester the perfect weekend getaway for those looking to party: 500 and 100,000. That's 500 bars, pubs, and nightclubs around the city, and 100,000 fellow night owls. A getaway with friends accompanied by rock, electro, and pop - the chosen music of the city and its 70,000 students. Home to several of the greatest British bands, from New Order to Simply Red, Oasis to The Smiths, this music-loving city keeps the myth of "Madchester" alive in the many clubs of the Northern Quarter.
But for Manchester locals and visitors, pop culture isn't limited to guitar riffs and screaming synthesizers. It can also be found in the city's museums, its Roman ruins, ancient textiles, fascinating machines, and countless works of art, all of which tell the story of the city. An incredible journey through time, full of fun and discovery, to be shared with that special someone or the whole family.
The top 10 things to do in Manchester

See more

See less

Whether or not you're a fan of football, and even if you're more of a Man City person, treat yourself to the magical ambiance of Old Trafford, the legendary stadium of Manchester United.
Travel to the four corners of the earth without leaving the city at Manchester Museum. Inside its Gothic walls you'll find an eclectic collection of over 6 million artefacts from around the world, including the skeleton of Stan the T-Rex.
Love cool machines? Don't miss the Science and Industry Museum, where you'll find cars, planes, and trains, all inside the Liverpool Road Station, the oldest train station in the world.
Go from Gothic to Neo-Gothic as you walk from the Manchester Cathedral, built in the 15th century, to the Town Hall, which was built 400 years later. Two of the most impressive buildings in Manchester.
Stroll along the canals in the Castlefield district, where you'll find old red-brick warehouses that are now one of the trendiest areas in the city.
Get artsy at the Manchester Art Gallery, dedicated to 19th century art, at the Whitworth Art Gallery with its contemporary art collection, or else at the Lowry Arts Centre, dedicated to Manchester painter Laurence Stephen Lowry and housed in an ultra-modern building.
Check out the street art in the Northern Quarter and then head into Afflecks for some alternative shopping before you head out on the town to hear the future stars of rock live in one of the city's many concert halls.
Wander around Canal Street, a pedestrian area and home to the oldest and most delightful gay community in Britain.
Go back in time to the origins of Manchester by visiting the ruins of Mamucium, a former Roman fort and ancestor to the city.
Have a pint or cocktail well above the city at Cloud 23, the bar in the Hilton, perched on the 23rd floor of the Beetham Tower - the tallest skyscraper in the city. An unbeatable ambiance and view!
Regular flights Nice - Manchester MAN
FLIGHTS JET2.COM
3
Flights per week, From April to October
Flights per day :
Mon

1

Tue

0

Wed

0

Thu

0

Fri

1

Sat

1

Sun

0
FLIGHTS EASYJET EUROPE
6
Flights per week, From April to October
Flights per day :
Mon

0

Tue

1

Wed

1

Thu

1

Fri

1

Sat

1

Sun

1
Frequently asked questions