The gateway to Arabia
A flight from Nice to Riyadh not only takes you to the capital of the Wahhabi kingdom, one of the most modern metropolises in the Middle East, but also opens the doors to a country that is as fascinating as it is unknown. Saudi Arabia, the cradle of Islam, has recently opened up to tourism with some compelling attractions. Holy places and the desert? Yes, but there's so much more! A direct flight from Nice to Riyadh offers many other experiences, from cultural and emotional to culinary and human.
time difference

+1h

currency

Riyal saoudien

language

Arabe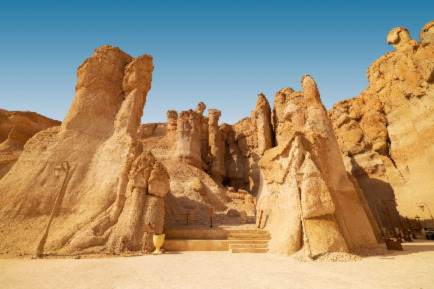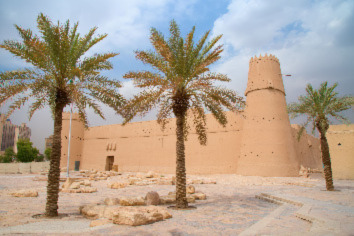 Travel light (in spirit)!
Travel to Saudi Arabia with peace of mind by booking your Nice-Riyadh return flight with a specialist: MisterFly, our long-time partner. Compare prices, dates and times of non-stop or connecting flights from Nice to Riyadh. Found the ideal Nice-Riyadh direct? Don't let it slip through your fingers: book your Nice-Riyadh return ticket and pay for it, if you wish, in four free instalments.
Useful information

See more

See less

The formalities for travelling to Riyadh

Entry requirements: to enter Saudi Arabia, you must present your passport (valid for at least six months after the date of your arrival) and your e-visa, an electronic visa available online, valid for one year and for a maximum stay of 90 days.
Currency: in Saudi Arabia, you pay in riyal. Around 4 riyal are equal to 1 Euro. Interchange is a great way to leave with some cash in your pocket.

Your Nice-Riyadh direct flight

Your discovery of Arabia begins at the gates of Terminal 2 of Nice Côte d'Azur Airport. The direct Saudi Arabian Airlines Nice-Riyadh flight takes off from there.

And as you already know: you don't board a plane like you would a bus! Check-in, baggage drop-off, security checks, customs... there are many things that need doing. Ensure that your experience is a serene one by arriving well in advance of your take-off time. How early? At least two hours!

| | |
| --- | --- |
| Departure airport | Nice Côte d'Azur airport |
| Departure terminal | Terminal 2 |
| Arrival airport | Riyad-King Khaled airport |
| Arrival terminal | Terminal 2 |

Arriving at Riyadh Airport

Your Nice-Riyadh direct flight will take you to Terminal 2 of Riyadh's King Khalid International Airport It is located over 30 kilometres from the city centre. To get there, if your hotel doesn't offer a shuttle service, there are only two options:

Take a taxi: you book and pay for your journey inside the airport, at the counter in the terminal. The journey itself takes about 30 minutes.
Car hire: there are over a dozen car hire companies operating at the airport, six of which have a counter in Terminal 2.
What to do in
Riyad ?
Riyadh gets its name from the Arabic word for "garden". An origin associated with the generous vegetation which, several centuries ago, made this green city one of the most agreeable cities in the Persian Gulf. Today, skyscrapers grow in place of greenery, a forest of glass and steel that makes the Saudi capital a hectic metropolis with a passion for fashion and high-tech. But Riyadh is never just a stopover; it takes you into the future before sending you back through the ages of a country with a long, long history.

The past, the future, and eternity

See more

See less

Saudi Arabia has made no secret of the fact that it wants to become one of the world's top tourist destinations for good. The idea may come as a surprise to many. And yet, the country led by the Al Saud dynasty has all it needs to achieve its ambitions. This Middle Eastern giant has a unique identity, forged by thousands of years of history. An ancient civilisation, Islamic holy places and Bedouin traditions make it a land of culture. But these are not its only attractions. Its giant souks and malls, its futuristic buildings and its taste for the latest in technology also give your stay an avant-garde flavour. Finally, while cultivating its roots and looking to the future, Saudi Arabia also has something that is eternal: nature. From the Red Sea to deserts, from canyons to oases, beauties abound and are increasingly preserved here.
The top 10 things to do in Riyadh and Saudi Arabia

See more

See less

View Riyadh from the top of the city's two most famous towers: Faysaliah , the first skyscraper to be built in Saudi Arabia, and Mamlaka (also known as Kingdom Centre), which has a panoramic walkway (the Sky Bridge) that soars to a height of almost 300 metres.
- Visit the Taiba souk in search of jewellery, rugs and other items crafted by artisans from the Arabian Peninsula. A wander best enjoyed in the cooler air at day's end.
- Shop till you drop in one of the city's many malls. A great place to go: The Riyadh Park Mall. With its exceptional architecture, hundreds of international shops, numerous restaurants and a huge arcade, it's well worth a visit (and a long one, at that!).
- Cross the threshold of the monumental palm-wood gate of the Masmak Palace, a 150-year-old fortress whose capture by the Al Saud family cemented the unification of the Saudi kingdom.
- Stroll through the corridors of Murabba Palace, the beautifully restored former royal residence. Just nearby, be sure to visit the National Museum for a trip back in time, from prehistoric times to the time of Lawrence of Arabia, and a nice introduction to Bedouin culture.
- Discover Diriyah, the ancient capital of the Kingdom of Saudi Arabia, located about 20 minutes drive from the current capital, and its exceptional Unesco World Heritage Site: Al-Turaif, a superbly restored ghost town.
- Explore Nofa Nature Park, a very scenic kingdom on the outskirts of Riyadh. Encounter desert giraffes, Grevy's zebras, Arabian Oryx, ostriches and pygmy hippos on a safari.
- Head east to Jeddah (it's quicker and more convenient to fly), on the shores of the Red Sea and the most colourful city in the country. The agenda includes scuba diving, fascinating souks, a floating mosque and the world's highest fountain, with a jet shooting up over 300 metres.
- Fly to Al-'Ula (1.5 hours flight) and spend a few days in the region exploring one of the world's most beautiful settings. An arid desert, huge rocks sculpted by time, the monumental tombs of the Hegra necropolis dug into the rock thousands of years ago: an extraordinary place, well off the beaten track.
- Set down in Yanbu on the Red Sea and enjoy the turquoise waters before heading to Medina, one of Islam's holy cities. Unlike Mecca, it welcomes non-Muslims (under certain conditions).
Regular flights Nice - Riyad RUH
FLIGHTS SAUDI ARABIAN AIRLINES
3
Flights per week, From June to August
Flights per day :
Mon

1

Tue

0

Wed

1

Thu

0

Fri

1

Sat

0

Sun

0
Frequently asked questions