Fly away to Campania
When your Nice-Naples flight lands, take a look out of the window. You can't miss it. What? Mount Vesuvius. Maybe later you will climb the slopes of this legendary volcano. Or maybe not! There's so much to see in the area. A Nice-Naples direct flight will take you to a city that refuses to live in its volcano's shadow. It is the gateway to one of the most beautiful regions in the world, with the cliffs of Sorrento, the ruins of Pompeii, the villages of the Amalfi Coast and the enchanting shores of Capri.
time difference

+0h

currency

Euros

language

Italian
Ideal For
Couple

With friends

Culture

Weekend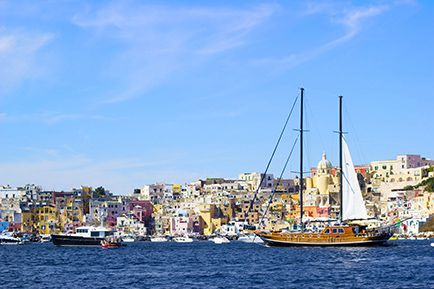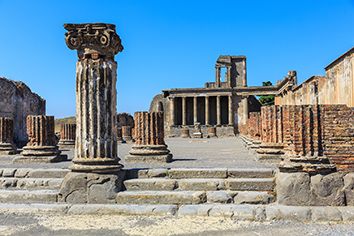 Useful information for your trip to Naples

See more

See less

Find your Nice-Naples non-stop flight in a few clicks thanks to our partner, Misterfly. Enter your travel dates and you will instantly see whether there is a low-cost Nice-Naples flight to fit your calendar. Then book your Nice-Naples return flight, at the best price with no additional fees, and you'll soon be taking off to the "City of Sun". It's that easy!

The formalities for travelling to Naples

Entry requirements: Italy is part of the Schengen Area, so to enter the country, European citizens just need a valid passport or national identity card.
Currencies: the people of Naples pay for their famous pizzas in euros

Your flight from Nice to Naples

The Nice-Naples flight with easyJet is currently the only option. Like all flights from Nice with this English airline, it leaves from Terminal 2.

As for all flights within Europe, you are advised to arrive at the airport at least one hour before your departure time if you already have your boarding pass and are travelling with hand luggage only. If you need to check in or put luggage in the hold, allow an extra quarter of an hour.

| | |
| --- | --- |
| Departure airport | Aéroport Nice Côte d'Azur |
| Departure terminal | Terminal 2 |
| Arrival airport | Aéroport Naples Capodichino International Airport |
| Arrival terminal | Terminal 1 |

Arriving at Naples Airport

You will land at Terminal 1 of Naples Capodichino International Airport.
This airport is located just six kilometres from the city centre. To travel to the centre, you have the following options :

The bus: Alibus takes passengers from the airport to the Port of Naples, via the station and the city centre. The journey takes 15 to 30 minutes.
A taxi: make sure you ask the price of the journey before you set off, and check that the driver is using a meter.
A hire car: book your vehicle with one of the major brands or a local company.
What to do in
Naples ?
A Nice-Naples flight is always just the start of a longer journey. Of course, the city that had Diego Maradona on its team is full of character and well worth exploring. Still, it would be a shame not to discover the beautiful region that surrounds it. Islands, villages, wonderful landscapes, incredible beaches, wildernesses and civilisations buried by ash… This area showcases the very best of Mezzogiorno (Southern Italy).

Culture rhymes with nature

See more

See less

City or village, museum, ruins or beach: where will you spend your holiday? It all depends how much time you have! A long weekend, a whole week or more? One thing is certain: whether you spend your holiday alone, as a couple or with friends, discovering this part of Italy will leave you with memories, images and emotions that you'll treasure forever.
If you only have a few days… Save time using the Naples metro, which will take you on a journey around a city of contrasts, between the Royal Palace of Naples in San Ferdinando and the narrow streets of the working-class Spanish Quarters. Take your time with the Circumvesuviana, a regional train that travels to Sorrento via Pompeii. Finally, hop aboard a ferry to the islands of Capri and Ischia, to forget the outside world and savour this blissful moment.
If you have a week or more… Brave the bus, hire a car, and drive along the magnificent roads of the Amalfi Coast. Some consider this 50 kilometre stretch of coast to be the most beautiful in Italy. Here, you will discover the Emerald Grotto, the Villa Rufolo and its sublime view, the Fiordo di Furore (Furore Gorge), the Path of the Gods and many other wonders.
The top 10 things to do in Naples:

See more

See less

Visit the amazing ruins of Herculaneum and Pompeii. These Roman cities were destroyed by the eruption of Vesuvius in 79 AD. You could even listen to a Pink Floyd album while you explore.
Admire the statues in Naples' National Archaeological Museum: the impressive Hercules, Atlas holding a celestial globe, the beautiful Venus Callipyge…
Step inside the Cappella Sansevero to discover the treasures of this chapel: around 30 sculptures, including Corradini's Veiled Truth, and Sanmartino's Veiled Christ. The fine workmanship makes marble look as light as gossamer…
Board one of the ferries connecting Naples to its two loveliest islands: Ischia, the picturesque "Green Island" guarded by its Aragonese Castle, and the romantic Capri, the epitome of the Dolce Vita.
Discover what lies beneath the Parthenopean city, by visiting some of the 80 kilometres that make up its underground zone, Napoli Sotterranea.
Walk under the immense metal-ribbed dome of Galleria Umberto I, a Belle Epoque shopping arcade directly inspired by Milan's Galleria Vittorio Emanuele II.
For just five euros, you can taste the local speciality, which UNESCO has declared part of our intangible cultural heritage: pizza. Two top recommendations: Sorbillo and Da Michele.
Sink your teeth into a sfogliatella expertly made by Pasticceria Attanasio. These excellent pastries are filled with ricotta, cinnamon and candied fruits.
Take the metro, just for the pleasure of getting off at Toledo, which has been named the most beautiful station in Europe.
Leave Naples to explore the south of Campania: magnificent Sorrento, which clings defiantly to the cliffs over the sea, and the charming villages of the Amalfi Coast: Amalfi, Atrani, Positano…
Regular flights Nice - Naples NAP
FLIGHTS EASYJET EUROPE
11
Flights per week, From April to October
Flights per day :
Mon

1

Tue

2

Wed

2

Thu

2

Fri

1

Sat

2

Sun

1
Frequently asked questions