From Nice, head to Casablanca the White
When reserving your Nice-Casablanca flight, you've got access to an expert: MisterFly, our partner. In just a few clicks you'll have all the information you need to prepare your trip from Nice to Casablanca. Find the best prices, check dates and flight times for your Nice-Casablanca flight against your diary and choose your seats, all for the best price and not a penny more! You can even pay in several instalments if you wish.
time difference

+1h

currency

Dirham marocain

language

Arabe
Ideal For
Couple

Alone

Culture

Weekend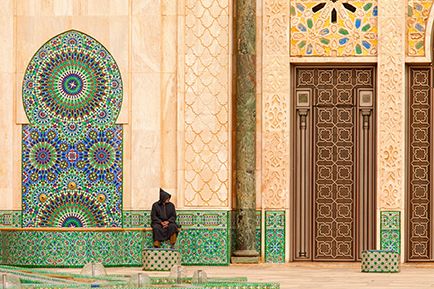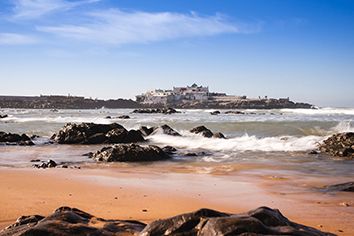 Useful information for your trip to Casablanca

See more

See less

Entry requirements: You're finally ready to board your Nice-Casablanca direct flight with Royal Air Morocco. Are you sure? You haven't forgotten anything? Best make sure you're travelling with a valid passport! While European citizens do not need visas to enter Morocco, a valid passport is obligatory.
Currency: you'll be using the Moroccan dirham in the souks of Casablanca. A bit more than 10 are equal to 1 Euro. Before take-off, visit one of the Interchange kiosks found in both airport terminals to ensure you'll be ready to make your first purchases upon arrival at the Casablanca airport.

Your Nice-Casablanca direct flight

The Royal Air Morocco Nice Casablanca flight is the only direct flight connecting the cities and leaves from Terminal 2 in the Nice Côte d'Azur Airport.

The time it takes to go through security screenings and Border Control varies. As such we recommend you arrive at the airport at least one hour and fifteen minutes before departure. It is even recommended that you arrive two hours before departure if you need to go to the airline counter to drop off bags or collect your ticket.

| | |
| --- | --- |
| Departure air port | Nice Côte d'Azur Airport |
| Departure terminal | Terminal 2 |
| Arrival airport | Mohamed V Airport in Casablanca |
| Arrival terminal | Terminal 1 |

Arriving in Casablanca

The Mohamed V Airport is located about 30 kilometres from Casablanca. To get to the city centre, you must:

take the bus. The CTM will drop you at various spots around the city in under an hour. There is one bus every hour.
take the train. The airport has its own train station, located underneath Terminal 1. Trains run from 4 am to 10 pm daily. The trip to Casablanca takes half an hour.
take a taxi. Available 24/7 on Level 0 of Terminal 1. The trip costs around €20, more or less depending on your arrival time and number of bags.
hire a car. For this you are spoilt for choice. You'll find nearly 20 different agencies at the Casablanca airport.
What to do in
Casablanca ?
It may not be as renowned as Fes or Marrakesh, the pearls of Moroccan tourism, but Casablanca is a sublime place for a holiday. Located on the Atlantic coast, it is the 4th largest city in Africa and has much to offer visitors. While it has become ever more modern, it has also been able to conserve large parts of its past, and draws inspiration from ancient traditions to offer visitors everything from charming districts to exceptional sites.

Casablanca, city of a thousand and one pleasures

See more

See less

The time for change is now! For your next weekend away with friends, why not try something new and unexpected, a place both photo-worthy and unforgettable? In short, why not steal away to Casablanca? You'll find all the comforts of a large city - The City, as some locals refer to it, in reference to its thriving economic centre - while still getting off the beaten track and adding a touch of the exotic to your city break!

This beauty of the Orient will surprise you time and time again. First with its 'art de vivre'. Become enchanted with local customs: a mint tea in a souk, a trendy cocktail in a beach bar, a sunny lunch of grilled fish on Dar Bouazza beach, an afternoon in a hammam, or a spicy dinner in a restaurant right out of the pages of Arabian Nights.
But also with its culture: In Casablanca, you'll discover Arabic culture in all its glory. A refined culture you'll see reflected in the incomparable décor of the Hassan II mosque, and in the picturesque, colourful streets of the Medina. It's hard not to be moved by this incredible melding of styles.
The top 10 things to do in Casablanca

See more

See less

- Visit the Hassan II mosque. With its magical location facing the ocean, its immense minaret (the tallest in the world), and the best of Moroccan craftsmanship in its décor, this titan is the crown jewel of Casablanca.
- Linger in the Medina, the old city, to see the real Casablanca. Behind its ramparts you'll find a maze of narrow streets, the oldest monuments in the city, small shops dedicated to local craftsmanship, as well as food markets.
- Wander around Quartier Habous, Casablanca's second most photo-worthy district. Here you'll find Casablanca's largest souk, as well as the Royal Palace - the most magnificent building in the city.
- At the end of the day, stop off at Place Mohamed V at the heart of the city to take in the Arabo-Andalusian or Art Deco façades lit up by the last rays of the sun and then, once night falls, by the fountain light shows.
- As the sun sets, breathe in the salty ocean air from Ain Diab, the city's hub for beach front entertainment. As you finish your walk, take a break in one of the many bars, restaurants, or dance clubs that line the sea front.
- Get lost in the crowds and cool off in the Morocco Mall, which is among the Top 20 largest shopping centres in the world. You'll find hundreds of boutiques, restaurants, an ice-skating rink, an amusement park and even an aquarium.
- Jump into the waves of the Atlantic on the beaches of Ain Diab or Lalla Maryem. Or if you're looking for a bit more comfort, try the saltwater swimming pools of the waterfront beach clubs.
- Relax in a hammam. The Guess Spa and Gaïa Spa offer an upscale and intimate setting. You'll find Turkish-style baths at Pacha, Gauthier, Solidarité Féminine, as well as at Bains Ziani and Topkapi.
- Get a taste of Moroccan cuisine, among the best the Mediterranean has to offer. In addition to classics like couscous and tajine, try pastillas, briouats (small pastries with meat or fish) and various chorba.
- Sample the best of Moroccan wine: those from Guerrouane, the Atlas Coast, and Boulaouane. The Wynn, the Bavaroise, and the Bistrot d'Alexandre are the places to be for connoisseurs
Regular flights Nice - Casablanca CMN
FLIGHTS ROYAL AIR MAROC
6
Flights per week, From April to October
Flights per day :
Mon

1

Tue

1

Wed

1

Thu

1

Fri

0

Sat

1

Sun

1
Frequently asked questions