Direction Bergerac and Dordogne
A Nice Bergerac direct flight, it's easier and faster than driving! In little more than an hour you'll arrive in the capital of Périgord where you'll get a taste of the hospitality of one of France's most picturesque regions. And you're sure to taste more than just hospitality! Because a Nice Bergerac flight also opens the doors to a gourmet paradise where each dish gives off the irresistible scent of the land. This short flight will drop you right at the table!
currency

Euros

language

French
Ideal For
Family

Alone

Nature

Culture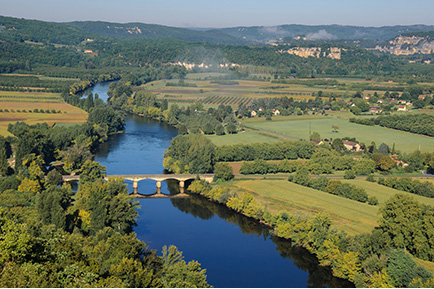 Useful information for your trip to Bergerac

Voir plus

Voir moins

Flying from Nice to Bergerac is easy, fast, and not as expensive as you might think. Head over to our partner MisterFly and see for yourself. There you'll find all the information you need about the Nice-Bergerac route: the best prices, flight length, as well as dates and times for all flights. Don't wait for prices to go up to book your seats! Reserve your Nice-Bergerac ticket now and pay over four monthly instalments. It's the perfect solution to spread out your holiday expenditures and ensure you've got a comfortable budget when it's time to finally take off.

Your Nice-Bergerac direct flight

Flying the Chalair colours, planes connecting Nice and Bergerac fly out of Terminal 2 of the Nice Côte d'Azur Airport.

To avoid stress, arrive at the airport at least one hour before departure, and add an additional 15 minutes should you need to go to the airline counter to check bags or collect your ticket. This will give you enough time to go through security screenings stress-free. And if you get through them quickly and end up with time on your hands before boarding? In that case, the airport's shops, bars and restaurants are there to help you rel

| | |
| --- | --- |
| Departure airport | Nice Côte d'Azur Airport |
| Departure terminal | Terminal 2 |
| Arrival airport | Bergerac Dordogne Périgord Airport |

Arriving at Bergerac airport

The Bergerac Dordogne Périgord Airport is right on the outskirts of Bergerac. To get to the city centre, there are only two options:

take a taxi. The trip from the airport to the centre is quick: under 5 minutes!
hire a car. Hire the best car to meet your needs at one of the 6 agencies at the airport and hit the road to see all that Bergerac and its surrounding region have to offer.
What to do in
Bergerac ?
Bergerac is the starting point for a fabulous adventure: discovering the Dordogne Valley and the cities and villages of Périgord and Haut Quercy. It's not without reason that this part of France fills up as the weather begins to warm. Breath-taking sites and scenery, a way of life that combines authenticity and luscious indulgence, an incredible historical legacy, and leisure activities that are as unique as they are fun: you'll find everything you need for an unforgettable holiday. There's truly something for everyone, whatever the age!

A test of nature in Bergerac

Voir plus

Voir moins

As you leave Bergerac Airport and find yourself almost immediately in Bergerac's vineyards, you'll quickly see that whether you're staying for a weekend or a month, Mother Nature is about to become your best friend. And she's a generous host! At mealtimes, she offers up a lovely slice of foie gras served with a glass of Montbazillac, or a truffle brouillade paired with an excellent Pécharmant. You'll find yourself wholly enchanted by her as you canoe down the Dordogne, looking up at the stunning castles and villages along the river's shores. She will surprise you when, several dozen metres under ground, she reveals her secrets: subterranean pools, stalactites, stalagmites, and other concretions.
The top 10 things to do in and around Bergerac

Voir plus

Voir moins

Stop by and say hello to the famous Cyrano, whose statue sits at the heart of Bergerac (where he never actually stepped foot!). While you're there take time to wander the cobblestone streets of the old city and admire the lovely timber-framed houses there.
Be king for a day by walking through the gates of the Bridoire, Biron, Hautefort, Eymet and, of course, Montbazillac castles. The latter is a gorgeous Renaissance building surrounded with the vines that bring us one of the most famous sweet white wines in France.
Take in the work of history's first artists: those who left their paintings and engravings in the rock of the famous Lascaux caves.
Discover Sarlat la Canéda, the capital of Périgord Noir. It's one of the most beautiful medieval cities in Europe. But its history isn't the only thing of interest you'll find. A variety of quality expositions and shows are held here.
Continue on until you get to Rocamadour, the pearl of Haut Quercy. This medieval city built into the cliffs is home to the Sacred City, an extraordinary religious complex, where the Black Virgin has drawn worshippers for more than a thousand years.
Not far from Rocamadour, don't miss two incredible sites: Eagle's Rock (Le Rocher des Aigles) to see spectacular birds of prey, from golden eagles to condors, all roaming free. And the Padirac Cave (Gouffre de Padirac), the most visited underground site in France. Not to be missed!Descend into Rouffignac Cave, 8 kilometres of galleries decorated with hundreds of rock paintings, and Proumeyssac Cave, also known as The Crystal Cathedral.
Check out the Castelnaud-la-Chapelle Castle. Superbly conserved, this 12th century fortress dominates the Dordogne valley. It houses an impressive collection of medieval arms and armour and holds many events during the summer.
Paddle on the Dordogne in a canoe, or else climb aboard a Gabare - ancient wooden ships that for centuries provided river transport. Don't forget your camera!
Tuck into the best of regional cuisine: truffles, the black diamonds of Périgord, foies gras, duck breast or confit (accompanied by fried potatoes!), ceps, walnuts, and two delectable cheeses: Trappe d'Échourgnac and Cabécou.
Frequently asked questions