Jet off to the land of wine
Nice-Bordeaux: a classic of France's football championship! But it is also and above all the promise of a wonderful journey to (re)visit one of the most beautiful cities in France. With the most prestigious vineyards in the world, this magnificent region by the Atlantic has moved with the times, without losing any of its beauty, traditions or natural charm. The journey is short (barely more than an hour's flight from Nice to Bordeaux), but it still promises a truly enchanting change of scene.
time difference

+0h

currency

Euros

language

French
Ideal For
Family

Couple

Culture

Weekend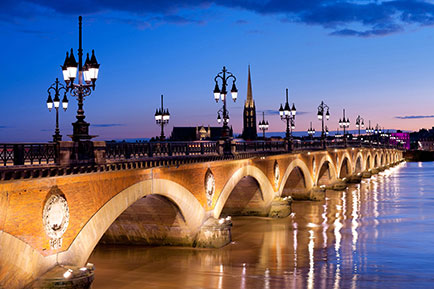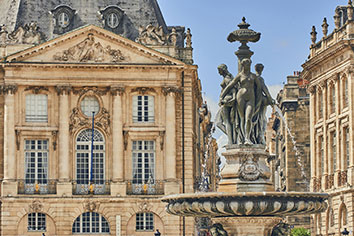 Useful information for your trip to Bordeaux

See more

See less

The most prestigious of wine routes starts at the airport! You can trust our partner, Misterfly, to make sure you're fully prepared for your visit to the vineyards of Bordeaux. Misterfly will tell you the prices and times of Nice-Bordeaux flights. Found the flight you want? Don't waste a moment: book your Nice-Bordeaux return plane ticket right away, at the best price and with no additional fees. You can pay online, with attractive, easy payment options if you wish. You can spread the cost across several instalments, to be kind to your wallet and save some spending money to taste the nectars of the region.

Your Nice-Bordeaux direct flight

There's no risk of getting confused: all Nice-Bordeaux flights with easyJet or Hop! leave from Terminal 2 of Nice Côte d'Azur Airport.

To bring a few divine wines back with you on the return journey, you might want to fly from Nice to Bordeaux with hold luggage. If this is the case, don't forget to go to your airline check-in desk at least an hour and fifteen minutes before your flight. If you are only taking cabin baggage and you already have your boarding pass, get to your terminal an hour before your flight is due to leave.

| | |
| --- | --- |
| Departure airport | Nice Côte d'Azur Airport |
| Departure terminal | Terminal 2 |
| Arrival airport | Bordeaux–Mérignac Airport |
| Arrival terminal | Terminal A for Hop!, Terminal Billi for easyJet |

Arriving at Bordeaux Airport

Your flight will land at Bordeaux-Mérignac. As its name suggests, this airport is located in Mérignac, 12 kilometres from the centre of Bordeaux. You can get there quickly using:

The bus: two options are available. Firstly, the 30Direct shuttle travels directly from the airport to Saint-Jean station, taking 30 minutes. There is at least one departure every hour, from 08:30 to 20:30 during the week, from 08:45 to 18:00 on Saturdays, and from 09:30 to 20:30 on Sundays. Alternatively, the Liane 1+ makes the same journey (in around 50 minutes), but with several stops in the city. There is one departure every 10 to 15 minutes, from Monday to Sunday, between 05:00 and 00:30.
A taxi: available on the way out of the terminals.
A hire car: around 10 car rental companies can be found in the area connecting Terminals A and B.
What to do in
Bordeaux ?
Bordeaux doesn't seem to suit its nickname: the Sleeping Beauty. As France's leading city in terms of the number of companies created, and with the Rafale final assembly site and the CDiscount headquarters, the capital of Aquitaine is anything but sleepy. So why this nickname? Because Bordeaux is second only to Paris for the number of listed, protected monuments. And yet it is a vibrant city! Bordeaux isn't happy just to have a glorious past. The city is moving forwards towards an equally glorious future, constantly enriching its heritage with innovations. This means it is not only the gateway to a magnificent region, but also its most wonderful asset.

Holidays as a family or as a foodie?

See more

See less

They say that travel broadens the mind. And they're right! That gives you the perfect excuse for a family holiday discovering the region where French philosopher Montaigne was born. There's plenty for young and old to enjoy, with events and activities to help your child develop a taste for nature and discovery. Street art, a skate park in an urban wasteland, scientific experiences and exhibitions, enjoying a gigantic public garden or the banks of the Garonne, surfing on the ocean waves or kayaking in the Arcachon Bay: the region promises a holiday packed with fun.
However, Bordeaux has one gem that even the most loving parents won't want to share with their kids: its wines! If you are on holiday with a partner or friends, you will love strolling through the vineyards, your mouth watering at the mere mention of their produce: Saint-Estèphe, Médoc, Sauternes, Pessac Léognan, Margaux, Pauillac… As evening comes, with these flavours still lingering in your mouth, head back to the capital of Gironde for a taste of culture. The Museum of Contemporary Art of Bordeaux, the Grand Théâtre (a stronghold of Bel Canto), and the Théâtre National de Bordeaux en Aquitaine showcase both original creations and timeless masterpieces. "A healthy mind in a healthy body," as Montaigne said!
The top 10 things to do in Bordeaux

See more

See less

Give in to the temptation of a selfie in front of the Miroir d'eau, a giant reflecting pool. This vast expanse of granite beneath a thin layer of water reflects the Place de la Bourse. A magical sight!
Stroll along the banks of the Garonne, to enjoy the waterfront: rides, cafés and designer outlets offering great discounts.
Wander around Old Bordeaux to discover France's most beautiful architectural heritage after Paris. Linger a while in the Saint-Pierre area: the perfect place to relax together with a glass of wine.
Stop off at Librairie Mollat, the largest independent bookshop in France, at 2,700 m2. This institution is over a hundred years old and has more than 180,000 works for sale. It also holds many cultural events.
Experience science as a family. At the foot of the Chaban-Delmas bridge, Cap Sciences proposes themed exhibitions and scientific activities and events, some of which are accessible from as young as 3 years.
Sample a cannelé from Dorin, San Nicolas, La Toque Cuivrée or Baillardran. They all specialise in this delicious treat flavoured with vanilla and rum.
Visit Darwin Ecosytème, an alternative eco-neighbourhood favoured by skaters and street artists. Enjoy a drink with your feet in the sand at Les Chantiers de la Garonne and have something healthy to eat at Magasin Général, France's largest organic restaurant.
Cross the Médoc and head for Soulac-sur-Mer, one of the most charming resorts on the Atlantic Coast. Don't miss the "mini" Statue of Liberty. Like its big sister, it is the work of Bartholdi.
Visit Saint-Émilion, the pearl of the Bordeaux wine route. The vineyard is one of the best in the region and the village is one of the most beautiful in France.
Take a trip to Arcachon Bay, 50 kilometres from Bordeaux. Row out to the Île aux Oiseaux, to discover its cabins on stilts. Climb to the top of the Dune of Pilat, the highest dune in France.
Regular flights Nice - Bordeaux BOD
FLIGHTS EASYJET
18
Flights per week, From November to March
Flights per day :
Mon

3

Tue

2

Wed

3

Thu

3

Fri

3

Sat

1

Sun

3
FLIGHTS VOLOTEA
4
Flights per week, From November to March
Flights per day :
Mon

1

Tue

0

Wed

0

Thu

1

Fri

1

Sat

0

Sun

1
Frequently asked questions
How long does a Nice-Bordeaux flight take?

The average flight time between Nice and Bordeaux is 1h20.

How much does a Nice-Bordeaux flight cost?

The lowest price for a Nice-Bordeaux return ticket based on prices from the last 90 days is 48€ .

What is the best time of year to visit Bordeaux?

Like all major French cities, Bordeaux is a great place to be all year round. Each season has its advantages: winter is the time of the Christmas Market on the Allées de Tourny, the irresistible sales in the 250 shops on Rue Sainte-Catherine, or the remarkable programme of the Grand Théâtre and the Théâtre National en Aquitaine. In spring, take your time strolling through the old town and along the banks of the Garonne. In summer, head to the coast for sun and sea, rest and relaxation on the vast expanses of sandy beaches. Autumn is great for exploring the vineyards, tasting their wines, and admiring the vines, which at this time of year take on the colours of gold, copper and… wine!