Discovering Lake Zurich
Things are what you make of them! Take for example a Nice Zurich flight. Often, it's just the first step on a long journey to the other side of the planet. Sometimes, it's for work. But there's a third possibility: taking a few days off for the most relaxing of city breaks, a getaway that brings together shopping, well-being, charm and indulgence. That should be tempting enough to make you want to climb aboard a flight from Nice to Zurich today!
time difference

+0h

currency

Swiss francs

language

German
Ideal For
Family

Alone

Nature

Weekend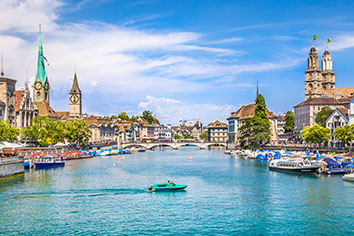 Useful information for your trip to Zurich

See more

See less

Looking for a great deal? Hey, why not? But there's no use looking for a low-cost flight from Nice to Zurich - they don't exist. It is however possible to get a great price on a Nice-Zurich flight. As long as you book a bit in advance and, above all, trust a specialist. Who's ours? MisterFly! Our partner gives you access to their database where you can compare all Nice Zurich return tickets and find the one that's right for you. But careful, as soon as you've found the right price, date, and time for your Nice-Zurich direct, book it on the spot. With MisterFly you can also pay for it over several instalments if you like.


The formalities for travelling to Zurich

Entry requirements: while Switzerland refuses to be part of the EU in the name of neutrality, they are part of the Schengen Territories. Pretty useful for European citizens, who need only a valid passport or national identity card to enter the country.
Currency: you'll be buying up Swiss chocolates with Swiss francs. They have just about the same value as the Euro. Before you take off, take advantage of the Interchange counters you'll find at the airport and pick up a few to pay for your first purchases when you land.

Your Nice Zurich direct flight

The Swiss International Air Lines Nice Zurich flight leaves from Terminal 1 of Nice Côte d'Azur Airport.
Get your Swiss on by being on time! That means arriving at your terminal at least an hour before departure. This will allow you to get through security screenings stress-free. And don't hesitate to add an additional 15 minutes should you need to check a bag or collect your boarding pass.


| | |
| --- | --- |
| Departure airport | Nice Côte d'Azur Airport |
| Departure terminal | Terminal 1 |
| Arrival airport | Zurich International Airport |
| Arrival terminal | Terminal 1 |

Arrival in Zurich

Once you've landed at Zurich International Airport, you can easily get to the city centre, just 10 km from the airport:
By minibus: there's a bus every 30 minutes from 6:30 am to 11 pm that will take you to the hotels in city-centre and Zurich-West.

By tram: Line 10 will get you to the heart of Zurich in about 30 minutes, via the University district.
By train: the airport has its own station, and an abundance of trains. Regional Express (lines S2 or S16) or Intercity have trains leaving every 5-10 minutes from 5 am to 12:30 am, and will get you to Zurich central station in just 10 minutes.
By taxi: the trip takes just 15 minutes and will cost between €45 and €65. Some companies offer online rates and booking.
With a car share: this is perfect if you don't need a car during your trip. Two services are available: Mobility and Catch a car. Check them out online.
With a hire car: you're spoilt for choice with 8 different agencies on site.

​​​​​​
What to do in
Zurich ?
Zurich is found in the north of Switzerland, and is a hub of both economic activity and bourgeois living. Here the streets are safe, the shops are chic, and the restaurants are elegant. This makes it a bit difficult to backpack around. But you don't need to be a billionaire to get a taste of the charm of this German-speaking city. With a young generation of artists and designers making Zurich their home, the city has a definite bohemian vibe. It has also preserved its patrimony and more especially its environment well, offering visitors one of life's greatest luxuries: good living.

Zurich
Grossmnster-und-Fraumnster
A week-end of self-care

See more

See less

Zurich is both prosperous and cosmopolitan, and you'll find all of life's pleasures here. The beauty of the city is only rivalled by its wealth of culture. Luxury brands all have a shop on the main commercial thoroughfares in the centre, as well as in Zurich-West, a former industrial area that's been taken over by a new generation of creators, artists, shops, artisans, and restaurants.
But the best feature of this thriving Swiss metropolis is not so much within its walls, but without. The city has fully captured the essence of the extraordinary environment that surrounds it. In Zurich you'll find a river so clean that locals swim in it, a pristine lake where you can stand up paddle, kayak, water ski or sail, well-managed trails for cyclists and joggers, superbly maintained parks and gardens, and a backdrop so natural you can lose yourself hiking - or perhaps find yourself. In short, Zurich is the perfect place for a bit of natural well-being!
​​​​​​
The top 10 things to do in Zurich

See more

See less

Wander the streets and alleyways of Altstadt, the old town. The ambiance is peaceful and the setting picturesque. Neiderhof and Schipfe, its main quarters, are full of gorgeous façades, lovely boutiques, and gourmet restaurants.
In Schipfe, see all of Zurich in the blink of an eye by heading to Lindenhof square, a vast esplanade shaded by nearly a hundred lime trees. It sits on the Limmat, the river that flows through the city and historic centre. It's a great viewpoint!
From the central station to the lake, stroll down the Bahnhofstrasse, the Champs Élysées of Zurich, and take in the elegant window displays of the biggest names in fashion, as well as watch and jewellery making. Luxury reigns here!
Take a tour of the city's churches - they're remarkable. Climb up to the top of one of the towers of the Grossmünster Cathedral. Admire the stained glass in Fraumünster, created by Chagall and Giacometti. Set your watch to the Saint-Pierre clock, the largest in Europe.
Walk over or around Lake Zurich. Cross it on a sail or row boat. Treat yourself to a little cruise. Picnic along the shores. Stroll along the east bank until you get to China Garten, and enjoy a rare moment of serenity.
Inject a bit of culture into your trip by visiting one of the city's museums. The Swiss National Museum, the Kunsthaus Zürich, the Migros Museum of Contemporary Art, Museum für Gestaltung (design and architecture)...there's truly something for everyone.
After the old, the new: head for Zurich-West, the former industrial area that's now a hotbed for talent. Shops full of vision, bars full of laughter, restaurants full of flavour and nightclubs full of partiers.
Float between heaven and earth! The Thermalbad & Spa, the thermal baths of Zurich, have a large indoor pool that's heated year-round. It's the perfect place for a day of relaxation in an atmosphere of well-being.
Even if you're an unabashed carnivore, treat yourself to a vegan meal in the oldest vegan restaurant in the world: the Hitl. It's been open for a full century!
Melt with happiness over some of that famous Swiss chocolate. This iconic product is without a doubt the world's best, and devotees should head for Sprüngli (on Paradeplatz) and Läderach (in Bahnhofstrasse).
Regular flights Nice - Zurich ZRH
FLIGHTS SWISS INTERNATIONAL
28
Flights per week, From April to October
Flights per day :
Mon

4

Tue

4

Wed

4

Thu

4

Fri

4

Sat

4

Sun

4
Frequently asked questions