Take off to Geneva and its lake
Too often people think flights from Nice to Geneva are reserved for diplomats, humanitarians and business travellers, or that you need a meeting, conference or congress to land here. But this is forgetting that the birthplace of Jean-Jacques Rousseau has an incredible heritage, abundant nature, and privileged setting full of snow-covered hills, peaceful lakes, luxury resorts and picturesque villages. So, while one never boards a flight from Nice to Geneva by accident, the only appointment that will be waiting for you upon arrival is the one you made with happiness.
currency

Franc suisse

language

Français
Ideal For
With friends

Alone

Culture

Nature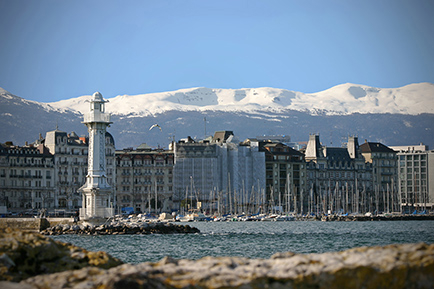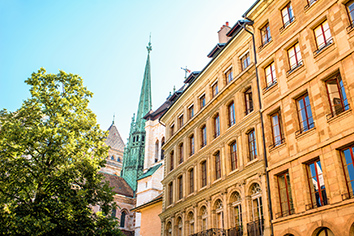 Useful information for your trip to Geneva

See more

See less

Dreaming of standing at the helm of a mahogany runabout and sailing over the smooth water of the "small sea of the Alps"? What are you waiting for? Seize the moment! Climb aboard a Nice Geneva easyJet or Swiss flight and hoist anchor. It's even faster and easier because MisterFly, our partner, lets you compare times and prices for all Nice Geneva direct flights and book your Nice Geneva ticket at the guaranteed best price, whichever airline you're flying with.

The formalities for travelling to Geneva

Entry requirements: Switzerland may jealously guard its neutrality, but that doesn't make it any less welcoming. Its membership in the Schengen Territories proves it, and makes travelling there easier. If you're a European citizen, you just need a valid passport or national identity card to enter.
Currency: you'll be paying in francs. Swiss francs, to be exact! It has just about the same value as the Euro, give or take a few cents.

Your Nice Geneva direct flight

At Nice Airport, flights to Geneva leave from both terminals. It depends which airline you're flying with. With easyJet, Nice Geneva departs from Terminal 2. With Swiss, Nice-Geneva takes off from Terminal 1.

Remember that it takes time to go through security screenings and boarding procedures. Don't arrive at the airport last minute! Arrive an hour before departure - or an hour and a quarter should you need to go to your airline's counter.

| | |
| --- | --- |
| Departure airport | Nice Côte d'Azur Airport |
| Departure terminal | Terminal 1 for Swiss, Terminal 2 for easyJet |
| Arrival airport | Geneva-Cointrin Airport |
| Arrival terminal | Terminal 1 for Swiss, Terminal 2 for easyJet |

Arriving in Geneva

Swiss and easyJet both land at Geneva-Cointrin Airport. It's very close to Geneva - just 4 kilometres away. To get there, you can:

Take the bus: Lines 5 and 10 will take you to the centre in around 20 minutes. Tickets are free for 80 minutes if you take one from the distributor provided in the baggage claim area.
Take the train: the station is directly accessible from the Arrival terminal. It's practical, especially since connections are quick (just 7 minutes to Geneva centre) and frequent: up to 7 trains an hour. Plus, as with the bus, you can get a free ticket in the baggage claim area.
Take a taxi: This will cost around €30, or even €40 depending on the time and where you're going.
Take a shared car: ideal if you don't need a car during your trip. Two services are available: Mobility and Catch a car. Check them out online.
Hire a car: with 8 different agencies on-site you're spoilt for choice.
What to do in
Geneva ?
Because it plays host to around 20 international organisations such as the UN, WTO, and the Red Cross, as well as over 200 different NGOs, Geneva is one of Europe's most cosmopolitan cities. 190 nationalities coexist there! This gateway to the world contributes to the vitality of this French-Speaking Swiss city which, over time, has created an 'art de vivre' all its own. Geneva also has a unique blend of simplicity and sophistication, of the historical and the avant-garde, of the serene and the festive. A world that's rich and seductive, far from the cliché of "watches and chocolate" too often used to describe this pearl of the Alps.

Geneva, an open-air city

See more

See less

We'll give it to you: Geneva is super bourgeois. Its luxury and bohemian-chic shopping, gourmet palate, and polished look that shows no blemish. But this sophistication doesn't mean it can't be fantastical, fun, and natural, too. Forget its dull past! The former bastion of the Reformation has turned its back on the rigours of Calvinism and never misses an occasion to have fun, day or night.
See for yourself when you go as a couple or with friends to a vernissage in the Quartier des Bains on a trendy rooftop, looking out over the lake and its famous Jet; or as you wander the charming Latin streets of Carouge, the Greenwich Village of Switzerland; or else as you simply sit down to an indulgent fondue in a tiny restaurant in the old city. You'll see: between cultural activities and the seductive lifestyle, a weekend in Geneva is anything but monotonous. It's not for nothing that recent history has seen the city named best European destination for a "Citybreak" several times over.
So why wait any longer? Come to Geneva. And then come again! Longer this time, with your family perhaps, and discover not just a city but an entire region full of natural beauty. Relax on the shores of Lake Leman or even tour around it, from Lausanne to Montreux - and, while you're at it, why not do the French side, from Evian-les-Bains to medieval Yvoire.
The top 10 things to do in Geneva

See more

See less

Visit the old city, one of the largest and best preserved in Europe. Have a drink on Bourg-du-Four square, check out Reformation Wall, get lost in the cobblestone streets and climb up to the magnificent Saint-Pierre Cathedral.
Stroll along the shores of Geneva Lake and get closer to the Jet. Shooting 140 metres straight up, it's extraordinary. But be careful, it's also wet!
Find peace near the Palace of Nations, the UN's second headquarters, with the other in New York. The Human Rights and Alliance of Civilizations Room, the Public Lobby, the General Assembly Hall, and the Council Chamber: more than a visit, you'll be stepping into history!
Visit a museum. Or several! Geneva is a city full of culture. It's home to some incredible establishments: the Museum of Art and History, the Philippe Patek Museum dedicated to horology, and the Barbier-Mueller Museum with the largest collection of primitive art in the world.
Dive into the heart of modern art by heading to the Quartier des Bains, one of Europe's hotspots for modern art. The galleries and museums there will inspire you with all that's new.
Linger in Carouge, the most Mediterranean of Swiss cities, founded in the 18th century by Victor-Amédée III of Sardinia. This close neighbour of Geneva charms as much with its architecture as with the vitality of its restaurants, fashion boutiques, and antique shops and workshops.
Have a game of chess in Parc des Bastions. Giant chess, that is! Located in the heart of Geneva, it's one of many green spaces in a nature-loving city (and the most charming).
Another park...Stroll through the English Garden (Jardin anglais) to see the most famous of Swiss clocks: The Flower Clock. Made using 6,500 flowers, it regulated by satellite!
Go to an expert to personalise your Swiss Army Knife: Victorinox, official supplier to the Swiss Army. The workshop of the flagship Geneva store lets you make your own, and then engrave it with the name of your choice.
It may make Calvin turn in his grave, but who cares? Indulge in the sin of greed. Chocolate, fondue, Gruyère, wine: the regional fare is fabulously rich.
Regular flights Nice - Geneva GVA
FLIGHTS SWISS INTERNATIONAL
4
Flights per week, From November to March
Flights per day :
Mon

1

Tue

0

Wed

1

Thu

0

Fri

1

Sat

0

Sun

1
FLIGHTS EASYJET EUROPE
23
Flights per week, From November to March
Flights per day :
Mon

2

Tue

3

Wed

3

Thu

3

Fri

5

Sat

3

Sun

4
Frequently asked questions