Flying to the Sardinia capital
A flight from Nice to Cagliari is like stepping out of one paradise and into another. The proof: angels watch over both cities, those of Nice's Bay of Angels and those of Sardinia's Golfo degli Angeli. However, the colours and scents of Eden differ on the two sides of the Mediterranean. In barely more than an hour, your Nice-Cagliari flight will take you to another world, to a city and an island with a strong identity, to an adventure that combines nature and culture.
currency

Euro

language

Italian
Ideal For
Family

With friends

Nature

Beaches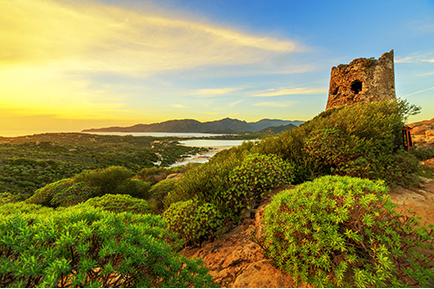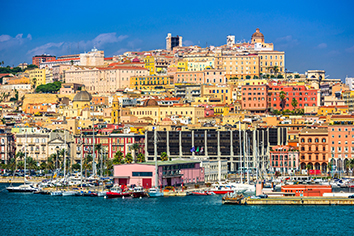 Useful information for your trip to Cagliari

See more

See less

How can you grab your island getaway at the best price? By joining the fans of our partner, Misterfly. To make your search easier, you can find your low-cost Nice-Cagliari flight in a few seconds, and book your flight to Cagliari immediately, at no extra cost. You can even pay for your Nice-Cagliari plane ticket in four instalments, to help you manage your finances in the run-up to your holiday.

The formalities for travelling to Cagliari

Entry requirements: Sardinia is Italian, and Italy is part of the Schengen Area. You may be asked to present a valid passport or identity card in the event of checks during your stay.
Currencies: Italy uses the euro. Remember to take some cash with you for your first purchases. If necessary, you can draw out cash at the cash machine in your airport terminal.

Your Nice-Cagliari direct flight

The fastest way to Sardinia is on a Nice-Cagliari flight with easyJet, from Terminal 2 of Nice Côte d'Azur Airport.
If you have your boarding pass and you are travelling with hand luggage only, arrive at the airport one hour before departure. If you need to check in or put luggage in the hold, allow an extra quarter of an hour.


| | |
| --- | --- |
| Departure airport | Nice Côte d'Azur Airport |
| Departure terminal | Terminal 2 |
| Arrival airport | Mario Mameli Airport Cagliari (Cagliari Elmas Airport) |

Arriving at Cagliari airport

You will arrive at Mario Mameli Airport in Elmas, right near to Cagliari. It is just six kilometres from the terminal to the city centre of the Sardinian capital. To make this journey, you have the following options:

The bus: from 05:20 to 22:30, there is a shuttle available, which takes barely ten minutes to get from the airport to Piazza Matteotti, the main square in Cagliari. The bus leaves once an hour.
The train : the airport has its own station, connected to the terminal by a long travelator. Trains depart approximately every 20 minutes, from 05:30 to 23:10. The journey takes six minutes.
A taxi.
A hire car: there are around a dozen car hire companies in the Arrivals hall.
What to do in
Cagliari ?
Although it is in the south of Sardinia, with its sunshine and proximity to the Mediterranean, Cagliari is not really a fashionable seaside resort. With its population of 150,000 people, it is a prosperous city with a prestigious past and a lively everyday life all year round. This only makes the city more attractive, as it offers a warm, colourful welcome to visitors. To make the most of it, get lost in the little streets of the Castello neighbourhood, browse around the market, sit on a café terrace listening to older people speaking the local dialect, or blend in with the locals on the sands of Poetto beach.

A cultural city amidst natural beauty

See more

See less

As you will quickly realise, Cagliari is the aristocrat of cities. Of course, Sardinia is no longer a kingdom, but its historical capital continues to shine. With its renovated façades, its well-preserved monuments, its streets buzzing with shops and celebrations, it offers visitors the experience of a modern, pretty and prosperous city. If you're travelling with family or with friends, you'll love walking through the arcades along Via Roma, right near to the quays of the Marina district, or strolling along the Castello district's fortifications until you find a viewpoint to admire the sunset over the city and the Gulf of Angels.
If you are looking for a longer but equally pleasant walk, head out to discover the island hidden behind the city. After all, it would be a shame to restrict your explorations to Cagliari itself. By bus, train or car, make sure you discover the beautiful Sardinian surroundings, including beaches with crystalline waters, ancient ruins and picturesque villages: Bosa, Orgosolo, Santu Lussurgiu or Carloforte, on the little island of San Pietro. Sardinia is a feast for the eyes and mouth, with its characterful wines, its 400 different breads, its pecorino and its pasta specialities. Delicious!

The top 10 things to do in Cagliari

See more

See less

Climb the monumental staircase of the Bastione di Saint Remy, a magnificent building, adorned with white marble and built to connect the lower and upper parts of the city. There is a wonderful view over the port from the huge terrace.
Look for the elephant that gave the Torre dell'Elefante its name. This is one of the two Pisan towers that still guards the old town.
Stop for a moment on Piazza Palazzo to admire the façade of the Cathedral of Santa Maria. It is 800 years old! Don't leave without visiting the nave to appreciate its baroque beauty.
Explore the streets of Castello, Cagliari's historic old town. Behind the fortifications are pretty cobbled streets and a multitude of cafés and restaurants where you can relax and indulge your appetite.
Visit the Castle of San Michele, an old Pisan fortress converted into an art exhibition centre.
Discover Sardinian produce at the San Benedetto market, the finest in the city, and bring back a few tasty souvenirs of your trip: biscuits, pecorino, charcuterie, olive oil, dried fruits…
Stock your wine cellar with a few bottles from the island: Carignano del Sulcis, Malvasia di Bosa, Vermentino di Gallura… Need a specialist? Visit Antica Enoteca Cagliaritana. A temple of wine!
Walk around the Marina district by the port, which is popular with the local youth. Stop off at Antico Caffé for an "espresso", at Hop Corner for a Sardinian beer, or at the INU for an aperitif of wine and charcuterie.
Spread out your towel on one of the beaches in the south of Sardinia: Poetto (in Cagliari), Porto Giunco and Punta Molentis (in Villasimius) or Su Giudeu (in Chia). These are said to be some of the Mediterranean's most beautiful beaches.
Go to a concert or an opera at the Roman Amphitheatre of Cagliari.
Frequently asked questions