Jet off to the Cyclades
A non-stop party by the sea! This is what you can look forward to when you step off your Nice Mykonos direct flight. The hippest island in the Aegean Sea will give you music in your soul. Head for the island lounge beaches, to bathe in endless waves of… music! Dance until dawn, or even beyond, on the open-air dance floors. However, as they say, variety of the spice of life. So combine your Nice Mykonos flight ticket with a few ferry tickets, and visit the neighbouring islands, which are quieter, but just as welcoming.
time difference

+1h

currency

Euro

language

Greek
Ideal For
Couple

With friends

Beaches

Party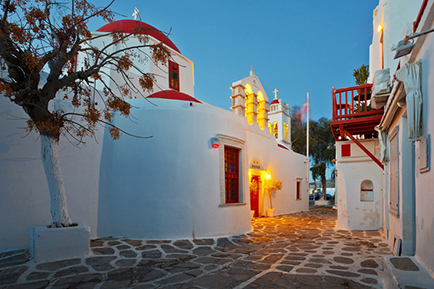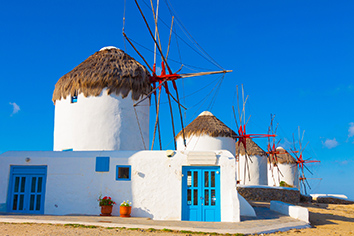 Useful information for your trip to Mykonos

See more

See less

To plan your trip from Nice to Mykonos, discover the full flight offer from Nice Côte-d'Azur Airport with our partner, Misterfly. Here, you will find the dates, times and prices for all our direct flights to Mykonos. That means you can book your ticket, and you'll soon be on your way to Chora and the villages on Mykonos.

The formalities for travelling to Mykonos

Entry requirements : Greece is a member of the Schengen Area, so you can travel there with a valid passport or identity card.
Currencies : on Mykonos, you will pay for your gyros me pita, the famous Greek sandwich, in euros.

Your Nice-Mykonos direct flight

To fly directly to the party capital of the Greek islands, go to Terminal 2. Nice-Mykonos flights with easyJet leave from here, once the weather starts to heat up.
If you already have your Nice-Mykonos boarding pass and you're travelling light, with just cabin baggage, arrive at the airport an hour before your departure time. Without a boarding pass, and/or if you need to put luggage in the hold, allow an extra quarter of an hour.

| | |
| --- | --- |
| Departure airport | Nice Côte d'Azur Airport |
| Departure terminal | Terminal 2 |
| Arrival airport | Mykonos airport |

Arriving at Mykonos airport

Mykonos Airport is just four kilometres from Chora. To get to the town, you have the following options:

The bus : KTEL will take you to Fabrika, the bus station in the middle of Chora, then to the New Port. There are 11 departures per day. There is also a direct connection to the New Port (4 times a day) and the Old Port (twice a day).
Many hotels on the island offer shuttles.
A taxi, but getting one would be a miracle, because there are only 30 official taxis for the whole island!
A hire car : three companies catering for tourists can be found in the airport terminal. However, remember that motor vehicles are not allowed in Chora.
What to do in
Mykonos ?
Nothing! That doesn't mean is nothing to do on the island, but simply that its climate, its beauty and its atmosphere are an invitation to do (almost) nothing. Mykonos is an ideal place to let go, relax completely and forget your everyday life. Leave your watch in your suitcase, and take your time. Eat delicious fish or souvlakis, whenever it takes your fancy. Lie on a beach, and if the sun gets too much, abandon yourself to the cool waters of the Aegean Sea. Sit for a moment and admire the landscape at sunset. Then dance the night away… and the day too, if you like.

A party with a taste of nature

See more

See less

Despite being great for partying, Mykonos is different from Ios and Kos, its neighbouring islands of the Cyclades, which are purely for party animals. It has just as much to offer by day as it does by night: you can sun yourself on a lounger on the beach or unleash your inner night owl in a fashionable club. Mykonos is best enjoyed alone, as a couple or with friends. It all depends which Mykonos you want to experience.
Looking for a slower tempo? Get ready for picture-perfect scenery, romantic sunsets, lazy cats, sleepy little villages, white houses and shutters as blue as the domes of orthodox churches.
Prefer a wilder pace? This Mykonos rises with the moon, and stays up past sunrise. It lives on beats, decibels and flashing spotlights. Its heart beats loud and hard at Paradise Beach and Cavo Paradiso. For the gay community, JackieO is the place to be.
So which Mykonos should you choose? Both, of course! After all, you're on holiday!
The top 10 things to do on Mykonos

See more

See less

Climb the hill to see the seven most famous windmills in the world and admire the view of almost the entire island. Do this at dusk if possible, when the sky is ablaze.
Experience the magic of the Cyclades, by visiting Paraportiani Church: a set of five immaculate chapels overlooking the sea.
Get up at dawn to visit Little Venice, the loveliest part of Chora, while it is still quiet. With its paved streets, whitewashed buildings, balconies and blue shutters, this the Cyclades as you've dreamed of them.
As the day draws to an end, grab a table on one of the seafront terraces of Little Venice, and stay there until sunset: a magnificent sight!
Commit the sin of gluttony, as you sink your teeth into a gyros from Sakis Grill House, one of the best on the island.
Dance all day in your swimwear, on the sands of Paradise Beach, the beach that never sleeps.
Enjoy the longest night of your summer on the wild dance floors of Cavo Paradiso, and join the nightclubbers going crazy to sets from today's best DJs.
Slip off your swimwear on the Agrari naturist beach, or slip on a mask and snorkel to discover stunning fauna in the crystalline waters of Psoria, Ornos or Lia.
As you explore the little streets, look out for the island's mascot: the pelican. It all started with Petros, a wounded bird cared for by fishermen from Chora, who remained with them until he died.
Set sail for the islands near Mykonos: little Delos, the sacred island of the Cyclades, untamed Naxos and quiet Paros.
Regular flights Nice - Mykonos JMK
FLIGHTS EASYJET EUROPE
2
Flights per week, From July to August
Flights per day :
Mon

0

Tue

0

Wed

1

Thu

0

Fri

0

Sat

1

Sun

0
Frequently asked questions