Direction: Holland
A flight from Nice to Rotterdam is sure to surprise your friends. "Um, don't you mean Amsterdam? " No no, definitely Rotterdam, the second biggest city in Holland, biggest port in Europe, and one of the most modern cities on the continent. Admittedly, the rival of "Venice of the North" doesn't have its charm or the genius of Van Gogh. But the city and its surroundings, starting with its contemporary architecture, can make most of its peers feel very old, very quickly. So clearly you've made no mistake in booking your non-stop flight from Nice to Rotterdam. To the contrary, you've shown daring and originality. And you can be sure you'll be well compensated!
currency

Euros

language

Dutch
Ideal For
Couple

With friends

Alone

Town/City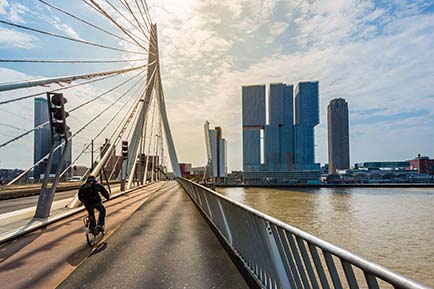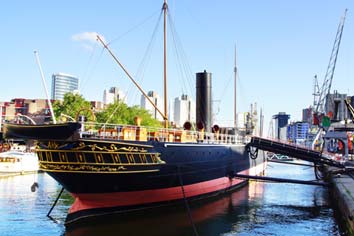 Useful information for your trip to Rotterdam

See more

See less

To book your seat at the best price on a Nice-Rotterdam flight, it's best to compare all offers. And for that you'll need a specialist. Who's ours? MisterFly. Our partner will give you all the information you need to plan your trip in just a few clicks: airlines, schedules, prices, and frequencies of all Nice-Rotterdam flights, with or without connections. And should you find your Nice-Rotterdam flight for the right date and at a great price early, book it stress-free. The price is guaranteed without additional fees. You can even pay for your Nice-Rotterdam flight over several monthly instalments. This offer is available no matter the date and price of your trip, including the Transavia Nice-Rotterdam flight.

The formalities for travelling to Rotterdam

Formalities: the Schengen Territories has made travelling easy! As a European citizen heading to Rotterdam and the rest of Holland, you'll only need a valid passport or ID card.
Currency: the Euro is used in the Netherlands.

Your Nice-Rotterdam direct flight

In Nice, all Transavia flights for Rotterdam fly out of Terminal 2. Ready to go, your ticket in your pocket or on your phone, cabin baggage in hand? If so, arrive at the airport 1 hour before your flight leaves, to give yourself plenty of time to get through security. If you need to check in or check bags at the Transavia counter, allow an extra quarter of an hour.

| | |
| --- | --- |
| Departure airport | Nice Côte d'Azur Airport |
| Departure airport | Departure airport |
| Arrival airport | Rotterdam-La Haye Airport |

Arriving in Rotterdam

While Rotterdam-La Haye Airport includes the names of two large Dutch cities, the first is decidedly closest. Its runways are just 8 kilometres from the centre of Rotterdam (versus 25 km from La Haye). To get to the centre, you have the following options:

Take the bus: the RET (line 33) shuttle leaves every 10 minutes from the airport (15 in the evening) and will take you to Rotterdam central station. The journey takes around 20 minutes.
Take a taxi: less than 10 minutes will get you to your hotel with Rotterdam Airport Taxi, official partner of the airport. The trip costs around €20 (€50 for La Haye).
Hire a car: six agencies have counters at the airport.
What to do in
Rotterdam ?
The Netherlands suffered greatly during WWII, and Rotterdam is no exception. It came out of the war ravaged, with more than 90% of its centre destroyed. A tragedy that the community in Rotterdam turned into a strength. As the reconstructed their city, they bet on modernity and innovation. 70 years later you can still see the evidence of it and this Dutch city continues to build upon its legacy of daring architecture. But this city has so much more beauty and interest to seduce you with than that!

The city of precious stones

See more

See less

Rotterdam's beauty lies in its urban design. But don't worry: you don't need a subscription to Architectural Digest to appreciate it. Cube-shaped houses, a bridge in the shape of a swan, an arch that's home to apartments and an immense market, a restaurant perched high atop a tower: the city's most extraordinary creations will fascinate and charm you, be you layman or expert.
But you know, Rotterdam isn't all ultra-modern buildings. In Delfshaven, Old Rotterdam, the only quarter that escaped Nazi and Ally bombs, you'll find picturesque streets dotted with traditional houses and canals that are the perfect place for a romantic afternoon. Rotterdam also lets you get up close and personal with the giants of the sea that drop anchor in its port. It will enthral you with a wealth of varied cultural offerings, blending classical ballet with contemporary choreography, masterpiece paintings with photography and street art. And how about a bit of nature to finish things off? Head out of the city and discover the Dutch countryside, with its charming polders and windmills.
The top 10 things to do in Rotterdam

See more

See less

Be amazed by the Kijk-Kubus. These 3-level cube-shaped houses were designed by Piet Blom in the 1980s. There are around 40 of them, all inhabited except one, which is open to the public.
Climb to the top of the Euromast. On clear days you can see all the way to Antwerp from the top of this panoramic tower! A first stop at a restaurant 100 metres up, a second for the observation platform at 185 metres, and then you have a choice to make: abseil, zip-line, or go back down the way you came?
Have a wander around Hofbogen, an old 2 km long railway overpass that's been turned into a shopping arcade. International brands and vintage boutiques, trendy cafés and microbreweries can all be found under the arches.
Treat yourself to a cruise on the Meuse with the company Spido and see massive ships in Europe's largest port, Erasmusbrug (the largest bascule bridge in Europe), as well as the vintage Hotel New York and the Montevideo tower, its new-age neighbour.
Do your shopping under the grand arch of Markthal. This ultra-modern building is home to an authentic market with dozens of stalls and a few small restaurants, as well as private apartments. It's as much a treat for your eyes as for your palate!
Take in the collections of the Museum Boijmans Van Beuningen, Rotterdam's fine art museum. Paintings ranging from the 17th century to today by Magritte, Dali, Picasso, even Monet. Don't miss the famous The Tower of Babel by Pieter Bruegel.
Fill an evening with grace and beauty with a classic or modern ballet at the Rotterdamse Schouwburg. This theatre (which opened in 1988) play host to various shows nearly every evening, and the artistic quality is always excellent. It sets the bar high!
Indulge a bit. Choose from chip stands, any of the countless terraces on Witte de Withstraat street (the best place in the city to indulge!), the bridge of the SS Rotterdam, or Aloha, a former swimming area-turned-restaurant and bar.
Take a river boat to get to Kinderdijk village, around 20 km from Rotterdam. With its canals and windmills that look like a real-life postcard, it's one of the most beautiful places in Holland.
Visit neighbouring areas around Rotterdam: the charming Gouda, Delft, capital of porcelain, and lovely La Haye, home to Girl with a Pearl Earring by Vermeer and The Anatomy Lesson of Dr. Nicolaes Tulp by Rembrandt, two of Holland's most renowned masterpieces.
Frequently asked questions