Take off to the pearl of Andalusia
Nice Seville flights… Past generations must have dreamed of this! Travelling to Plaza de España, beautiful Cadiz or the beaches of Marbella used to mean a long car journey. Today, thanks to the blessings of progress, a Nice Seville direct flight takes just two and a half hours, making Andalusia accessible to anyone. Wonderful news, considering the rich assets of this region, which many consider to be the most beautiful part of Spain.
time difference

+0h

currency

Euros

language

Spanish
Ideal For
Couple

Culture

Nature

With friends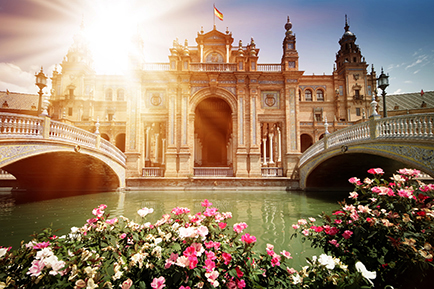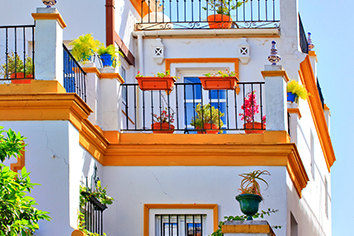 Useful information for your trip to Seville

See more

See less

Looking for a Nice Seville return flight? Find the best prices and choose your departure date on Misterfly. Then you can book your Nice Seville plane ticket online for the best price, and set off to meet the Sevillians.

The formalities for travelling to Seville

Entry requirements: Because Spain is a member country of the Schengen Area, European citizens only need a valid passport or national identity card to travel there.
Currencies: you will pay for your hand painted fan in euros.

Your Nice Seville direct flight

Nice Seville flights with easyJet leave from Terminal 2.
Plan to arrive at the airport 1h15 before your departure time if you need to check in or put luggage in the hold, and an hour before your flight if you already have your boarding pass and you are travelling with hand luggage only.


| | |
| --- | --- |
| Departure airport | Nice Côte d'Azur Airport |
| Departure terminal | Terminal 2 |
| Arrival airport | Seville San Pablo Airport |

Arriving at Seville airport

You will land at San Pablo Airport, around 10 km from the centre of Seville. To travel from the airport to the city, you can choose between:

The bus : route EA runs from 04:30 to 00:30. There are seven different stops, including Santa Justa Train Station and Avenida Carlos V, the road closest to the entirely pedestrianised heart of the city. The journey takes about 30 minutes.
A taxi: the prices are reasonable.
A hire car from one of the many professionals waiting on the way out of the Arrivals Terminal.
What to do in
Seville ?
Spain's fourth-largest city, with a glorious past and its sights set on the future, Seville hosted the 1992 World's Fair (Seville Expo '92). This city will amaze and delight you from the moment you set eyes on it. Seville is a gorgeous place that knows exactly how to make the most of its many assets. Your Nice-Seville direct flight will take you to discover spectacular monuments, the lively banks of the Guadalquivir, narrow streets lined with attractive houses, amazing tapas, and flamenco beats.

Discover Andalusian festivals

See more

See less

A characterful city mixing the secular dances of the bailaoras (flamenco dancers) with religious festivals, where you will wash down your tapas with a glass of xeres (as the locals call their sherry) or manzanilla. Seville is best experienced as a couple or with friends. Of course, the capital of Andalucia has plenty for families, who can enjoy the Aquarium or the Isla Mágica theme park, but it is adults who can really make the most of all the city has to offer.
Seville is a city of faith. It boasts one of the largest cathedrals in the world, and regularly shows its devotion through religious processions, for example the Madrugá, the high point of the Semana Santa Easter celebrations.
Seville is alive with colour, for example its azulejos, the ceramic tilework that decorates many houses, and the ruffled dresses worn by its flamenco dancers. During the Feria de Abril, these dancers come out of the famous Spanish tablaos where they normally dance, into the light of day.
Seville has a taste for fine food: visitors can enjoy charcuterie, gazpacho, huevos a la flamenca (fried eggs with tomato and chorizo), or perhaps a cocido andaluz (the local stew).
However, at siesta time, Seville is a peaceful place. Enjoy this tradition outdoors in nature, shaded by the trees of Maria Luisa Park, listening to the sound of the Fountain of the Lions.
The top 10 things to do in Seville

See more

See less

Visit the Cathedral of Saint Mary of the See, a sublime and richly ornamented cathedral. While you're there, discover the tomb of Christopher Columbus and climb to the top of the Giralda, the bell tower converted from a former minaret.
Wander around Santa Cruz, the most picturesque neighbourhood in the city. With its little squares, patios, whitewashed buildings and forged iron balconies, the area has a certain old-world charm.
Admire the Plaza de España, one of the most beautiful plazas in Europe. Its esplanade, its fountain and its semicircular palace have been used as filming locations for Lawrence of Arabia and a Star Wars film.
Discover the Alcázar of Seville. Although less famous than Granada's Alhambra, it is just as fascinating, with its oriental décor, its luxurious gardens and its Renaissance beauty.
Give in to the magic of flamenco, in one of the city's best tablaos: Los Gallos, El Arenal, Casa de la Guitara, la Carbonería and the fantastic Palacio Andaluz.
Share a few tapas dishes in the oldest bar in the city: El Riconcillo. Very popular with the locals, it has been serving mouthwatering croquettes and hams for 350 years.
Walk down Avenida de la Constitución. This long avenue is closed to motor vehicles, and is a place of pure pleasure for those who love architecture and… shopping.
Visit the Maestranza, Seville's famous bullring. This designated Historical Monument is considered Spain's most beautiful bullring. It still holds renowned corridas during the Feria de Abril, for those who wish to see them.
Sip a sangria or a white wine from Malaga, Montilla-Moriles or Jerez, while you sit by the banks of the Guadalquivir or on one of the many bar boats moored at its quays.
Dine in the patio of Hotel Alfonso XIII, one of Spain's most beautiful palaces. This indulgent, romantic moment is more affordable than the building's sumptuous appearance might suggest.
Take the AVE high-speed train, and 40 minutes later, get off in Córdoba, to discover its splendid mosque–cathedral.Take a trip to Cádiz by hire car, train or bus, to see an utterly charming port city.
Frequently asked questions