Valence, between myth and reality
A Nice-Valencia flight will take you to discover one of Spain's most beautiful cities. It has no reason to envy Madrid or Barcelona. In fact, this big city combines exceptional heritage with a remarkable cultural and economic dynamism. With a Nice-Valencia direct flight, you'll see that different stages of life are combined all the time. A glorious past illuminates your walks, an epicurean present will delight you with indulgent treats and wild nights, and as for the future, it takes shape and reveals itself through many avant-garde places. And then you'll realise that your Nice-Valencia direct flight is just one stop. You still have to discover the wonderful area surrounding the country's third-largest city.
time difference

+0h

currency

Euros

language

Espagnol
Ideal For
Family

Couple

Culture

Town/City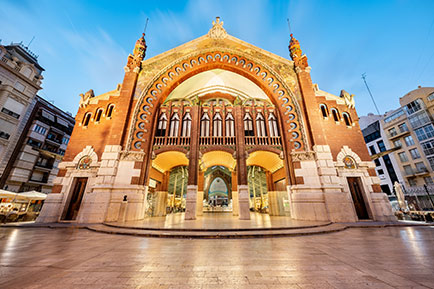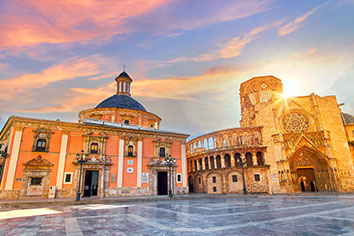 Useful informations for your trip to Valencia

See more

See less

Allow MisterFly to find the cheapest Nice-Valencia flight for you, as they are one of the leading specialists in online flight bookings. In just a few clicks, you can book your Nice-Valencia return flight at the best price, on a date that suits you and with no hidden fees. You can even pay for your Nice-Valencia flight over several instalments, if you want to. With all these advantages, what are you waiting for? Head to Barrio del Carmen to try the famous paella valenciana.

Formalities for travelling to Valencia

Entry requirements: Spain, which has been a member of the European Union since 1986, only requires French nationals or, more broadly, European nationals to provide a valid passport or identity card.
Currency: the peseta is now a thing of the past. Just like us, Valencians now use the euro.

Your Nice-Valencia direct flight

To get to Valencia, go to Terminal 1 at Nice Côte d'Azur Airport. From here, you can catch a Nice-Valencia direct flight with Iberia twice a week (Wednesdays and Saturdays), from July to September. This is the only non-stop flight to Valencia.

Don't miss your flight and your trip to Valencia, as this beautiful Spanish city may take offense! So, plan to get to the airport one hour before take-off and ensure you pass through security control with ease. It's better to extend this time frame by a few minutes if you need to collect your boarding pass or drop off your baggage at the airline check-in desk. Once in the departure hall, sit yourself down at a table in a café or restaurant and, with a restful and wandering mind, think of the sun and white sand at Playa la Malvarrosa.

| | |
| --- | --- |
| Departure airport | Nice Côte d'Azur Airport |
| Departure terminal | Terminal 1 |
| Arrival airport | Valencia Manises Airport |
| Arrival terminal | Terminal 1 |

Arriving in Valencia

Your Nice-Valencia flight with Iberia will take you to Terminal 1 at Valencia Airport. Located in Manises, it's only a mere ten kilometres from the centre of Valencia. This makes it very easy and quick to get to your hotel, especially as there are several modes of transport available to you:

bus: This is the most economical of all. Bus No. 150, marked "Metrobús Aeropuerto", stops right in front of the Terminal 1 Arrivals Hall. It operates from Monday to Saturday, except public holidays. Buses depart every 30 minutes, from 05:20 to 22:10.
metro: The basement of Terminal 1 has a station connected to Valencia by lines 3 and 5. It takes 25 minutes to get to Xativa, the main station in the city centre, which is next to the train station.
a taxi: Whatever the time and day, there are always several taxis available at the exit of the Terminal 1 Arrivals Hall. If they belong to different companies, they all strictly apply the same rate.
hire car: There are nine rental companies at Valencia Airport. The vast majority of them are located in the Arrivals area in Terminal 1. Once you're behind the wheel, it takes 15 minutes to get to the city.
What to do in
Valencia ?
What makes a stay in Valencia successful is no different than what makes a paella taste so good. It's the combination of land and sea. The city is indeed bordered by the Mediterranean. So, days often start with a swim in the sea and sunbathing. As for the most beautiful summer evenings, they are subdued by sea breezes. And inland? You'll find large gardens where it's good to stroll around, good places for shopping, old characteristic stones, lively squares and, to spice everything up, the central market. This is one of Spain's most beautiful markets and it's a paradise for food lovers.

Your wish is our commande!

See more

See less

If the "Spanish inn" exists, you'll be able to find it in Valencia as this beautiful city illustrates this famous expression perfectly. It sparkles from so many angles that you're always sure to discover it as you want to find it when you arrive. Hence, each guest will eventually leave with a piece of its truth. One thing is for sure, Valencia is the perfect city, with a happy combination of history and modernity, culture and celebration. Furthermore, it is without doubt the gateway to wild, picturesque and preserved nature. Last but not least, it's a huge seaside resort with miles of sandy beaches, which makes it ideal for summer holidays by the sea. And as much as we would tell you to go with your children, as there are so many things to share as a family, we would also advise you to travel as a couple. Couples can then share stories about their pleasant walks, hand in hand, through the one-hundred-year-old alleyways in the historic centre, the aperitifs they enjoyed, eye to eye, along with some tapas and an Agua de València, the typical cocktail in the area, and their relaxing romantic evening enjoyed in a Spanish way. In other words, without any notion of time passing by!
The top 10 things to do in Valencia

See more

See less

Finish your quest to find the Holy Grail in Santa Maria Cathedral. According to local historians, the chalice it has housed for six hundred years is the one that Jesus and his apostles shared during the Last Supper.
Visit the Lonja de la Seda, the Silk Hall, one of the most beautiful monuments in Valencia. This building, erected at the end of the Middle Ages, attracts visitors because of its beauty with twisted columns, gothic windows, marble floors and coffered ceilings.
Find your place! Valencia is home to many squares, many of which are pedestrianised. Plaza de la Reina is the most iconic, Plaza Redonda the most unusual and Plaza de la Virgen the most striking.
Go green and walk through Turia Gardens, a long flow of green, several kilometres long, that runs through the entire city. This is the meeting place for athletes, dreamers and lovers.
Alternate between swimming in the sea and sunbathing on the golden sand of Valencia's vast beaches. Malvarrosa is the most famous, lined with bars and restaurants. Wild and peaceful, El Saler is the most beautiful.
Review your general knowledge at the City of Arts and Sciences. It stands out due to the futuristic architecture of its buildings, which is emphasised by huge pools and the eclecticism of its entertainment, e.g. 3D cinema, exhibitions, operas, scientific workshops, etc.
Plunge deep into the oceans without getting wet at Oceanogràfic. Housed within the City of Arts and Sciences, it's the largest aquarium in Europe with 45,000 specimens from 500 animal species, ranging from penguins to tiger sharks, walrus and belugas.
Find yourself drooling in front of the stalls at the central market. In the very heart of the city, under the great hall, which is 100 years old and typical of the Art Nouveau style, 400 traders will delight you with the best products of the Spanish region.
Eat a paella, sip a cocktail, a craft beer, a drink or horchata made of chufas, Valencia's most famous sweet drink, in Barrio del Carmen, an area that sparkles with charm during the day and a festive atmosphere at night.
Leave Valencia and explore its province, from the vineyards of Utiel-Requena to the natural pools of the countryside, and from the lake of Albufera Natural Park to the picturesque streets of Sagunto.
Frequently asked questions