Copenhague,Fly to the island of Zealand
Two and a quarter hours… This is the duration of a Nice-Copenhagen direct flight. For those who only know the Danish capital for the Little Mermaid, this may seem like a long time, especially as this mermaid really is little. However, this famous sculpture is just one of many gems that make the city of Hans Christian Andersen so charming. Copenhagen is simultaneously gourmet, picturesque, imaginative, environmentally friendly, arty and cosy. A real Scandinavian beauty which is easily worth 135 minutes on a Nice-Copenhagen flight.
time difference

+0h

currency

danske kroner

language

Danish
Ideal For
Family

Couple

Culture

Nature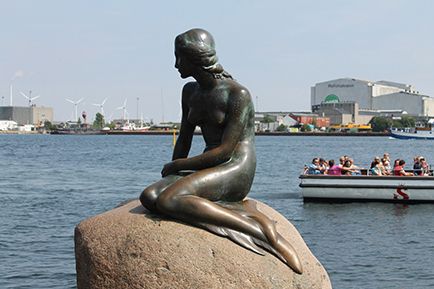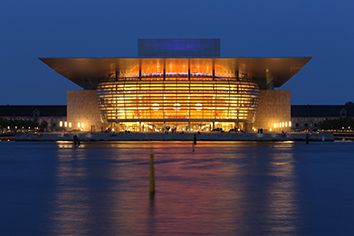 Usuful information for your trip to Copenhagen

See more

See less

Looking for a Nice-Copenhagen direct flight? Use our partner, Misterfly. Airlines, timetables, prices: in a few clicks, you can access all the information you need for your trip to Denmark. But Misterfly is more than just a Nice-Copenhagen flight comparison tool. It also allows you to book your Nice-Copenhagen plane ticket with no administration fee, get a free partial refund in the event of cancellation, or pay for your trip in several instalments.

The formalities for travelling to Copenhagen

Entry requirements: the Kingdom of Denmark is part of the Schengen Area. To enter the country, European citizens just need a valid passport or identity card.
Currencies: you will pay for your Carlsberg in Danish kroner. There are about 7.5 kroner to 1 euro. Before you leave, prepare by changing enough money to cover your first purchases at Interchange, which has desks in both terminals at Nice Côte d'Azur Airport.

Your Nice-Copenhagen direct flight

As your departure approaches, you might be asking: which terminal should I go to for flights to Copenhagen from Nice? Don't worry, the answer is simple. Nice-Copenhagen flights with both Norwegian and SAS leave from Terminal 1 of Nice Côte d'Azur Airport.

You should get to the airport at least an hour before your flight takes off, if you already have your boarding pass and you are travelling with cabin baggage only. Otherwise, if you need to go to a check-in desk, allow an extra quarter of an hour.

| | |
| --- | --- |
| Departure airport | Nice Côte d'Azur Airport |
| Departure terminal | Terminal 1 |
| Arrival airport | Copenhagen Airport |
| Arrival terminal | Terminal 3 |

You will arrive at Terminal 3 of Copenhagen Airport, which is just 8 kilometres from the city centre. You have several options for getting to the centre:

The bus: day and night, bus 5A stops in front of Terminal 3 and goes to Husum Torv, in the north of the city, via the centre and the station.
The metro: it leaves from Terminal 3 every 4 to 5 minutes during the day, and every 20 minutes at night. It goes via Nørreport Station, right in the heart of the city. The journey takes 15 minutes.
The train: departing every 10 minutes from platform 2, for Copenhagen Central Station. The journey takes 15 minutes.
A taxi: you can be dropped in front of your hotel for just under 30 euros during the day, or a little more at night.
A hire car: go to the airport's Car Rental Centre. There are six car hire companies there.
What to do in
Copenhague ?
If Shakespeare came back to life, he would certainly change the famous line from Hamlet: "Something is rotten in the state of Denmark." Because there's no denying that the oldest kingdom in Europe is also the most virtuous and pleasant of countries. In fact, the people of Denmark are among the happiest in the world. Their secret: hygge (pronounced "hoo-guh"), a life philosophy combining pleasure and cosiness. With its cafés, streets, parks, events and activities, Copenhagen is the perfect illustration of hygge. By visiting, you too can find the key to happiness.

Alone, as a couple, or as a group…

See more

See less

Whether you come alone, as a couple or as a family, and whether you stay for a weekend or a whole week, you'll never get bored in Copenhagen. The city makes it impossible! Joyous, warm, charming and welcoming, it is quick to share its famous and wonderful lifestyle with its guests. There's something to please everyone! Adults will enjoy the culture and lifestyle: a rock or electro concert at Vega or an opera, a museum full of canvases by great Dutch masters or French Impressionists, trying on clothes in a fashion boutique, shopping for some Danish design at Illums Bolighus, a tankard of beer in a pub, or a gastronomic meal.
Then there are all the little pleasures and joys to be shared between generations. People of all ages will melt with pleasure when they bite into their smørrebrød: the legendary rye bread open sandwich, or a kanelsnegle, the famous Danish cinnamon roll. Visitors young and old can feel full of life and energy by ice-skating in winter on Kongens Nytorv ("King's New Square") or pedalling through the streets of a city that has more bicycles than cars. Kids and adults will both enjoy a cruise on the canals for a different view of the city, seeking fun and thrills on the rides at Tivoli Gardens, and dreaming of a little mermaid as they drift off to sleep.
The top 10 things to do in Copenhagen

See more

See less

Go to see the little mermaid, the city's emblematic statue. She sits on a rock on the bank of the Øresund, in tribute to Hans Christian Andersen, the author of "The Princess and the Pea", "The Snow Queen" and "The Little Match Girl".
Walk down Strøget to the Nyhavn harbour. Strøget is one of Europe's longest pedestrianised streets, at over a kilometre long. Take the time to admire its beautiful 18th-century residences and browse in the shops…
Be royal! Admire the Changing of the Guard at midday, in front of Amalienborg. This palace is the residence of Margrethe II. Discover Rosenborg Castle and its 400 years of history.Visit a museum. Love Brueghel, Rembrandt or Rubens? Head for the National Gallery of Denmark. For Rodin, Gauguin or Cézanne, stop off at the Ny Carlsberg Glyptotek.
Enjoy a coffee or a cool drink on one of the terraces of the old harbour of Nyhavn. This is among the most charming places in the city, with its multicoloured houses and its historical ships.
Climb to the top of the Round Tower (Rundetårn), the oldest working observatory in Europe. Access to the observatory is via an unusual cobbled spiral ramp. There is a wonderful view over the city from the observation deck at the top.
Fall in love with Denmark's most famous blonde: Carlsberg! With the largest collection of beers in the world, the Old Carlsberg Brewery is the place to learn the great story and the little secrets of this drink.
Do things differently with the people of Christiania, Copenhagen's alternative neighbourhood, founded as a free town in the 1970s. It offers art, artisan crafts and a pleasant, poetic atmosphere.
Break open your piggy bank to taste the cuisine at Noma, one of the best restaurants in the world. On a tight budget? Buy a hot dog from a pølsevogen: a Danish hot dog stand. An institution!
Unleash your inner child on the rides at Tivoli Gardens, in the heart of the city, or at Bakken, the world's oldest amusement park, nestled in a vast forest that is home to thousands of stags and hundred-year-old trees.
Regular flights Nice - Copenhague CPH
FLIGHTS NORWEGIAN AIR SHUTTLE
3
Flights per week, From November to March
Flights per day :
Mon

1

Tue

0

Wed

1

Thu

0

Fri

1

Sat

0

Sun

0
FLIGHTS EASYJET
2
Flights per week, From November to March
Flights per day :
Mon

0

Tue

0

Wed

0

Thu

1

Fri

0

Sat

0

Sun

1
FLIGHTS SAS
6
Flights per week, From November to March
Flights per day :
Mon

1

Tue

1

Wed

1

Thu

1

Fri

1

Sat

1

Sun

0
Frequently asked questions