Fly to Calvi, direction Corsica
Flying from Nice to Calvi is the quickest way to get to the Island of Beauty. A quick jaunt over the sea will have you landing right in the heart of La Balagne. A region of Corsica where the wonders of nature abound. With its olive trees, palms, fruit trees and maquis, you'll see it's true to its nickname: The Garden of Corsica. But an ocean of green isn't the only treat your Nice-Calvi direct flight has to offer, because upon landing you'll find a sapphire dream scape dotted with turquoise beaches under an (almost eternal) azure sky.
time difference

+0h

currency

Euros

language

French
Ideal For
Family

Nature

Beaches

Weekend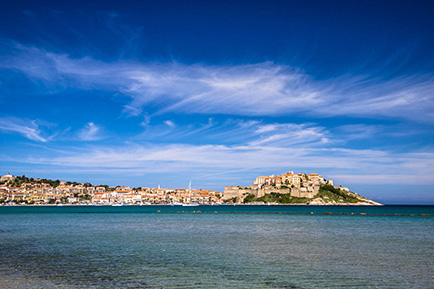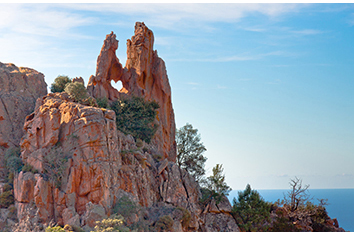 Useful information for your trip to Calvi

See more

See less

Dreaming of a holiday in La Balagne? Don't wait! Book your Nice-Calvi ticket today. Looking for an easy way to find the right flight, one that works for both your agenda and your wallet? Then trust an expert: MisterFly, our partner. In just a few clicks you'll find prices and timetables for all available Nice-Calvi flights. With all the information at your fingertips, you can book your Nice-Calvi return ticket and even pay in four monthly instalments.

Your Nice-Calvi direct flight

If you're looking to get to La Balagne, there's just one solution: Fly from Nice to Calvi with Air Corsica, Corsica's regional airline. It operates from Terminal 2 of Nice Côte d'Azur Airport.

But whether you're headed to Calvi or the other side of Europe, be sure to arrive at the airport early to get through security and to your gate without stress. Arrive at least one hour before departure if you already have your boarding pass and you are travelling with cabin baggage only. Should you need to go to the Air Corsica counter to collect your Nice-Calvi ticket or check bags, arrive at least an additional 15 minutes early.

| | |
| --- | --- |
| Departure airport | Nice Côte d'Azur Airport |
| Departure terminal | Terminal 2 |
| Arrival airport | Calvi-Sainte Catherine Airport |

Arriving in Calvi

The Calvi Airport is just 8 kilometres from the Genoese citadel. To get there, you'll need to:

take a taxi. You'll find them waiting just outside the terminal.
hire a car. With 5 agencies in the airport, you're sure to find the right car for your budget to take you on your Corsican adventure.
What to do in
Calvi ?
Located just opposite the French Riviera, Calvi is one of the pearls of Corsica. And tourists know it. Every year at the start of summer, they throng to the ancient Genoese citadel by the thousands. It's a pleasant invasion that adds to the city's festive atmosphere and makes the beaches, streets and festivals all the more convivial. And should you suddenly find yourself in need of calm, to feel (more or less) alone in the world, head out of the city and discover everything else La Balagne has to offer. This region is full of beautiful - and calm - natural wonders: exquisite cirques, captivating coves, hidden beaches, hilltop villages and enchanted forests await.

Visiting Calvi: fill up on nature

See more

See less

With its proximity to the French Riviera, Calvi is just as perfect for a romantic weekend getaway as it is for a family summer holiday. In either case, La Balagne and its beautiful region have everything you need for an unforgettable trip.
One word sums it up: Magical. Enchanting sounds float through the air, the inimitable island accent turning every conversation into a warm hug. Spellbinding streets wind their way through old Calvi, immutable behind its high ramparts. Mystery oozes from centuries-old houses in tiny surrounding villages. Bewitching cuisine dances across your palate in the form of fresh olive oil, sliced coppa, and morsels of regional cheeses with a touch of mint.
But you won't find magic just inside the city walls. It's woven into the natural surroundings as well. Like a diamond, it sparkles from many different angles. Fresh and shaded in the Bonifato forest as you picnic next to a natural pool. Sunny and jovial on Algajola beach, a paradise for water sports lovers. Wild and youthful as you go up the Fango valley, or along the steep slopes of the Scandola Nature Reserve.
But even with all that, Calvi has one more trick up its sleeve: la fiesta! Enjoy a romantic night on the town worthy of your youth at a table in a trendy bar, in the front row of a rock festival, or on the dance floor of a nightclub.
The top 10 things to do in Calvi and La Balagne

See more

See less

Head into the Calvi citadel, wander the lively streets, stop off at Saint Jean-Baptiste Cathedral, and climb up to the tallest ramparts for a magical view of the city and the sea.
Sunbathe or relax in the shade of a Corsican pine between dips in the sea at Calvi's most beautiful beach: Pinède. This beach caught the attention of Luc Besson, who filmed part of The Big Blue there.
Hop on U Trinichellu, the Corsican train, and head for Île-Rousse, Calvi's neighbour and rival for all that is charming and delightful. It's a short trip that offers breath-taking views of the coast and the Big Blue. True eye candy!
Visit the region's most beautiful villages: Lavatoggio, Montemaggiore, Pigna, or Sant'Antoninno, the last of which is one of the most beautiful villages in all of France, a nest of alluring stone houses perched at 500 metres altitude.
Fill your water bottles and head into the Agriates desert, a wild paradise that connects La Balagne and Cap Corse. There's not a village around for miles, but you will find secluded cirques and untouched beaches. It's a truly bewitching part of the world.
Don't miss the Scandola Nature Reserve, a sanctuary that can only be reached by boat. Take in the breathtaking natural setting and crystal clear waters. From dolphins to golden eagles, thousands of species live here, both on land and in the sea.
Slip on your fins and explore the coast of the Revellata, a peninsula well-known as one of the most beautiful places in Corsica. Here you'll swim with rays, grouper, moray eels, and more.
Take the "postman's route" (the chemin du facteur) to Girolata and its pristine beaches overlooking its eponymous harbour. This hiking trail crosses the maquis and gets its name from Guy Ceccaldi, a postman who used it daily for years to deliver the post to the village.
And of course, get a proper taste of La Balagne. Fill your basket at Lumio market, which takes place Wednesday mornings and offers organic vegetables, Balagne's famous AOC olive oil (PDO in English, or Protected Designation of Origin), artisanal goat or sheep cheeses, and excellent wines.
Reserve a table Chez Léon in Cateri, a small village midway between Calvi and Île-Rousse. It's one of the best restaurants for those looking to taste all that La Balagne has to offer.
Regular flights Nice - Calvi CLY
FLIGHTS AIR CORSICA
9
Flights per week, From April to October
Flights per day :
Mon

1

Tue

1

Wed

1

Thu

1

Fri

1

Sat

2

Sun

2
Frequently asked questions