Düsseldorf, en route for the Kö
The Nice-Düsseldorf flight is often full of business travellers, as the capital of the North Rhine-Westphalia plays host to many multinationals and more than 30 trade fairs and consumer exhibitions. But well-informed tourists can often be found among them, because they know that one of Germany's most beautiful cities - nicknamed Little Paris and listed as one of Europe's nicest - awaits them when their Nice-Düsseldorf direct flight lands.
time difference

+0h

currency

Euros

language

German
Ideal For
With friends

Party

Town/City

Weekend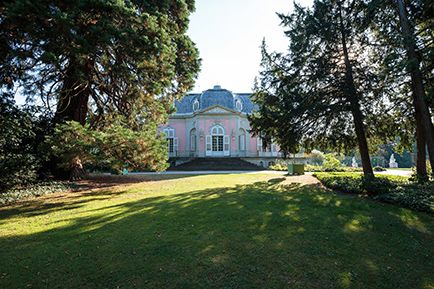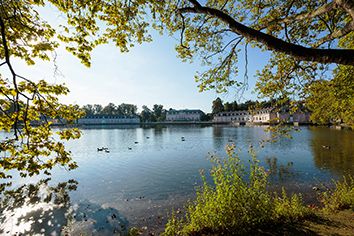 Useful information for your trip to Düsseldorf

See more

See less

Why not getaway to Düsseldorf and wander the shops of Kö, the Königsallee, the most beautiful avenue in the city? Yes, but... Before you commit you need quick responses to a few questions. Which airlines provide Nice-Düsseldorf flights? Is there a low cost flight from Nice to Düsseldorf? How much? When? No doubt about it: you need the help of MisterFly, our partner. Not only can you compare prices and schedules for all flights to this city on the Rhine, you can also book your Nice-Düsseldorf flight with no hidden fees and pay for it over several monthly instalments.

The formalities for travelling to Düsseldorf

Entry requirements: as with any trip to Germany, member country of the Schengen Territories, remember to bring your valid passport or identity card.
Currency: in Düsseldorf you be paying off your tab in Euro.

Your Nice-Düsseldorf direct flight

Only Eurowings flies between Nice and Düsseldorf. As such you'll need to go to Terminal 1 of the Nice Côte d'Azur Airport, home to this German airline.

It would be a shame to miss your plane by being a few minutes late! So plan ahead. Arrive at the airport at least 1 hour before departure. This will allow you to pass through security controls stress-free and even enjoy some shopping at airport boutiques. Need to go to the Eurowings counter to check a bag or collect your ticket? Plan for that too! Give yourself an additional 15 minutes to be sure to have enough time.

| | |
| --- | --- |
| Departure airport | Nice Côte d'Azur Airport |
| Departure terminal | Terminal 1 |
| Arrival airport | Düsseldorf International Airport |

Arriving in Düsseldorf

There are many ways to cover the 9 kilometres between the Düsseldorf International Airport and Düsseldorf city-centre:

Take the bus: the airport has two bus stations, one of which is opposite the Arrivals Terminal. Several lines have regular routes to Düsseldorf and stop at key places in the city. Line 721 will take you directly to the central station.
Take the tube (S-Bahn): the underground station is underneath airport Terminal C. S-Bahn line 11 has a train every 20 minutes during the day that will take you into Düsseldorf. It runs every 30 minutes in the evenings and on Saturdays, Sundays, and bank holidays. In just 12 minutes you'll arrive at Düsseldorf Hauptbahnhof station in the heart of the city.
Take a taxi: This will get you to the city centre in about 20 minutes for between €20 and €30 depending on your destination and the time and day.
Hire a car: You can hire a care from any of the 6 agencies that have counters in the Arrivals Terminal.
What to do in
Dusseldorf ?
A multi-cultural society, a dynamic economy, audacious architecture, excellent public transport, a lively student population, and a charming old city: Düsseldorf is pretty cool. And a delight for those who stay a few days! At once relaxed, cultivated, indulgent, and festive: the hometown of Wim Wenders and Claudia Schiffer has many talents. And they're all the better for being hidden! You'll enjoy them even more.

Düsseldorf, a city full of life

See more

See less

Düsseldorf is a greatly underestimated destination for a romantic weekend getaway or a trip with friends. While Germany's 7th largest city may not have the renown of Berlin, Cologne, Hamburg or Munich, it also has little to envy. Like its compatriots - and sometimes better - you'll find respect for traditions mixed with forward thinking, an intoxicating festive atmosphere and love for life, and a disarming style that's as distinct as it is natural.
This eclecticism makes it seductive to visitors whatever their age, tastes, or budget. It delights as much with a stroll along the Rhine as with a dinner perched 200 metres up; with a romantic castle as with a futuristic building; with sunbathing in a public park or an endless night of electro; with a cold beer in a festive brewery or with a sophisticated gourmet feast. They say you should always keep things interesting, and Düsseldorf has mastered the art!

The top 10 things to do in Düsseldorf

See more

See less

Wander the charming streets of Altstadt, the old city. Pass by Burgplatz to see the Schlossturm, all that remains of the City Palace, and ride the big wheel. Take a break in one of the quarter's 250 bistros.
Stroll up the Königsallee (the King's Street), the Champs-Elysées of Düsseldorf. At nearly a kilometre long and shaded by more than a hundred chestnut trees, the Kö as it's called is a must-see, not just for its luxury shops, but for its sophisticated beauty and architecture as well.
Go walking in the MedienHafen (Port of Media), a commercial port-turned-cutting edge business district. A marvel of contemporary architecture in the image of Neuer Zollhof, a group of three buildings by Franck Gehry.
Go back in time by visiting the medieval ruins of the Kaiserswerth imperial palace, the ancient fortress of the famous Barbarossa, and Benrath Castle, a small rococo wonder dating back to the Enlightenment.
Discover new modern artists in the city's many art galleries and rediscover the pioneers (Kandinsky, Warhol, Picasso, Matisse, Mondrian, Klee, and more) in K20 and K21, the two buildings of the North Rhine-Westphalia Art Museum.
Travel to the ends of the earth in just minutes as you linger in the Stadtmitte quarter, home of one of Europe's largest Japanese communities. Here you'll find traditional shops, karaoke and sake bars, sushi and teppanyaki.
Take time out along the Rhine or on the pathways and lanes of the many green spaces in the city: Hofgarten near the old city, the green giant Südpark, or Nordpark, the most romantic with its Japanese garden.
Indulge in the two specialities of Brauerei Schumacher, the oldest brewery in Düsseldorf: alt beer, the local beer, and sauerbraten, a pot roast marinated and cooked in a sweet and sour sauce.
Have a drink or eat at the restaurant at the top of the Rheinturm, a 240-metre tall telecommunications tower. Floor to ceiling windows line this slowly rotating tower, offering a 360° panoramic view.
Buy everything you need to picnic on the banks of the Rhine at the stalls of Carlsplatz Markt, the best market in the city, just near Altstadt. On the menu: charcuterie, cheeses, shrimp sandwiches, and snacks from around the world.
Regular flights Nice - Dusseldorf DUS
FLIGHTS CONDOR
4
Flights per week, From May to October
Flights per day :
Mon

1

Tue

0

Wed

0

Thu

0

Fri

1

Sat

1

Sun

1
FLIGHTS EUROWINGS
10
Flights per week, From April to October
Flights per day :
Mon

1

Tue

1

Wed

1

Thu

1

Fri

2

Sat

2

Sun

2
Frequently asked questions