En route to Hamburg
A Nice-Hamburg flight takes less than two hours. A trifle compared to what awaits when you land. A veritable feast of culture! Pay no mind to those who say that this large North Sea port is dull, tedious, or slow. It's simply not true! On the contrary, Germany's second largest city is a true trove of treasures. But don't take our word for it! Just ask the millions of tourists that visit every year. They'll tell you that a Nice-Hamburg direct flight and the days of exploration and discovery that follow will leave you with a wealth of fond memories.
time difference

+0h

currency

Euros

language

German
Ideal For
Couple

With friends

Culture

Party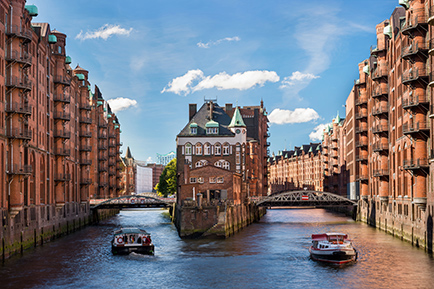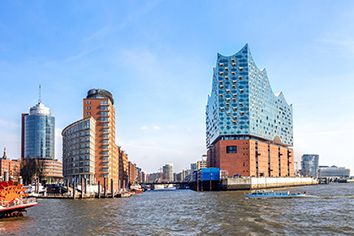 En route pour Hambourg

See more

See less

Useful information for your trip to Hamburg

Are there direct flights from Nice to Hamburg? Is there a low cost Nice-Hamburg flight? How much is a Nice-Hamburg direct flight? When does it leave? Whoa whoa whoa! Stop asking questions and start getting answers! The responses to all these questions can be found with our partner MisterFly. With MisterFly you'll quickly find all the information you need on available Nice-Hamburg direct flights, so that you can choose the one that best suits your budget and your schedule. Found the perfect flight? Book your Nice-Hamburg without hidden fees and, if you like, even pay for it over several monthly instalments.

The formalities for travelling from Nice to Hamburg

Entry requirements: Germany is part of the Schengen Territories, so travelling there is easy. You'll just need a valid passport or ID card. That's it!
Currency: you'll be paying for your fischbrötchen, Hamburg's famous fish sandwich, in Euro.

Your Nice-Hamburg direct flight

Which terminal do flights to Northern Germany leave from? It depends on which airline you've decided to fly with! Eurowings departs from Terminal 1. With easyJet, your Nice-Hamburg flight will leave from Terminal 2.

Stress is not a traveller's best friend! So keep it at bay by arriving at least one hour before departure. This will give you time to go through security screenings and even spend some time in the shops, bars and restaurants of our terminals to get you relaxed and ready to fly. Should you need collect your ticket or check bags at the airline counter, be sure to give yourself at least an additional 15 minutes.

| | |
| --- | --- |
| Departure Airport | Nice Côte d'Azur Airport |
| Departure terminal | Terminal 1 for Eurowings, Terminal 2 for easyJet |
| Arrival Airport | Hamburg-Helmut Schmidt Airport |
| Arrival terminal | Terminal 1 for easyJet, Terminal 2 for Eurowings |

Arriving in Hamburg

Situated fewer than 10 kilometres from the Hamburg Airport, Hamburg city centre is easily accessible. To get there, you can:

take the train. S-Bahn line 1 (similar to the RER in Paris) leaves every 10 minutes from the airport train station, which you'll find opposite the Arrivals Terminals. Getting to the main train station takes just 25 minutes. In 3 more minutes you'll be at Jungfernstieg, the epicentre of the city.
take a taxi. This will cost around €30 and take about 20 minutes to get to wherever you're staying.
hire a car. You have your choice of 7 agencies at the airport
What to do in
Hamburg ?
Hamburg is the centre of the world. Or at least it seems that way as you look out over the exotic flags of the countless cargo ships and ocean liners berthed in its harbour. Merchanting here is as old as the city itself. It brought the city wealth and shaped its face and ambiguous character, which is both bourgeois and roguish. This history is enough to fascinate even the most blasé of travellers today, luring them into deliciously shady streets or along dark canals bordered by warehouses that are now places to party and relax.
Hamburg, stoic on the outside, party on the inside

See more

See less

Devastated by ally bombs during the Second World War, the former Hanseatic city (the Hanseatic League brought together the main merchant cities of Northern Europe, making it one of the largest political and commercial powers of the Middle Ages) has rebuilt what they could and reinvented what no longer existed. The result is a remarkable and all the more seductive with its warehouses (reworked to have a bohemian elegance), its audacious glass buildings (the remaining legacies of its prosperous and glorious past), all surrounded by a river, lakes and canals.
But behind this placid and bourgeois exterior, Hamburg hides a secret. It seems like a "cold beauty", but you'll see it's warm and wild. To the point where Germans themselves consider it the wildest city in the country. It's the place that gave the Beatles their starting the 60s, fuelled by an explosive cocktail of avant-guard culture, luxurious yet original shopping, and nights that are as lively as they are mischievous. A bewitching concoction to be consumed during a fun-filled weekend getaway, as a couple or with friends, and without moderation.
The top 10 things to do in Hamburg

See more

See less

Navigate the colossal Hamburg port, which has graced the banks of the Elbe for centuries. Without it, the city would be nothing. Take Ferry 62 and take a 1 hour tour among the giants of the sea.
Don't miss Speicherstadt, a magical district with its ancient red brick warehouses that reflect off the narrow canals. Behind the Neo-Gothic façades you'll find museums, bars, and restaurants.
Head towards City Hall and tour this incredible neo-Renaissance building to see a few of its 647 rooms, all lavishly decorated.
Visit one of Hamburg's major museums: The Hamburg Kunsthalle, for fine art; The Museum für Kunst und Gewerbe, for fine, applied and decorative arts; Deichtorhallen, with two large open-structure buildings for modern art and photography; or the International Maritime Museum with its 50,000 models.
Want something a bit more unique? Then head for Spicy's Gewürzmuseum (a spice museum!) or the U-Bootmuseum U-434 which lets you visit the world's largest battle submarine, or else the Chocoversum, for something a bit sweeter...
Awaken your inner child as you wander through Miniatur Wunderland, a paradise for model lovers: 15 kilometres of rails with a hundred model trains running over them, a realistic airport, 50,000 hand-painted figurines, and so much more.
Let your hair down on the Reeperbahn, the liveliest street in Sankt Pauli, the Red Light District. Here you'll find a succession of museums, cinemas, erotic dance clubs, Eros-Centers (brothels), and sex shops.
Finish the night as the sun rises at the Fischauktionshalle, the fish market. Fish merchants and party goers mingle here from 4 am on. Substitute your usual breakfast for a Fischbrötchen, a sandwich with, among other things, pickled Bismark herring and onions.
Go see Elphie. Elphie? Yes, the Elbphilharmonie, considered by many as the most beautiful concert hall in Europe, or even the world.
Get out of Hamburg and head for Lubeck, around a hundred kilometres away. It's a charming village with many incredible examples of both the Gothic and Renaissance periods.
Regular flights Nice - Hamburg HAM
FLIGHTS EUROWINGS
4
Flights per week, From April to October
Flights per day :
Mon

1

Tue

0

Wed

1

Thu

0

Fri

1

Sat

0

Sun

1
Frequently asked questions