Take off for Crete
Fancy a cheap Nice-Heraklion flight? Then hurry! Don't wait another second and let it disappear. Book it with MisterFly, our partner that specialises in online flight bookings. In just a few clicks, you can book your Nice-Heraklion return flight at the best price and, more importantly, without any hidden fees. This purchase is not budgeted for today. Don't risk losing a good fare or the last free space. Book your Nice-Heraklion flight now and spread the payment over several months.
time difference

+1h

currency

euros

language

Grec
Ideal For
With friends

Alone

Culture

Beaches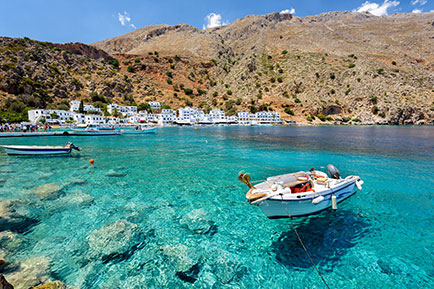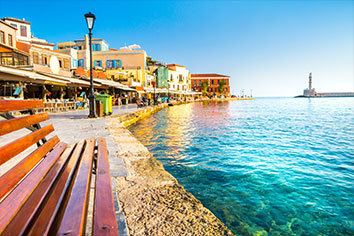 Useful information

See more

See less

Formalities for travelling to Heraklion

Entry requirements: Crete is in Greece and Greece is in Europe. When you arrive in Heraklion, you will only be asked for your identity card or a valid passport.
Currency: the drachma is no longer in use and the Cretans have long since been paying for their ouzo in euros, the same way the people of Nice have been paying for their pastis!

Your Nice-Heraklion direct flight

Air France will meet you for your Nice-Heraklion direct flight at Terminal 2 at Nice-Cote d'Azur Airport. This is where the French airline is based and it's also the only airline that flies to the Cretan capital.

On the day of your departure, don't stress unnecessarily. Arrive at the airport well in advance to go through all the required steps calmly before boarding. How early? It depends whether you already have your ticket or not and whether your baggage needs to go in the hold or in the cabin. If you're travelling lightly, is your ticket in your pocket or on your smartphone? Arrive an hour before take-off, to ensure you have some extra time if there are large crowds at security control. Do you need to go to your airline's check-in desk? It's best to add on a good quarter of an hour for this.

| | |
| --- | --- |
| Departure airport | Nice Côte d'Azur Airport |
| Departure terminal | Terminal 2 |
| Arrival airport Heraklion | International Nikos Kazantzakis Airport |
| Arrival terminal | Terminal 1 |

Arriving in Heraklion

Your Nice-Heraklion flight with Air France will land right outside the only terminal of Nikos Kazantzakis Airport, in Nea Alikarnassos, which is just four kilometres from the Cretan capital. It doesn't take very long to get to the city centre at all. To get there, you can choose from the following options:

Take the bus: with a ticket bought for just a few cents, this is the most economical mode of transport. But it's not the fastest. It takes at least 35 minutes to get to the city centre. However, it's convenient as it runs at all hours.
Take a taxi: they charge a flat rate which is still competitive, the journey only takes ten minutes and you'll be dropped off right outside of your hotel. This option has its advantages.
Hire a car: choose from the nine rental car parks at the airport.
What to do in
Héraklion ?
Heraklion is one of those places that is steeped in history. It was glorious in the days of King Minos. But the fortifications in this beautiful city have also witnessed darker times. Greeks, Romans, Byzantines, Ottomans and Venetians actually argued about it throughout the centuries. Each of its conquerors has left its mark, leaving it with a flamboyant culture and an amazing heritage. Both contribute to the pleasant lifestyle in this corner of the Mediterranean. But they're not the only qualities of this destination. It also attracts visitors because of its relaxing atmosphere, love of food and exoticism.
Fulfil your wishes

See more

See less

To have a perfect holiday, you need to do two things: listen to your wishes and satisfy them. If the first depends entirely on you, Heraklion will fulfil the second for you. The Cretan capital and its surroundings will always meet your desires. Are they encouraging you to be lazy? Crete is an island and, inevitably, it has plenty of beaches where you can be lazy and tan yourself as much as you want to. Have you been waking up with a thirst for culture? Quench your thirst by visiting a millennial palace or an Orthodox cathedral. Is nature calling to you in the morning? Climb the sides of Mount Ida until you find the Cave of Zeus, the birthplace of the god of gods. Need a moment to relax as a couple? Wander among stalls at a popular market before enjoying some grilled fish in a quaint little tavern. Do you prefer to share your adventures as a family? Visit the local museums to discover real-life dinosaurs or understand science with Archimedes.

The top 10 things to do in Heraklion

See more

See less

Walk up 25th of August Street (25is Avgoustou), from the old port to Lions Square, to discover the historic centre of the Cretan capital, its shops, indulgent terraces, picturesque alleys and their old stones.
Unmask Venice by discovering what it contributed to Heraklion, such as the "loggia", the former palace of local nobility which is now occupied by the city hall, Koules Fortress, which has guarded the entrance to the port for five centuries, or the Morosini fountain and its four lions.
Enjoy the serenity of the Agios Titos Basilica, a devoutly religious place inherited from the Byzantine Empire. Then, give in to the magic of the Agios Minas Cathedral and the multicoloured murals that cover each wall, up to the top of its dome.
Discover the Archaeological Museum and its magnificent collections. Their jewellery, sculptures and, more importantly, their memorable murals make the establishment known worldwide. The price to pay for glory? Without a ticket, you can expect a long wait at the entrance!
Immerse yourself in nature at the Natural History Museum in Crete. You'll discover real ecosystems, live or stuffed animals, spectacular fossils, an earthquake simulator and life-sized replicas of extinct giants.
Step back in time to push open the doors of the Palace of Knossos, the pride of Minoan civilisation that, two thousand years before our era, made Crete one of the major Mediterranean powers. A site as colossal as it is spectacular. You can't miss it!
Treat yourself to a "dolce vita" getaway in Agios Nikolaos. Just an hour away from Heraklion, it's the other flagship destination on the eastern side of the island. A charming city that floats between the sea and Lake Voulismeni. That water! It's so beautiful!
Place your towel down on one of the nearby beaches in Agios Nikolaos. They are among the island's most beautiful beaches. You'll be able to see for yourself the small coves with crystal waters and the golden sand of Almyros or Voulisma.
Explore the Lassithi Plateau, discovering its orchards, pretty landscapes, picturesque villages, windmills or Dikteon Cave, where Rhea gave birth to Zeus before hiding him there so Cronos, his father, couldn't eat him.
Try the famous Cretan diet. Even if it's only for a few days, it won't hurt you. And most importantly, enjoy fruits and vegetables, flavours of the sea, olive oil, goat's cheese, honey and many other local products.
Regular flights Nice - Héraklion HER
FLIGHTS AIR FRANCE
3
Flights per week, April
Flights per day :
Mon

1

Tue

0

Wed

0

Thu

0

Fri

1

Sat

0

Sun

1
FLIGHTS AIR FRANCE
3
Flights per week, August
Flights per day :
Mon

1

Tue

0

Wed

0

Thu

0

Fri

1

Sat

0

Sun

1
FLIGHTS AIR FRANCE
3
Flights per week, October
Flights per day :
Mon

1

Tue

0

Wed

0

Thu

0

Fri

1

Sat

0

Sun

1