Cross the Mediterranean
After a Nice-Tel Aviv direct flight, some holidaymakers extend their journey with an hour's drive to Jerusalem. Others stay on the Mediterranean Coast, to enjoy the charms of Tel Aviv and its close neighbour, Jaffa. Each year, 2.5 million tourists make this choice. Very few regret staying, since this metropolis is both modern and magnificent, with its own unique appeal. How about you? What will you do when you get off your Nice-Tel Aviv flight? Stay or carry on? Stay!
currency

Shekel

language

Hebrew
Ideal For
Family

Couple

Culture

Beaches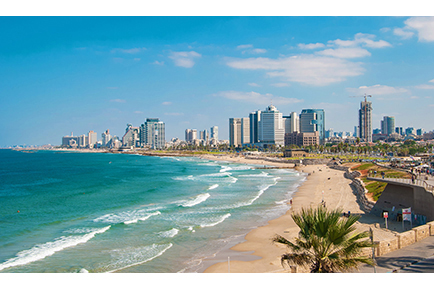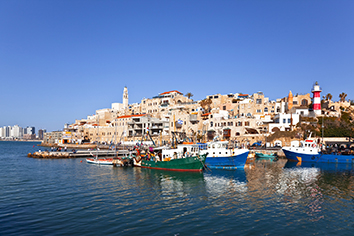 Useful information for your trip to Tel Aviv

See more

See less

The fastest way to get to Israel from Nice Côte d'Azur Airport is via Misterfly! Our partner will help you book your non-stop flight from Nice to Tel Aviv, after comparing the prices and times offered by the three companies providing Nice-Tel Aviv direct flights: easyJet, Sun d'Or (El Al) and Air France. Found the flight you want? Don't miss out! Book your ticket now. Why wait when you can pay in four instalments and there are no additional fees?

The formalities for travelling to Tel Aviv

Entry requirements: you don't need a Visa to get into Israel, as long as you don't plan on staying longer than three months. However, you will need to present a passport that is valid for at least six months after you enter Israeli territory.
Currencies: swap your euros for shekels, the country's official currency. Don't worry, the conversion is easy, because one euro is worth about four shekels. It is advisable to get some cash before you leave, so that you can easily cover your first expenses when you arrive in Tel Aviv. If you still need currency when you get to Nice Airport, go to Interchange. This currency exchange specialist can be found in both terminals at Nice Côte d'Azur Airport.

Your Nice-Tel Aviv direct flight

With Air France and easyJet, Nice-Tel Aviv flights leave from Terminal 2. However, Sun d'Or flights from Nice to Tel Aviv fly from Terminal 1. To make sure you have time for hold luggage check-in, security checks and customs, get to the airport around two hours before your flight departs.

Departure airport
Nice Côte d'Azur Airport
Departure terminal

Terminal 1 for Sun d'Or

Terminal 2 for easyJet and Air France

Arrival airport
Tel Aviv Ben Gurion Airport
Arrival terminal
Terminal 3

Arriving at Tel Aviv airport

Because of its Hebrew initials, the Israelis refer to this airport as Natbag. However, to the rest of the world, it is known as Tel Aviv Ben Gurion International Airport. It is located in Lod, 15 kilometres from the centre of Tel Aviv. How can you get to the centre? It couldn't be easier…

By train: straight from the airport, which has its own station underground. A handful of shekels and a quarter of an hour later, you will arrive at the first of the three Tel Aviv stations on this line: HaHagana, HaShalom and Savidor Central (Arlozorov). One departure every 30 minutes. No trains from Friday evening to Saturday evening.
By taxi: the airport's official company lowered its prices in May 2017. It now costs less than 100 shekels for a journey of around 20 minutes.
By hiring a car from one of the seven companies present at the airport.
What to do in
Tel Aviv ?
Want to know the secret to a great time in Tel Aviv? Drink coffee! Lots of coffee, so that you can ward off sleep for as long as possible and keep up with the dizzying pace of this metropolis. After all, it shares a nickname with New York: the city that never sleeps. Perhaps it owes this non-stop whirlwind of activity to its age: this very young city has been around for barely 110 years. It's just a baby compared to Jerusalem, the country's other major city, which goes back millennia. And this youth is palpable: although Tel Aviv does not turn its back on local traditions, it is resolutely modern. Even its past is modern! The historic White City, for example, is still revered by architects today.

A city of contrasts

See more

See less

There are two sides to Tel Aviv. Its art and architecture display strong elements of Western culture. However, through Jaffa, the ancient Arab city that has become one of its most picturesque areas, it expresses its Oriental roots.
It is seen as the economic heart of Israel and the inventor of the world of the future. And yet, from the beaches of the Tayelet to the bars and restaurants of Rothschild Boulevard, it knows how to party like there's no tomorrow, living intensely in the moment.
Design, shopping, art galleries and night clubs: it has a reputation for being devoted to adult pleasures, to moments of abandon best experienced as a couple or group. Yet its Luna Park, its zoo and its huge lake, where people come to cycle or hire a pedalo, make it great for children and families too. "Come on kids, we're off to Tel Aviv!"
The top 10 things to do in Tel Aviv

See more

See less

Wander through the streets of the White City, the heart of Tel Aviv. When it was created in 1930, it attracted architects from all over Europe, resulting in what UNESCO has called an "outstanding architectural ensemble of the Modern Movement".
Visit Jaffa, the old Arab rival of Tel Aviv, which has become one of its most fascinating neighbourhoods. It is beautiful, great for food (with excellent wine bars and the legendary pita bread from the Said Abulafia & Sons bakery), and it offers a touch of the exotic with its famous flea market.
Go out on Rothschild Boulevard and the neighbouring streets. This is the epicentre of Tel Aviv's famous nightlife. Restaurants, bars and clubs abound. A wild and wonderful atmosphere!
Soak up some culture by visiting the Tel Aviv Museum of Art, where you can see works by Picasso, Van Gogh, Kandinsky, Pissarro, Chagall, Ernst and Pollock.
Buy local. Tel Aviv is full of designers and artists, creating stunning fashion and jewellery. The best spots: the Dizengoff Centre, the Neve Tzedek neighbourhood and the Old Jaffa Railway Station, Israel's oldest station, which has been converted into an open-air shopping centre.
Walk, cycle or skate down the Tayelet, a beautiful, long seafront promenade, then stretch out on a towel on Gordon Beach, the best beach in the city.
Do your shopping in one of the city's most wonderful markets: Tel Aviv Port Market is renowned for its organic and farm produce, and for its amazing eateries. Alternatively, head to Sarona Market, where the whole world seems to come together in a few thousand square metres, or Shuk HaCarmel, where the locals shop.
Eat a picnic in Park HaYarkon, Tel Aviv's answer to Central Park, where you can enjoy many activities: themed gardens, a zoo, a water park, cycling, pedalos, a hot air balloon, etc.
Share some laughs and some excitement with your family at Luna Park. This five-hectare amusement park has roller coasters, a pirate ship and a big wheel.
Discover the wildlife of Africa, on foot or in a car, by visiting Ramat Gan Safari, which has over 1600 animals: 83 mammal species, 92 bird species, and 23 reptile species.
Regular flights Nice - Tel Aviv TLV
FLIGHTS ARKIA
2
Flights per week, From July to October
Flights per day :
Mon

1

Tue

0

Wed

0

Thu

0

Fri

1

Sat

0

Sun

0
FLIGHTS EL AL
5
Flights per week, From April to October
Flights per day :
Mon

1

Tue

0

Wed

1

Thu

1

Fri

1

Sat

0

Sun

1
FLIGHTS EASYJET EUROPE
2
Flights per week, From April to October
Flights per day :
Mon

0

Tue

1

Wed

0

Thu

0

Fri

0

Sat

1

Sun

0
Frequently asked questions