London awaits!
From Nice's Promenade des Anglais in the morning to Oxford Street in the afternoon. Like the idea? Then make it reality by buying a Nice-London ticket for a holiday by the Thames. After all, the duration of a Nice-London flight is less than two hours. You have to admit, that's not long to travel for memories to treasure forever. Because there's a very good chance that like many visitors before you, you'll fall in love with the capital of the United Kingdom.

Can you hear it? What? London calling! Don't keep the city waiting: book now with our partner, Misterfly. You can see all the flights from Nice to Heathrow, Gatwick, City Airport, Stansted and Luton. Compare prices, timetables, flight durations and airline conditions, and buy your Nice-London plane ticket at the "airline price". You can even pay for your Nice-London trip in four instalments, if you wish.

time difference

+1h

currency

Pound sterling

language

English
Ideal For
Family

With friends

Town/City

Weekend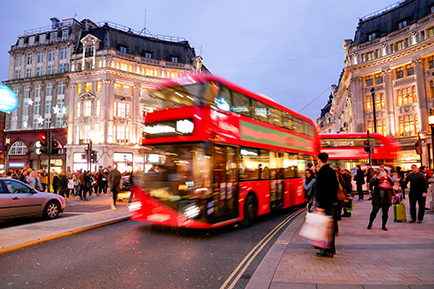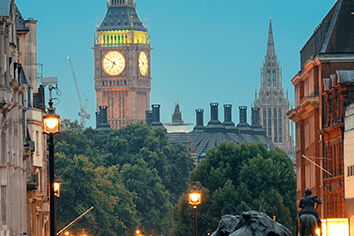 Useful information for your trip to Amsterdam

See more

See less

The formalities for travelling to London

Entry requirements: you will need a passport for your trip.
Currencies: you will pay for your purchases on Carnaby Street in pounds sterling, or as the English call them, simply "pounds". It's a good idea to leave with a few notes bearing pictures of Queen Elizabeth II in your pocket. To exchange your euros, go to one of the two branches of Interchange (one in each terminal) at Nice Côte d'Azur Airport.

Your Nice-London direct flight

Four airlines fly regularly to the British capital. easyJet flights from Nice to London leave from Terminal 2. For all the other airlines (British Airways, Ryanair and Jet2.com), go to Terminal 1.

To get through security without rushing and maybe even do some shopping at the airport, arrive at least an hour before your departure time. It's a good idea to allow a little extra time if you need to put luggage in the hold or check in.

Departure airport
Nice Côte d'Azur Airport
Departure terminal

Terminal 1 for British Airways, Ryanair and jet2.com
Terminal 2 for easyJet

Arrival airports

London Gatwick Airport: Terminal S with British Airways, Terminal N with easyJet
London Heathrow Airport: Terminal 5 with British Airways
London City Airport with British Airways
London Luton Airport with easyJet
London Stansted Airport with jet2.com, easyJet, British Airways and Ryanair




Arriving at London Airport

Which airport should you choose for your trip to London? That depends whether you are in a hurry to get to the centre.

● City Airport is closest, located just 10 kilometres from the city centre.
● Heathrow is also a strong contender thanks to the Heathrow Express, which takes just over 15 minutes to get to the middle of London (30 minutes with the Heathrow Connect train and 45 minutes with the Piccadilly Line of the London Underground).
● Gatwick also has a direct train to the capital: the Gatwick Express. It takes 30 minutes to get to Victoria Station. The easyBus shuttles take twice as long, but the price is unbeatable.
● Stansted is 60 kilometres from the centre of London. The train is the fastest way to the city centre: the Stansted Express can get you to Liverpool Street Station in 45 minutes. The Terravision and easyBus buses go to Victoria Station or Liverpool Street. They take much longer, but they are significantly cheaper.
● London Luton does not have its own station. You will need to take a Terravision, easyBus or National Express bus. These take one to one and a half hours to get to Victoria Station.
In all cases, you can choose a taxi or hire car over public transport.
What to do in
London ?
Wherever you're from and however patriotic you are, there's no denying it: London is an exceptional city. It has a crazy energy, it oozes modernity, and yet Londoners can be wonderfully old-school, with firm traditions and admirable composure. London is highly chic Harrods and crazy Camden, black cabs and gold Bentleys, Buckingham Place and The Shard (a glass skyscraper by Renzo Piano and the tallest building in the European Union). The English capital is a city of contrasts where anything is possible. And that's why we love it.

A leader in pop culture

See more

See less

We all have a little bit of London in us. The memory of a few phrases from Charles Dickens or J. K. Rowling, a song by Dire Straits, the Police or Coldplay that keeps coming into our head, and eternal, universal icons: the bonnet ornament of a Rolls Royce, the Abbey Road zebra crossing, Big Ben's clock, a bright red phone box…
However good or limited your English, London's call is hard to resist! The streets of Camden Town's famous market are filled with the delights of our youth, bursting with punk, rock and pop gems. The city tells us enchanting stories of queens and princesses. It is the kingdom of musicals. It shows us the future reflected in the glass walls of its skyscrapers: the Shard, the Gherkin, the Leadenhall Building (nicknamed the Cheesegrater), 20 Fenchurch Street (the Walkie-Talkie)…
And the best thing about London? It has something for everyone! It caters for intellectuals and party animals alike. It is a place for young and old. Bring your family: teenagers will love the ultra-trendy clothes chops and younger children will be delighted by the big parks filled with wildlife, the Changing of the Guard at Buckingham Palace and the theme parks. Come alone or with friends, for a weekend or longer, and visit some of the world's best museums, dance to electro music at Ministry of Sound or Latin music at Guanabara.

The top 10 things to do in London

See more

See less

Be royal! Visit the emblematic sites of England's crown: Buckingham, Kensington, Hampton Court (haunted by the wives of Henry VIII), or the Tower of London and the Crown Jewels (a mere 23,578 precious stones!).
Enjoy a taste of modernity at the Design Museum, the largest museum of its kind in the world, and the Tate Modern, a temple of modern and contemporary art, with works by Dali, Warhol, Picasso, Modigliani, Bacon, Mondrian, etc.
Go on a shopping spree. There are plenty of places to choose from: department stores like Harrods and Selfridges, Oxford Street, Regent Street or Carnaby Street, Covent Garden market or Westfield Stratford, the biggest urban shopping centre in Europe.
Drink! Sip tea at the Ritz, quaff champagne at Vertigo 42 (Tower 42's panoramic bar), or savour a beer in a pub with several centuries of history: Ye Olde Cheshire Cheese, Ye Olde Mitre, The Prospect of Whitby…
Feel the romance in Notting Hill. Pastel coloured houses, cupcakes from the Hummingbird Bakery, antiques dealers and flea markets on Portobello Road: love at first sight guaranteed!
Track down some graffiti by Bansky, the famous street artist from Bristol. He has created many works in London and you can find a map of them online.
Go back in time with a trip to see the mummies at the British Museum, or even further back for the dinosaurs at the Natural History Museum or Crystal Palace Park.
Have a magical experience with Harry Potter. Visit the Warner Bros studios, take a photo in front of Platform 9 3/4 at King's Cross station and stroll around the covered streets of Leadenhall Market.
Get on the London Eye, Big Ben's neighbour. 135 metres in diameter, this big wheel has rotating glass pods for a 360° view of London!
Cross the Thames on the Emirates Air Line, a cable car that goes up to height of 90 metres, or if you prefer, take Tower Bridge. Its glass floor is not for the faint-hearted!
Regular flights Nice - London LGW
FLIGHTS WIZZ AIR
7
Flights per week, From April to October
Flights per day :
Mon

1

Tue

1

Wed

1

Thu

1

Fri

1

Sat

1

Sun

1
FLIGHTS BRITISH AIRWAYS
12
Flights per week, From April to October
Flights per day :
Mon

2

Tue

2

Wed

1

Thu

2

Fri

1

Sat

2

Sun

2
FLIGHTS EASYJET EUROPE
44
Flights per week, From April to October
Flights per day :
Mon

6

Tue

6

Wed

6

Thu

5

Fri

7

Sat

7

Sun

7
Regular flights Nice - London STN
FLIGHTS RYANAIR
6
Flights per week, From April to October
Flights per day :
Mon

1

Tue

1

Wed

1

Thu

1

Fri

0

Sat

1

Sun

1
Regular flights Nice - London LHR
FLIGHTS AIR FRANCE
14
Flights per week, From April to October
Flights per day :
Mon

2

Tue

2

Wed

2

Thu

2

Fri

2

Sat

2

Sun

2
FLIGHTS BRITISH AIRWAYS
49
Flights per week, From April to October
Flights per day :
Mon

7

Tue

7

Wed

7

Thu

7

Fri

7

Sat

7

Sun

7
Regular flights Nice - London LTN
FLIGHTS EASYJET EUROPE
15
Flights per week, From April to October
Flights per day :
Mon

2

Tue

2

Wed

2

Thu

2

Fri

2

Sat

3

Sun

2
Regular flights Nice - London LCY
FLIGHTS BRITISH AIRWAYS
14
Flights per week, From April to October
Flights per day :
Mon

2

Tue

1

Wed

2

Thu

2

Fri

3

Sat

2

Sun

2
Frequently asked questions