En route to ancient Cirta
A Nice Constantine flight takes you to one of the most beautiful cities of Northern Africa. Perched on the cliffs of Rhummel Gorge with vertigo-inducing bridges, this spectacular city seems straight out of a Hollywood blockbuster. However, Algeria's third largest city is more than just a pleasure to look at. It will hypnotise all your senses! The feast that awaits you upon arrival of your direct Nice-Constantine flight includes the aroma of spices, the flavour of honey, the bewitching sound of Malouf, and so much more.
time difference

+1h

currency

Algerian Dinar

language

Arabic
Ideal For
Couple

Alone

Town/City

Weekend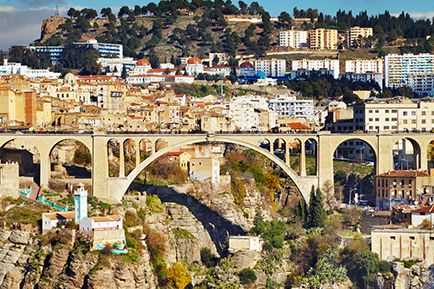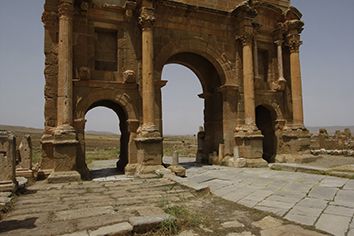 Useful information for your flight from Nice to Constantine

See more

See less

Compare all Nice-Constantine flights, find the best price for a flight from Nice to Constantine - as well as the best time and date - and book your Nice-Constantine ticket without hidden fees with MisterFly, our partner. What's more: one more click lets you pay for your trip over several monthly instalments. An offer that's available year-round, on all flights, including Nice-Constantine with Air Algérie.

The formalities for a travelling to Constantine

Entry requirements: in addition to a valid passport, a visa is required for entrance into Algeria. This can be easily obtained from any of the 18 Algerian consulates in France (notably in Nice and Marseille).
Currency: you'll be paying for your tagine in Algerian dinars.

Your Nice Constantine direct flight

With Air Algérie, Nice-Constantine takes off from Terminal 2 of Nice Côte d'Azur Airport.

Avoid the stress of arriving late to the airport. Arrive at the airport 1 hour 30 minutes before departure if you're travelling with cabin baggage only and already have your boarding pass. However, should you need to collect your Nice-Constantine ticket from the Air Algérie counter or check a bag, give yourself an additional 15 minutes.

| | |
| --- | --- |
| Departure airport | Nice Côte d'Azur Airport |
| Departure terminal | Terminal 2 |
| Arrival airport | Constantine-Mohamed Boudiaf Airport |
| Arrival terminal | Terminal 1 |

Arriving in Constantine

Constantine-Mohamed Boudiaf Airport is located on the Ain El Bey plateau, around 12 kilometres from Constantine. To get to the city centre, you have the following options:

Take the bus: there is regular service between the airport and city centre. And at around €0.20, it's pretty affordable!
Take a taxi: treat yourself! The trip takes about 20 minutes and will cost between €2 and €3.
Hire a car: several agencies have counters in the airport Arrivals Hall.
What to do in
Constantine ?
Since it was chosen as Arab Capital of Culture in 2007, Constantine has experienced a renaissance. They have renovated their patrimony and modernised infrastructure, with a tramway for example, which makes getting around the city easier than ever. Discovering this ancient Roman city has never been more enjoyable. From museums to mosques, bridges to palaces, there's never a dull moment. Sightseeing is interspersed with time spent relaxing on a café terrace on Place de la Brèche, or savouring a plate of okra tagine.

An exotic weekend in Constantine

See more

See less

The jewel of Algeria, Constantine is a city blessed by the gods. For starters, it enjoys a privileged setting. Constructed on a succession of plateaus and hills, it dominates the Rhummel valley. Several bridges span the gorges, with 200 metres of emptiness below them. Next stop: vertigo!
This eagle's nest naturally caught the eye of many a conqueror. Founded by the Phoenicians who named it Cirta, this spectacular city became the capital of Numidia, the largest Berber realm in Antiquity. The Romans followed, making it one of their strongholds on this side of the Mediterranean. In fact, the city gets its current name from Emperor Constantine the Great. Berbers, Arabs, Ottomans and the French continued the fight over it for the next 1000 years. A lively history that has left its mark in both patrimony and culture. Today, it makes for a fantastic city break, right on the outskirts of the Sahara.

The top 10 things to do in Constantine

See more

See less

Cross the Sidi M'Cid suspension bridge, the highest in the city. The Rhummel flows 175 metres below it. It's an unforgettable panoramic view.
Zigzag your way across the city's numerous bridges and footbridges: the pedestrian-only Passerelle Perregaux; El-Kantara, one of the oldest; Sidi Rached, which was the tallest stone bridge in the world when built a century ago...
From the Pont du Diable to the Pont des Chutes, walk the Chemin des Touristes, a walking tour that takes you along the Rhummel Gorge and its fiery scenery, which Maupassant once called "the red abyss".
Linger in the Medina, also called "Le Rocher", the historical centre of Constantine. Here you'll discover its nearly 1000 year old mosque, as well as souks and Ottoman palaces that have faded with time.
Have a coffee or an ice cream and let the heart of the city beat through you on one of the many terraces on the Place du 1 Novembre, a large esplanade that locals still refer to as Place de la Brèche.
Tour the Cirta Museum, which brings together relics of the Numidian, Roman and Berber civilisations as well as a collection of 19th century paintings by Middle Eastern artists, all under one roof.
Go into one of the most beautiful palaces in the city: Ahmed Bey. Built at the beginning of the 19th century, this immense palace is covered in incredible detail, a testament to the skill of Algerian craftsmen. "A dream of a thousand and one nights," exclaimed the painter Horace Vernet upon seeing it.
Sample the delicacies of local cuisine: okra tagine (okra being a regional vegetable here, known for its nutritional qualities), and djouzia, a walnut-based nougat flavoured with vanilla and honey.
Listen to the music than rocked Enrico Macias, the famed French singer of Algerian descent, to sleep: Malouf, an Arabic-Andalusian music that has been played in Constantine for centuries.
Get out of the city and explore the ruins of Tiddis, and ancient, humid Roman city, or else head for the Mediterranean coast and enjoy the beaches of the Skikda region, which are reputed to be the most beautiful in Algeria.
Regular flights Nice - Constantine CZL
FLIGHTS AIR ALGERIE
3
Flights per week, From April to October
Flights per day :
Mon

1

Tue

0

Wed

0

Thu

1

Fri

0

Sat

1

Sun

0
Frequently asked questions