Jet off to the Golden City
Nice, Prague, the Mediterranean on one side, Bohemia on the other. Two cultures with shared values: art, elegance, authenticity, and fine living. Like the Côte d'Azur, the Czech capital has moved with the times, but maintained its beauty, preserving entire elements of its past, both bright and dark. With your Nice-Prague flight, discover this wonderful history through numerous museums or by strolling through the streets to admire the Gothic monuments and the Belle Époque façades. Thanks to this rich heritage, your Nice Prague flight will be like a trip back in time.
time difference

+0h

currency

Czech koruna

language

Czechs
Ideal For
Couple

With friends

Weekend

Culture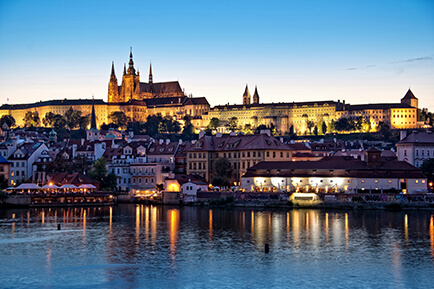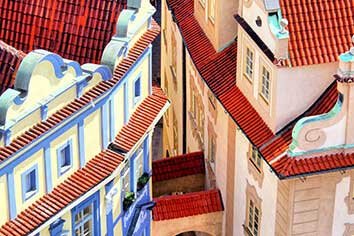 Useful information for your trip to Prague

See more

See less

Looking for a Nice-Prague direct flight? Misterfly, our partner, will tell you all the prices and times flying from the French Riviera. Book your Nice-Prague return flight online, for a smooth start to your discovery of one of the most beautiful cities in Europe.

The formalities for travelling to Amsterdam

Formalities: the Czech Republic is part of the Schengen Area, so European citizens only need a valid passport or national identity card on their arrival in Prague.
Currencies: the Czechs pay in Czech koruna. 100 koruna is worth approximately 4 euros.

Your Nice-Prague direct flight

There is just one airline offering direct Nice-Prague flights: CSA Czech Airlines, the Czech Republic's long-standing airline. A member of the SkyTeam Alliance, it operates from Terminal 2 of Nice Côte d'Azur Airport.

As for all flights within Europe, you are advised to arrive at the airport at least one hour before your departure time if you already have your boarding pass and are travelling with hand luggage only. If you need to check in or put luggage in the hold, allow an extra quarter of an hour.

| | |
| --- | --- |
| Departure airport | Nice Côte d'Azur Airport |
| Departure terminal | Terminal 2 |
| Arrival airport | Václav Havel Airport |
| Terminal d'arrivée | Terminal 2 |

Arriving at Prague airport

You will get off your flight (and onto your Prague-Nice flight) at Terminal 2 of Václav Havel Airport.
This airport is located less than 20 kilometres from the city centre. To travel the centre, you have the following options:

Public transport: you will need to take bus 119 and metro line A. You only need one ticket. You can buy this from the ticket office at the airport. The journey takes 40 minutes.
A taxi, which is the quickest method, taking 25 minutes.
A hire car. All the hire car companies are in Terminal 1. This is less than a 10 minute walk from Terminal 2.
What to do in
Prague ?
Romance, culture, just enjoying life… whatever you want out of your Nice-Prague journey, your holiday is sure to be an unforgettable one. The Czech capital has (almost) everything you could wish for. It has always had an artistic side, from music to painting. It reconciles artisan tradition and fashion, with its department stores and international brands. It offers a lively atmosphere, gourmet food, and above all, a friendly welcome: the people of Prague are as warm as their winters are cold!

The Golden City: land of culture and emotion

See more

See less

Whether you come alone, as a couple or with friends, a week-end in Prague (or longer, because the city has lots to offer!) is always a feast for the senses. All five of them…

Sight… with its colourful houses that brighten even the greyest of days, the domes of its Belle Epoque palaces and the Gothic towers of its churches, the Czech capital is an astonishing sight.
Sound… played almost every day in one of the city's many concert halls, the melodies of Smetana and Dvořák, children of the country, or Mozart, Prague's adopted son, will impress even the most discerning of music lovers.
Touch… Bohemia has magic hands and nimble fingers! From the famous wooden marionettes, little masterpieces in themselves, to the garnets, semiprecious stones carved with care by expert jewellers, to the famous and amazingly pure Bohemian glass, its artisans show dazzling creative talent.
Taste… Grilled charcuterie, breaded and fried meat or vegetables, wines and cheeses: Prague has plenty to satisfy your stomach.
Smell… The cinnamon scent of a hot trdelník, the fruity aroma of a Moravian pinot noir, the spring-like fragrance of the flowers that waft through the city's many green spaces: Prague is bathed in the scent of simple pleasures and true happiness!
The top 10 things to do in Prague:

See more

See less

Cross Charles Bridge, guarded for centuries by its thirty statues of saints, to visit Malá Strana, the unbelievably charming mediaeval and baroque district.
Read all the messages of peace written over the years by anonymous people on John Lennon Wall, opposite the French Embassy, in Malá Strana. You could even leave your own message…
Still in Malá Strana, check out the studio-shop of Pavel Truhlář, a puppet-maker who makes your "Mini Me" based on your photo.
Climb Hradčany hill to visit the St. Vitus Cathedral and Prague Castle, the oldest of the world's great castles, dating back over a thousand years.
Go window shopping with a difference, in the city's many galleries and passages.
(Re)Discover some of Alfons Mucha's finest posters, by visiting the museum that shares the name of this fantastic Belle Epoque illustrator.
Listen to Classical masterpieces in enchanting venues: the State Opera, the National Theatre, the Rudolfinum…
Treat yourself to a trdelnik with a chocolate filling on Old Town Square, while you wait for the astronomical clock's "Walk of the Apostles".
Savour an authentic Czech beer in one of the best breweries in the city: U Tří růží, U Fleků, Beer Geek, or even Loď Pivovar, a barge moored on the quays of the Vltava…
Marvel at the excellence of Moravian wines. Discover delicious whites and reds in the city's best wine bars: the Bokovka, the Vinograf or the Veltlin.
Regular flights Nice - Prague PRG
FLIGHTS SMARTWINGS
2
Flights per week, From April to October
Flights per day :
Mon

0

Tue

0

Wed

0

Thu

1

Fri

0

Sat

0

Sun

1
Frequently asked questions