Take off to three countries at once
A flight from Nice to Basel-Mulhouse lays the world at your feet! Upon arrival, you'll have endless possibilities to choose from. You can head for Basel, a first-rate cultural destination, visit Alsace and its castles, vineyards and picturesque villages, or venture off towards Freiburg im Breisgau, an enduringly charming German city. Or you can visit all three one after the next, turning your Nice to Basel-Mulhouse ticket into a mini European tour full of potential.
currency

Euros, Swiss Francs

language

German
Ideal For
Family

Culture

Town/City

Weekend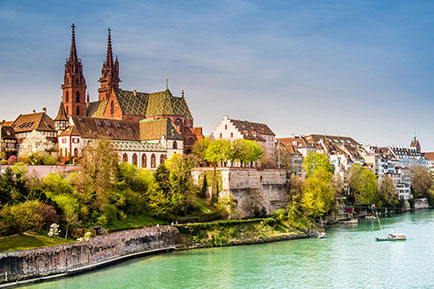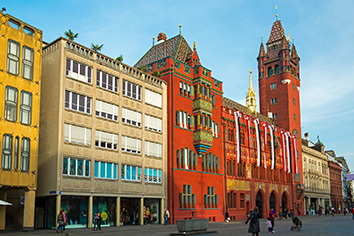 Useful information for your trip to Basel-Mulhouse

See more

See less

This year for your holiday, you can visit France, Germany and Switzerland - all in just a few dozen minutes of travel. It's not magic or teleportation: a simple plane ticket from Nice to Basel-Mulhouse will do the trick. So why wait? Click over to our partner MisterFly and book your ticket today! Compare prices, dates and times, and reserve your ticket without hidden fees and payable in instalments. We take the difficulty out of finding your Nice-Basel flight, so the biggest decision you have to make is what to do once you land.

The formalities for travelling to Basel-Mulhouse

Entry requirements: Basel, Mulhouse, and Freiburg all have the same requirements. Whether you head for Switzerland, Germany, or France, a valid ID card will suffice.
Currency: this will depend on your final destination. In France and Germany, you'll be using Euro. In Switzerland, Swiss Francs.

Your Nice to Basel-Mulhouse direct flight

easyJet is currently the only airline that connects the French Riviera to this French-Swiss airport. Like all easyJet flights, the Nice to Basel-Mulhouse flight departs from Terminal 2.

And since you're heading to Switzerland, time to mind the clock! As always, you'll need to pass through security checkpoints before arriving at your gate. Arriving at the airport at least one hour and a half before departure will help you remain stress-free. Add another 30 minutes should you need to go to the airline counter to check bags or collect your ticket.


| | |
| --- | --- |
| Departure airport | Nice Côte d'Azur Airport |
| Departure terminal | Terminal 2 |
| Arrival airport | EuroAirport Basel Mulhouse Freiburg |

Arriving in Basel-Mulhouse-Freiburg

The EuroAirport Basel Mulhouse Freiburg is the only binational airport in the world and is located on French soil but less than four kilometres from Basel. Mulhouse is around 20 kilometres away, and Freiburg im Breisgau around 50. To arrive at your final destination, you can take:

the bus. Line 50 of the BVB will drop you in Basel centre near the station in about 20 minutes. Flexibus will drop you at the Freiburg bus station.
the train. You'll first need to go to the Saint-Louis train station using the Distribus shuttle, after which you can take a train to Mulhouse central station.
take a taxi. This will cost at least €50 if you're going to Mulhouse, and around 50 Swiss Francs if you're headed for Basel.
hire a car. The same 5 agencies are present on both the French and Swiss sides. In Hall 1 (level 2) for the first, and Hall 4 (level 2) for the second.
What to do in
Basel-Mulhouse ?
Three destinations for the price of one: the makings of a trip that's full of possibility! Especially considering each city is full of its own special charms to discover. Basel stands out not only for the beauty of its old city but for the laid-back lifestyle you'll find there, in addition to a wealth of culture. From Mulhouse you'll have access to all of Southern Alsace, all the way to Colmar. Along the way you'll discover picturesque homes and breath-taking castles, green and rolling valleys, gourmet cuisine and famous vineyards. As to Freiburg, its enchanting building façades and unique Bächle - shallow water-filled canals that run throughout the city - are well worth a trip.

Bâle et Mulhouse : faire le choix de la nature et de la culture

See more

See less

Basel, Mulhouse, Colmar and Freiburg: four close neighbours perfect for those looking to getaway, relax, and discover something new. This transnational region is perhaps not on the list of Europe's Top 10 tourist destinations, but that doesn't make it any less captivating and endearing. The world "enjoyable" takes on as many new meanings as there are places to visit: eye-opening, gourmand, original, bucolic...the list goes on!
Each city, each area, has its charms: Basel has one of the highest numbers of museums per kilometre in the world! Colmar is home base for one of France's most flavourful routes: the famous Route des Vins d'Alsace (Alsace Wine Route). Mulhouse is paradise for those who love all things mechanical, be they on roads or rails. Freiburg is the starting point for a myriad of hikes in the Black Forest hills. Start with the one in Schlossberg which offers a spectacular view of the city after just a small climb.
A wealth of things to do whether as a family, among friends, or on a romantic getaway of a weekend, a week, or more! However you do it, you'll have everything you need to recharge your batteries.
The top 10 things to do in Basel, Colmar and Freiburg

See more

See less

Wander around Basel and discover the best the city has to offer: The Cathedral, which was the last home of Erasmus; the magnificent Hotel de Ville, jewel of the Markplatz; the medieval gates of the Walls of Basel; the Mittlere Brücke, a bridge dating back to the 13th century, and more.
After historic Basel, get to know modern Basel. The Swiss are well-known for bold architecture. No fewer than 12 Pritzker Prize winning architects designed one of the buildings you'll see here - the Pritzker being the Nobel Prize of architecture.
Swim in the Rhine. Thousands of people do so each summer. Place your dry clothes in a Wickelfisch (a waterproof bag) and let yourself be carried by the current until you're ready to hop back on shore for a cool drink in a café.
Visit some of the many museums that make Basel the cultural capital of Switzerland. Which are the most visited? The Kunstmuseum for its Picasso collection, and the Tinguely, which is dedicated to plastic artist Jean Tinguely, a national treasure.
Stroll through Colmar, the jewel of Alsace, where you'll find yourself inside a living postcard surrounded by timber-framed houses with colourful façades, flowing canals, and cobblestone streets.
Try some of Alsace's renowned wines in the vineyards and tasting cellars of the famous Route des Vins. Sylvaner, Gewurztraminer, and Riesling are among the best white wines in France.
Fill your basket with local delicacies: foie gras that's every bit as good as its South-Western counterpart, famous Munster cheese (be sure to have it vacuum packed!), irresistible kouglof, Alsace's traditional spice bread, and so much more.
Get rolling! Visit Mulhouse's two places of mechanical worship: the Cité du Train, the largest railway museum in Europe, and the Cité de l'Automobile, the largest in the world with 400 cars in its collection.
Hear Hosanna, the oldest bell in Münster, the Freiburg Cathedral. For more than 8 centuries it has hung in the church's spectacular tower and rings out every Thursday evening as well as Fridays at 11 am.
While visiting the cathedral, take time to wander around the market which occupies the square every morning. There you can taste the "lange rote", a long sausage without casing that's grilled and then placed between two tiny slices of bread. It's a local treasure and a pure delight!
Regular flights Nice - Basel-Mulhouse BSL
FLIGHTS EASYJET EUROPE
12
Flights per week, From November to March
Flights per day :
Mon

2

Tue

1

Wed

1

Thu

2

Fri

2

Sat

2

Sun

2
Frequently asked questions