Fast food, Bars, Coffee
Spain is coming to Nice Côte d'Azur Airport with tempting creations from Bellota-Bellota, the specialist brand already well known to gourmets!
The Bellota-Bellota corner in both terminals
Notice to all Spanish food aficionados, Terminals 1 and 2 boarding areas now have a new pop-up store that gives pride of place to ham, the icon of Iberian cuisine. But not just any old ham: at Bellota-Bellota, the precious World Heritage listed product always comes from 1 of 4 PDO regions (Protected Designation of Origin), is made from famous pure-bred Pata Negra pigs and painstakingly matured.
So Bellota-Bellota can boast that the hams it offers in all its shops around the world come with complete traceability guaranteed. Bellota-Bellota adds 'Iberian charm and flavours' to the hottest gastronomy around the world, from Paris to Hong Kong!
An Iberian and gourmet menu at the airport
What better than outstanding products on a gourmet menu. In the departure lounges of both Nice Airport terminals, passengers have a choice between tasty tostados and the inevitable bocadillos - true gourmet sandwiches! - or creative salads for a lighter bite. The curious will succumb to platillos, a subtle marriage of crushed potatoes and delicate Iberian nuggets.
Close your eyes and there you are, instantly deep in the heart of Barcelona's famous La Boqueria!
Make the most of your CAP benefits
Are you a Club Airport Premier member? You can make the most of your benefits when eating at Bellota-Bellota. Treat yourself, and you'll get 10% off. The perfect chance to enjoy your privileged passenger status!
*Alcohol abuse is dangerous for health, consume with moderation. Exercise regularly for your health. For information, visit www.mangerbouger.fr.
Non-contractual photos and videos – Dishes given as an indication and may vary depending on the season, arrivals and the menu.
Location(s)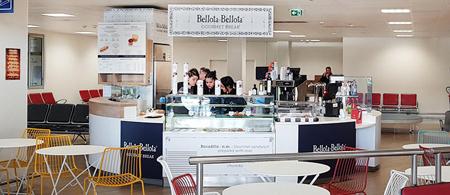 After going through security
Niveau 1
Salle B
Towards the gate

B42

From 9:30 am to 9:15 pm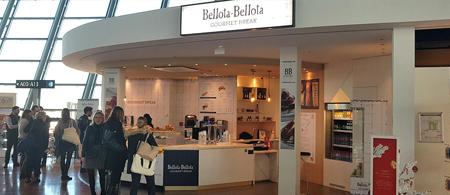 After going through security
Niveau 2
Salle A
Towards the gate

A15

From 6 a.m. to 9.15 p.m. on Tuesday, Thursday and Saturday - 10.15 p.m. on Monday, Wednesday and Friday - 11.15 p.m. on Sunday